Gm Starts Up A Long Hill In Asia
A $1 billion bet in Thailand is part of the giant's catch-up plan
by
Kisinee Laohavirojana has fond memories of Opel cars. Her father favored the General Motors Corp. model when she was a girl. But today, the 38-year-old secretary drives her family around Bangkok's jammed streets in a Toyota Corona. Would she buy an Opel? No way. "It's more expensive than my Toyota, it's harder to resell, and there aren't many service centers," she says.
GM, the world's largest auto company, is in a tough spot in emerging Asian markets such as Thailand--namely, last place in the minds of many consumers. That is why GM is finally making a big push. It is expected to announce in June that it will build a $1 billion assembly plant in Thailand to produce Opel Corsa small cars by the end of the decade. GM faces the daunting challenge of trying to make a dent in Japan's control of 91% of the Thai market. "We're starting from behind, so we've got to do some make-up investment," says GM Chief Economist Mustafa Mohatarem.
COSTLY. It's not just Thailand GM is after. It intends to export more than half its 250,000-car output there in a move to double its market share in Asia, to 10%, by 2005. Because Asian markets are growing so fast, GM will have to triple its sales volume from 623,550 cars and trucks last year to 1.8 million in 10 years to reach its goal. "It will require four huge assembly and manufacturing complexes," says GM Chairman John F. Smith Jr. "That's big stakes, but it's going to take that kind of effort."
Indeed, it will cost GM $1 billion a pop for each complex. The first two are spoken for, with GM's expected Thai venture and the $1 billion auto-assembly deal it won in Shanghai last November. New plant sites are not yet chosen. But some observers say GM still might put a plant in the Philippines, which tried to outbid Thailand by offering the carmaker free use of a 125-acre site at the former U.S. Naval base at Subic Bay.
Until now, GM has put most of its effort into China, where its investment exceeds $2 billion. Although Smith refers to China as GM's "great equalizer of missed opportunities" in Asia, he doesn't expect the market to pay off for 10 years. In Thailand, however, sales could climb to 1 million units by 2000, from 571,580 last year.
But GM is way late in waking to the potential of Thailand. Even Ford Motor Co. beat GM to Thailand by breaking ground in February on a $500 million joint venture with Mazda Motor Corp. to build pickup trucks beginning in 1998. Ford, with help from its new controlling interest in Mazda, also wants to grab 10% of the Asian market, up from its current 2.5% share. "We're not just investing in pickups for the long term," says David Snyder, Ford's top executive in Thailand. "We want to be a full-line manufacturer" of cars and trucks. GM is expected to build just cars in Thailand, leaving pickup truck production to Isuzu Motors Ltd., which is 37.5% GM owned.
Japan is already moving to fend off the new competition. Toyota, Honda, and Nissan have plans to make low-cost "Asian cars," which gives them potent weapons for winning new buyers switching from bicycles and motorbikes. "In order to get 5% market share in Southeast Asia, it's going to take a lot more work over the next five years than it would have taken over the past five years," says Peter Boardman, auto analyst at UBS Securities in Tokyo. Even if they can't achieve their targets, the region's runaway growth means GM, Ford, and even Chrysler could gain if they invest heavily to establish strong networks of dealers and service outlets.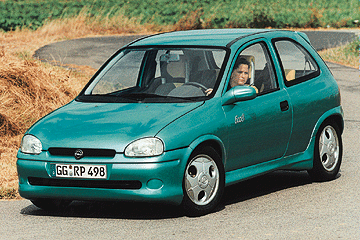 That's going to require long-term consistency that doesn't come naturally to GM. Since its European-based Opel brand returned to Thailand in 1994 by selling an impressive 6,980 models, GM has driven into the ditch. Sales plunged 70% so far this year, to just 783 cars, because of high prices and a lack of service centers. "People tell me they'll never buy an Opel again because they had a nightmarish experience trying to get parts and service," says consultant Michael Dunne, president of Automotive Resources Asia. "The key is not winning customers, but keeping customers." That's a lesson GM must learn quickly.
Before it's here, it's on the Bloomberg Terminal.
LEARN MORE