Forte Wireless Commpad
by
A policeman at an accident site uses one device to make a quick sketch, fill out a report, issue a citation--and file it to headquarters from the scene. The same device enables a warehouse clerk to check in hundreds of boxes by quickly scanning bar codes on the merchandise. A gas-utility repairman, at a customer's house, uses the device to get a blueprint of a damaged furnace from its manufacturer.
Sound outlandish? It's here and now, thanks to Motorola Inc. The device is the Forte, winner of an Industrial Design Excellence Award for communications equipment. The rugged portable computer is crammed with the latest gee-whiz technology. Handwriting recognition allows you to take notes, sign your name, or draw a diagram. A two-way radio means you can send and receive data at high speeds. A light sensor automatically adjusts backlighting for easy readability. It's powered by standard batteries that last eight hours.
Ruggedness is a key feature. Motorola wants to sell the Forte to mobile workers who need constant access to information--for example, cops, utility workers, and warehouse employees. "Let's just say, they don't treat their tools as personal items," says designer Frank M. Tyneski. High-end laptops that cost about as much as the Forte's $5,450 offer a faster processor and more memory. But they are not likely to endure the hard knocks the Forte will. The computer can withstand dust and harsh weather, too. And it won't spark even if dropped on concrete--critical to, say, a utility repairman looking for a gas leak.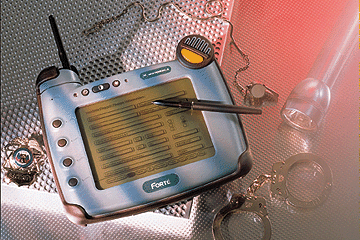 The Forte was originally envisioned as a smaller device--sort of a "ruggedized Apple Newton," according to Tyneski. But as Motorola's development team spent time working with customers in the field, they changed their minds. "We decided it was better to have it bigger and make it more usable for customers," says Katherine M. Broadwell, strategic marketing manager at Motorola. For example, the Forte's screen expanded to seven inches across so that police and other workers could use standard software. It weighs 4.17 pounds.
The IDEA judging committee was most impressed by the way Motorola packaged technology for specific uses. Committee members recognized that the Forte would be a useful tool for mobile workers in tough environments. "It may not have prize-winning aesthetics, but prize-winning aesthetics wouldn't survive a four-foot fall," says Michael P. Gallagher, manager of the design center for Crown Equipment Corp. in New Bremen, Ohio, and an IDEA judge for the communications-equipment award.
Before it's here, it's on the Bloomberg Terminal.
LEARN MORE