Deutz Fahr Agrotron Tractor
Designer: A&R Industrial Design
Karen Lowry Miller
A tractor is a farmer's pride and joy--a barometer of success. That's the thought that fired up Thomas Roney as he designed a brand-new family of tractors for Deutz-Fahr Agrartechnik in Cologne, Germany. Drawing on memories of childhood summers at his uncle's farm in Ontario, Roney pushed his A&R Industrial Design of Macomb Township, Mich., to come up with a radical new look: a tractor with attitude.
Called the Agrotron, it has a nose that slopes down at a startling angle, sharply expanding the driver's field of vision. Curved fenders allow easy rear viewing. The spacious cab is 30% larger than the previous model. It even has a glass roof panel. The brightly colored levers for maneuvering tools and attachments are designed for comfort--simplified and easier to reach.
Even daily maintenance is made less complicated by a one-piece engine hood that lifts on gas struts. The Agrotron is environmentally friendly, too, with low emissions and noise, more efficient fuel consumption, and recyclable steel and coded plastics.
Roney's design literally saved Deutz-Fahr's life. Back in April, 1993, when the project started, it was life or death for the German company. Recently spun off from ailing Klockner-Humboldt-Deutz, Deutz-Fahr was saddled with a 20-year-old model. Udo Rittmann, vice-president for engineering, called Roney. They had worked together in the early 1980s at Clark when Roney was designing forklifts for the European market.
Roney, a self-described gearhead who restores old cars and motorcycles as a hobby, moved to Cologne. He drew on his high school German to get out into the field with farmers. Rooney found that he could use 70% fewer parts and cut manufacturing costs by 45%.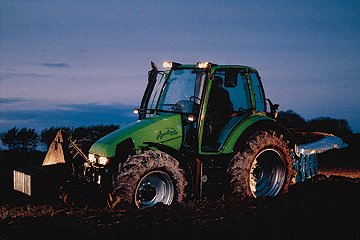 Some of the upper management initially balked at the radical design. Roney had to make a slide presentation on the state of design in the world today, from autos to coffeemakers, to bring them up to speed. Suppliers balked as well in developing molds for the new shapes. Roney had to visit them in Bavaria to bring them around.
The redesign is paying off. Deutz-Fahr sold 30% more tractors in the first quarter of 1996, compared with the same period last year, and Rittmann's main goal is to get market share in Europe back up to 20%. U.S. tractor design hasn't changed much in decades, Roney says. But it wasn't because there weren't any great American tractor designers. It took a German company to find that out.
Before it's here, it's on the Bloomberg Terminal.
LEARN MORE