Commentary: Supercomputers: This Time, Japan Is Right
Robert D. Hof
It's a familiar drill for any government-funded research center shopping for a new supercomputer: spend a year or two putting the world's fastest machines from all over the world through their paces. If a U.S. supercomputer maker such as Cray Research Inc. comes out on top, the deal is done. If a Japanese company wins, Cray and its friends in Washington raise economic or national security concerns.
That's precisely what happened on May 17, when the National Center for Atmospheric Research (NCAR) in Boulder, Colo., chose Japan's NEC Corp. over Eagan (Minn.)-based Cray to supply it with a $35 million weather forecasting supercomputer. Representatives Martin O. Sabo (D-Minn.) and David R. Obey (D-Wis.)--each with Cray facilities in their districts--sent protesting letters to the National Science Foundation, which helps manage NCAR. The Commerce Dept. also charged that NEC is selling the system below cost. Maybe. But this case reeks of politics. So far, neither Cray nor Commerce has offered solid evidence of dumping.
CRYING WOLF. This tired routine must stop. The U.S. can't stay ahead in supercomputers if the government keeps crying wolf every time U.S. companies lose. Nor can industries and agencies that rely on the latest technology operate at their peak if they are bullied into buying machines only from U.S. suppliers. Charges one large supercomputer customer: "There has been a decade of intimidation by the federal government against people who want the best technology in the world."
The numbers seem to back that up. Cray has about 130 supercomputer installations in Japan, compared with a combined 80 installations by NEC and Fujitsu Ltd., the two main Japanese suppliers. And Cray says it has six Japanese government customers. But in the U.S., where Cray claims 320 installations, NEC and Fujitsu have only two installations each--none at government agencies. Even given Cray's long market presence and broader array of software and hardware, it's clear that Japanese vendors have been excluded. Fred W. Weingarten, government affairs director of the Computing Research Assn., worries that such discrimination "could create a backlash against all U.S. computer firms to advance the interest of one."
There may be a legitimate interest in supporting the domestic supercomputer industry, which has been ravaged by defense cutbacks. Even Cray, the last major independent U.S. supercomputer maker, succumbed to the industry slowdown by agreeing last February to be acquired by Silicon Graphics Inc. Moreover, Commerce has reason to be vigilant: NEC and Fujitsu, huge as they are, could easily massage the numbers and blow Cray out with cut-rate pricing.
But in this case, many analysts and supercomputer customers think NEC was clean. "NEC apparently had the better machine for this application," says Gary Smaby, president of supercomputer market researcher Smaby Group Inc. Richard S. Greenfield, director of the division of atmospheric sciences at NSF, says NEC's machine was more suited to NCAR's type of climate modeling than Cray's offering. More than that, says Libby Bogard, contracts manager at the University Corporation for Atmospheric Research, which manages NCAR with NSF, "the Japanese seem to be maybe a full year ahead" on a chip technology that cuts the cost of superfast machines substantially.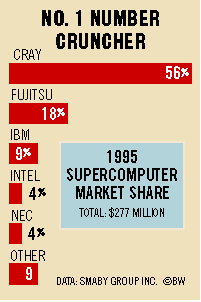 STRONGER SHAPE. Cray doesn't need government protection to catch up. It, too, is exploiting new chip technology. And under Silicon Graphics, it is in a stronger position than ever. "One loss here or there is not going to mortally wound them," says Gartner Group Inc. analyst Howard Richmond. Indeed, despite its recent struggles, Cray had a commanding 56% share of the world supercomputer market last year (chart).
Cray has some cause for concern. Robert H. Ewald, Cray's president, says Japanese companies lately have been cutting prices more aggressively worldwide. Moreover, he says, "in the last 18 months, we've done considerably less business in Japan."
But if NEC is found to be dumping, the law can remedy that. In the meantime, there's no reason to let politics freeze out competition from Japan.
Before it's here, it's on the Bloomberg Terminal.
LEARN MORE