Acer Inc.'s Aspire wasn't the first home PC with a radical new look--just the first one that sold. Other PC experiments, such as Apple Computer Inc.'s black-colored Mac in 1994 and a Packard Bell Electronics corner model, have faded into memory. But with sales of more than 300,000 units, Aspire single-handedly vaulted Acer from No.9 to among the Top 5 best-sellers in the U.S. in 1995. "We keep saying `thank God for Aspire,"' says Product Marketing Director Michael Culver of Acer America Corp.
The Aspire's soft shapes, cool curves, and dark, rich colors--charcoal gray and emerald green--make it a standout among a sea of puddy-colored look-alikes. "Very few people have a room in the house called an office, so we wanted it to integrate into the home environment," says Matt Barthelemy of frogdesign, which designed the Aspire.
Frog's goal was to create a multimedia personal computer that looks more like a familiar consumer appliance than geek-ware. All the key controls, including the CD-ROM tray, are centered in a spare TV-like facade. The way the monitor fits flush onto the PC gives the unit an all-in-one, TV-plus-VCR look. And while the speakers on most home PCs are earlike appendages, they are tucked away unobtrusively below the monitor in the Aspire. The asymmetrical swoop at the top of the monitor and a random "Swiss cheese" venting pattern that replaced the industrial-looking slits found on most monitors give the Aspire a distinct personality and a casual appearance. Finally, color-coded cables and connectors make the Aspire easy to set up.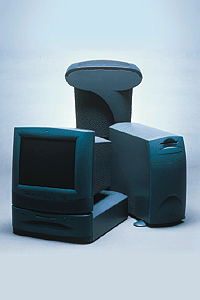 Going with new colors and shapes increased the risk for Acer, an up-and-coming Asian computer producer, because they added to cost. But Acer, which has long been an also-ran in PCs, was determined to be different, so it gave frog a degree of freedom rare for PC makers. The result: a compromise between plain-Jane and high-tech novelty. "No one buys a PC for its color alone, but almost every [shopper] takes a look at us," Acer America President Ronald Chwang reports.
Such views are fine with Acer, which intends to forge ahead with its home-computer design concept. While it will keep the charcoal-gray color, it may replace the green with some other trendy hue this holiday season. And it is working with suppliers to come up with peripherals that match its colors. Canon Inc. recently began selling gray printers, and others will offer matching joysticks this year. Color coordination comes to the PC market. For Acer, design is playing a key role in establishing its brand identity in the global marketplace.
Before it's here, it's on the Bloomberg Terminal.
LEARN MORE