Writing An Rx For Profit?
by
Initial public offerings are hot issues, but secondary offerings can spell trouble: The stock usually tumbles. Not so with ProxyMed (PILL), an information-technology company, which made a secondary offering on May 8 of 2 million shares at 6 1/4. The stock shot up to 8 that very day and is now at 10.
What's going on? For starters, figure on online services from your doctor, such as filling prescriptions at the local drugstore. ProxyMed has developed ProxyScript, a proprietary doctor-based pharmacy-management software that originates, reviews, and sends prescriptions to pharmacies participating in ProxyMed's communications network, called ProxyNet. ProxyScript automatically checks against the patient's medical history and drug profile for allergies and drug reactions, says Chairman Harold Blue.
Blue says the goal is to have a national network that links the health-care payer, the doctor or health-care pro-vider, and the pharmacy.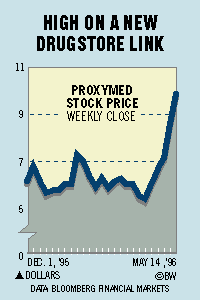 The company has signed an agreement with Bergen Brunswig to market Proxy-Med's prescription software in the U.S. Bergen, the nation's largest supplier of pharmaceuticals to managed-care organizations, paid a $1 million fee and bought 100,000 shares of stock. ProxyMed has also signed agreements with Eli Lilly and Blue Cross & Blue Shield of Massachusetts.
Analyst Ed Vanacore of Commonwealth Associates, which underwrote the second offering, foresees sales of $4.5 million for 1996 and a loss of 33 cents. In 1997, the loss should drop to 4 cents on sales of $15 million. In 1998, Vanacore sees ProxyMed in the black, at 65 cents a share on sales of $32 million.
Before it's here, it's on the Bloomberg Terminal.
LEARN MORE