U.S.: Even The Bond Market Is Starting To Chill Out
by
Are the bond market's inflation fears starting to ebb? It looks that way. The yield on the benchmark 30-year Treasury bond dropped to 6.84% on May 14 from a high of 7.11% only a week and half before. The mood swing of Wall Street's foremost inflation worrywart may be signaling the end of the growth scare that had heightened fears of overheating, inflation, and Federal Reserve rate hikes.
The chief reason the bond market is starting to chill out is the cooler temperature of the data. Retail sales are off to a slow start in the second quarter, and capacity use remains low (charts). Excluding the effects of the General Motors Corp. strike, industrial production is far from robust. And excluding the runup in energy costs, the price indexes at both the producer and consumer levels look exceptionally benign.
By nearly all gauges, the economy is moving along at a Goldilocks clip--not too hot, not too cold. That is the way the Fed is likely to read the situation at its next policy meeting on May 21. Economists expect no action on interest rates at that powwow, and policy may well be on hold for months to come.
Key to the outlook is the pace of demand. On that front, the strong first-quarter growth rate of final sales is more likely to fade than gather steam. Weak April retail sales suggest consumer spending will be hard-pressed to match its first-quarter pace of 3.5%. Slower growth of capital-goods orders, outside of those for aircraft, argues that business investment will cool. And housing demand is feeling the weight of higher mortgage rates. Combined, these segments are four-fifths of overall demand.
SO FAR, RETAILERS are not seeing the bustling activity they enjoyed in the first quarter. Retail sales fell 0.3% in April, following March's 0.5% increase and February's huge 2.1% gain. Both the February and March rises were revised up from gains reported earlier, so first-quarter consumer spending in the gross domestic product tally will end up even stronger.
Second-quarter retail volume faces an uphill battle, especially sales of autos and other consumer durables. After adjusting for inflation, real retail sales in April grew at an annual rate of only 0.4% above first-quarter purchases, which had soared 6.9% from the fourth quarter.
Some buying in the first quarter may have been boosted by delivery of tax refunds, which was earlier than in 1995: Last year, the Internal Revenue Service had delayed checks to search for fraud. The surge in mortgage refinancings in late 1995 also gave homeowners some extra cash to spend.
By April, however, both refunds and refinancing activity had begun to diminish. Typically, the windfalls from refis and refunds are spent on big-ticket items such as cars, home electronics, and furniture. Now, with these two sources of cash pretty much tapped out and with long-term rates much higher than in January, durables purchases are suffering.
Sales of durable goods plunged 2.1% in April, the largest monthly drop in more than three years. Car sales fell, but purchases of building materials and furniture also posted losses. Sales of nondurable items held up well in April: Department-store receipts rose 0.7%, and apparel-store sales rebounded 2.7% from a March drop.
Retail sales were overstated a bit, however, in both March and April because of higher gasoline prices. Sales at the pump jumped 3.3% in April, following a 4% advance in March. Costlier gas added about two-tenths of a percentage point to the overall increases in both March and April retail receipts.
HIGHER ENERGY COSTS also pushed up the April price indexes. But by all readings at the wholesale and retail levels, inflation elsewhere remained as tame as a kitten, and in a climate of slowing demand, it will stay that way.
The consumer price index rose 0.4% in April, following a similar increase in March. Annual inflation has accelerated slightly, to 2.9% from 2.6% at the end of last year. But April's 3.2% spike in energy prices accounted for most of the month's increase. Gas prices should begin to edge lower in coming months, now that crude-oil prices have begun to fall.
Excluding energy and food, the core CPI edged up only 0.1% in April, and annual core inflation has actually fallen, to 2.7% from 3% at yearend 1995. Core inflation has dipped back to where it was in December, 1994, when it was at the lowest rate since the 1960s.
One sector where inflation is really slowing is medical care, with prices up just 3.7% in the year ended in April--the lowest rate in 23 years. And entertainment costs, which had been rising steeply, fell 0.1% in April. As a result, core services are up 3.2% from a year ago, down from a 3.7% yearly rate in April, 1995.
Inflation at the wholesale level is also falling. Producer prices for finished goods traced the CPI's path in April, also increasing 0.4%, pushed up by energy. But the core index posted only a 0.1% gain. The core PPI has increased a mere 0.1% in four of the past five months--and in February it fell 0.1%.
Looking further back in the production chain, price pressures are easing, not mounting (chart). The core PPI for intermediate goods has declined for seven consecutive months, and the core index for crude materials has fallen in each of the past 10 months.
THE FALL IN MATERIALS PRICES reflects soft demand by industry, which is facing enly modest output growth and low operating rates. The end of the GM strike, and subsequent surge in auto and truck output, lifted April industrial production by 0.9%, following a 0.5% drop in March. But excluding the effects of the strike, April output was flat after a rise of 0.3% in March. Auto and truck production jumped 23.3% after plunging 17.3% in March.
Detroit will give second-quarter GDP a big boost, but elsewhere output growth will be hampered by the continued need to cut excess inventories. Because of the auto rebound, industrial production began the second quarter at an annual rate of 5% above the first-quarter level. But excluding motor vehicles and parts, output is up at a mild 2.7% pace.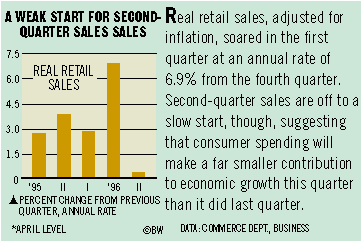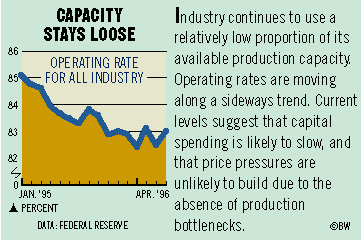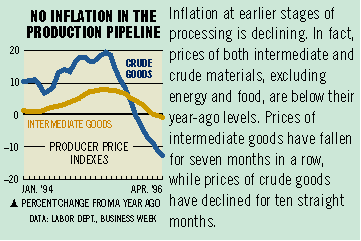 Despite moderate production gains, industrial capacity use remains low enough to keep pressure off prices. The average operating rate for all industry bounced back to 83% in April, from 82.5% in March, but that's still a shade below February's level.
With so few sources of price pressure in the pipeline, it is difficult to see how inflation can get a toehold in the goods-producing sector. And the tepid behavior of the medical-care and entertainment sectors is working to keep service inflation low.
At the same time, the latest news from the industrial and retail sectors shows that the economy continues on a not-too-cold, not-too-hot path. And a mild temperature is not only good for porridge. It's also great for keeping inflation--and bond market jitters--at bay.
Before it's here, it's on the Bloomberg Terminal.
LEARN MORE