Too Many Jobs: Nice Problem, If You Can Get It
A resurgent Michigan has jobs, but not the workers
by
Dan Muzich was living in paradise. Earning $50,000 a year as a civilian engineer for the U.S. Navy, he lived a half block from the beach in Los Angeles. But he gave it all up 18 months ago to move to Detroit and take a contract job at Chrysler Corp., Why? "I was very boxed in out in California because of the abrupt, 90-degree turn the defense business made," says Muzich, 28. "But there's lots of growth potential here."
Michigan, once the embodiment of America's industrial decline, is rubbing the rust off its image. Thanks to an unusually long resurgence in the auto industry and aggressive cuts in state taxes, Michigan now is enjoying record low unemployment of 4.6%--vs. 5.4% for the national average (chart). The state's per-capita income is up 26% since 1991, the most for any state. And the long mass exodus to other states finally reversed itself last year, as 2,800 more people moved into Michigan than left. Now Michigan has a new, albeit pleasant, problem: It can't find enough workers.
"STARVING." Just ask Ralph Miller, who is having trouble filling 750 openings at APX International, a suburban Detroit automotive engineering and design firm. "We are starving for people for very good paying jobs," says Miller, president of APX, which pays engineers and computer draftsmen $50,000 to $100,000 a year. Miller--along with his rivals--is scouring the West Coast and Texas for workers laid off by defense contractors.
Fearing his state could lose a chance to secure its comeback, Governor John Engler in May mailed appeals to more than 6,700 engineering graduates from Michigan universities who live elsewhere. "It's time to let everyone who left Michigan know that it's time to come back home," Engler said in announcing the campaign. The Republican governor also wrote to chief executives at AT&T, McDonnell Douglas, and Boeing, encouraging them to put their laid-off workers in touch with Michigan's state employment agency. Michigan has even set up a "port-of-entry" site on the Internet (http://www.mesc.state.mi.us/techjobs.htm).
And it's not just white-collar jobs that go begging in Michigan. A University of Michigan study this year found that the Big Three auto makers will be hit with record retirements of mostly blue-collar employees during the coming seven years, forcing the auto makers to hire 225,000 workers. At least 100,000 of those jobs will be Michigan-based, says David E. Cole, director of the university's Office for the Study of Automotive Transportation and the author of the study. Hourly jobs in Big Three factories pay about $40,000 a year; overtime can push it above $70,000.
That sounds great to many job-seekers in other states. After news of Cole's study got out this winter, Michigan's state employment agency received 150,000 applications in one month. The problem is finding the skilled, computer-literate workers the auto industry now needs. "We have to upgrade the math, reading, and deductive capabilities of the people coming into our plants," says Ford Motor Co. Chairman Alexander J. Trotman. Meanwhile, demand is rising again: Auto makers increased their U.S. vehicle sales forecast to 15.3 million for 1996, up from 14.7 million last year.
RENEGADE RACE. All the good news makes a distant memory out of the popular bumper sticker of the 1980s that read: "The last one out of Michigan, please turn out the lights." How did it happen? A lot of downsizing improved the business climate. Faced with a budget deficit of $1.8 billion in 1991, Engler cut services, eliminated state welfare for able-bodied people, and slashed 4,300 workers from the state payroll. He also cut taxes 21 times, reducing the state's tax burden by $3.5 billion over the past five years.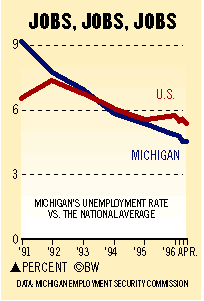 Engler, who is on Bob Dole's short list of vice-presidential candidates, doesn't want his work to go unnoticed. In ads running in Indiana newspapers this month, he encourages businesses there to "join the race to Michigan." The ads play off the controversy over the U.S. 500, a renegade auto race to be held in Brooklyn, Mich., on Memorial Day--the same day as the Indianapolis 500. "I'd much rather be the pursuer than the pursued," quips Engler. "This feels good."
Can Michigan's economy keep its glow when the auto industry takes its inevitable turn for the worse next year or in 1998? By then, says Muzich, "I'm hoping I'll be entrenched." The way things are going, many newcomers will have the same hope.
Before it's here, it's on the Bloomberg Terminal.
LEARN MORE