The New Grapevine Is Online
Amateur Internet gurus are moving stocks in a big way
by
Something intriguing happened to the stock of Guardian Insurance Financial Services back in January. In the universe of news sources available to investment professionals, such as Dow Jones News/Retrieval Service and Bloomberg Business News, nothing significant was brewing. Yet, for no apparent reason, Guardian stock began to climb--2 1/8 on Jan. 10, 2 3/4 on Jan. 16, then 3 and 4 1/2 and up to 6 on Jan. 24.
What happened? A press release issued by the company at month's end said the rise was "partly attributable to a favorable review by an electronic newsletter." But to followers of a band of stock traders on the Internet, there was no "partly" about it. A widely followed online investment tip sheet--the Waaco Kid Hot Stocks Forum--had picked Guardian. And when the Waaco Kid speaks, investors listen--and buy. "Sometimes the moves are just dramatic," says Richard Geist, editor of the Strategic Investing newsletter and an occasional Forum source.
GROWING POWER. Welcome to the new world of Internet stocks. No, these are not the darlings of Wall Street--the stocks in Internet services and software companies. The new breed of Net stocks are companies that are influenced, favorably and not, by messages and E-mail on the Internet and the online services--notably America Online Inc., which is host to the widely followed Motley Fool investment feature. The ranks of the new Internet stock mavens range from online newsletters to a small but growing number of Internet Web sites and mailing lists--such as the Waaco Kid--that distribute their stock tips to thousands of investors around the country.
The growing stock-moving power of the online world is a comparatively new phenomenon. Its impact, which first emerged last year, has become ever more apparent in the past few months--and presents both opportunities and dangers for investors. The dangers include misinformation and "pump and dump" schemes, in which stocks are hyped by traders who then sell at the inflated share prices. But above all, the impact of the Internet stock gurus epitomizes the power of the Net as a growing force in the stock market. The Internet is hardly as potent a market force as are analyst reports and the financial press--but it's getting there, and fast.
Internet-driven shares are top-heavy with penny stocks such as Guardian but lately have included larger, often high-tech issues such as computer peripherals maker Iomega Corp., whose intense following on America Online message boards has prompted concern from the company. Net watchers believe that the recent surge in Zenith Electronics Corp., the TV maker turned Internet company, was fueled in part by postings on the Internet and America Online. Another dramatic example of online stock-moving clout involves Zytec Corp., a computer equipment maker whose shares fell 20% on May 7 after it was dropped from a model portfolio posted on America Online by Motley Fool. "Did I cause Zytec to drop seven points? I suppose so," says Greg Markus, who runs the Fool's "Boring Portfolio." But Markus emphasizes that his portfolio is purely an educational tool, in keeping with his occupation--he teaches political science at the University of Michigan.
Many of the new Internet investment savants are, like Markus, strictly amateur investors. The Waaco Kid is a good example. Its founder is a confessed tyro at stock-picking who started the Waaco Kid pretty much as a lark. "Just a year ago I was asking stupid questions on Prodigy," notes founder Gayle Essary, 55, a soft-spoken Texas native who runs a management consulting firm, New York Management Group.
In his varied career, Essary has been a trade magazine publisher and political consultant. He became interested in investing while perusing the Prodigy Money Talk message centers but became disenchanted with the often heated discussions he found there. So he quit Prodigy but continued to correspond with his online friends--a correspondence that became the nucleus of the Waaco Kid. The group began a year ago as an informal exchange of investment ideas, and eventually spun off a formal investment club separate from the forum.
The Waaco Kid works simply. Every member--or "co-editor"--of the mailing list, which has charged a subscription fee for the past few months, has the right to distribute stock suggestions to all the other members of the list. A small nucleus of members, headed by Essary, makes "picks," or formal recommendations. Initially the picks were secondhand, usually borrowed from the Dick Davis Digest, a prominent investment newsletter. Early in its life, Waaco Kid picked fairly sizable companies. The stocks often moved when Waaco Kid chose them--but that was probably due to the clout of the newsletter, not Waaco Kid members' own purchases or the members' efforts to talk up the stocks in Internet discussion groups.
The tide turned last September, however, when the Waaco Kid members picked a stock on their own--and quickly learned their clout in the marketplace. It was a small software maker and penny stock called Blue Chip Computerware Inc., based in Farmingdale, N.Y. When the company's stock was picked by the Kid on Sept. 12, the selection was promptly disseminated both in the group's own mailing list and in Internet newsgroups, such as "misc.invest.stocks" and "alt.invest.penny-stocks." The impact was dramatic. In a matter of three days, the share price of the stock zoomed from 29/32 to a 52-week high of 1 17/32, only to fall back just as dramatically afterward. The volume was staggering--soaring from an average of only 25,000 shares a day beforehand to 2 million shares when the stock hit a high on Sept. 14. Other stocks--including Westerbeke, Quantum Learning Systems, and CD-MAX--also moved skyward when picked by the Kid.
When the Waaco Kid moves the market the rise is usually just temporary, leading some Internet skeptics to contend that the Waaco Kid is sometimes used as a "pump and dump" effort. Essary concedes that some Waaco Kid subscribers may indeed be engaged in that practice, but he says that he tries his best to discourage that--by, among other things, asking that Waaco picks not be disseminated in Internet news groups. Essary notes that he does not trade stocks himself, and that the Kid is but one of the Internet-related ventures that his company has in the works, such as noninvestment-oriented World Wide Web sites. The Kid itself has grown beyond the Internet, with forum picks now distributed by fax and, beginning just recently, made available to subscribers of Real Time Quotes Inc., a network of trading terminals.
Still, the heart of the Waaco Kid remains the Internet, for better or worse. Essary's own integrity seems untarnished--Geist, for one, says that he has found Essary to be scrupulously ethical in running the forum. But not all the Kid's subscribers may be that pure. One Waaco Kid investment club member, for example, said in a late-January posting on an investment newsgroup that after the club takes a position in a stock "we publicize the stock on the boards [investment newsgroups] and the price goes up."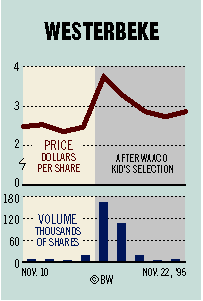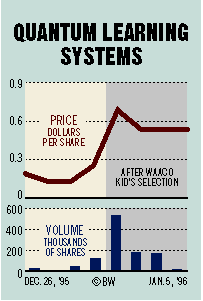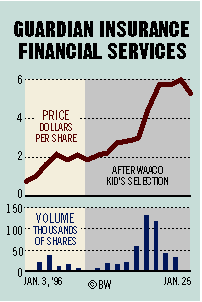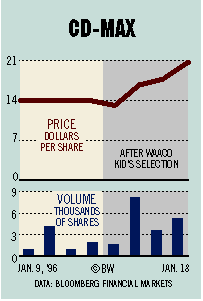 "HACKER ORIENTATION." That indeed is what tends to happen--and it is not always pleasing to the companies. One Waaco Kid pick is the Arizona-based HealthTech International Inc.--a choice that grew out of a conference call that HealthTech President Tim Williams had with several online investors. As with other stocks, the Kid had a temporarily positive impact on HealthTech stock. But HealthTech consultant John Pigman, who serves as a liaison with the Internet community, says such short-term moves don't do companies much good. Unlike some other Internet investment forums, he says, the Waaco Kid "has more of a hacker orientation. They're acutely aware of the power of the tool itself."
Perhaps. But who can blame them? Wall Street pros have long reveled in their power to move the market. Now it's the little guy's turn.
Before it's here, it's on the Bloomberg Terminal.
LEARN MORE