Spain: Aznar Is Already Making His Mark
After the electorate ousted a shaky Socialist government, Spain's financial markets are upbeat about the new center-right coalition, which offers a degree of stability and fiscal responsibility not seen in years.
Since the new government was formed in late April, stocks, bonds, and the peseta have rallied. On May 7, the Bank of Spain cut interest rates by a quarter-point, to 7 1/2%. It was the fifth easing in six months, and another cut may come soon, given recent fiscal measures and subdued inflation at an annual rate of 3.5% in April, near March's 25-year low.
The alliance of the ruling Popular Party (PP), the minority party of Prime Minister Jose Maria Aznar, and the Catalan nationalists' Convergence and Union party (CiU) is based on a new system of regional finance. The government will cede control of 30% of national income taxes to Catalonia and other regions, up from 15%. In exchange for that and other concessions, the powerful CiU will support the PP for four years--a long-term backing the Socialists never had. The pact gives the new regime a strong mandate for cutting the public deficit, liberalizing the economy, and striving toward European Monetary Union.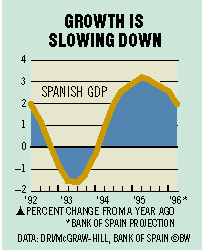 As a first step, the government said on May 10 it would cut 200 billion pesetas ($1.6 billion) from its 1996 budget to limit an overshoot of this year's deficit goal of 4.4% of GDP, down from 5.9% in 1995. The measures were meant in part to convince the markets that the government is serious about reaching the 3% Maastricht Treaty criterion by 1997.
Aznar's challenges are great. First, the economy is slowing (chart). The Bank of Spain estimates that first-quarter GDP growth slipped to 2%. Despite 21.7% joblessness, Aznar wants to cut state employees and ease firing laws. Also, reaching the Maastricht deficit target will require draconian cuts, including public-health and pension reforms, efforts the unions and the Socialists will oppose. Aznar's biggest asset will be the strength and stability of his government.
Before it's here, it's on the Bloomberg Terminal.
LEARN MORE