Sony's New World
Steven V. Brull and Neil Gross
As communications, computers, and consumer electronics "converge," it aims to be No.1
It looks like child's play. A researcher in blue jeans at Sony Corp.'s Computer Science Lab--an academic oasis amid Tokyo's cacophony--casts Lego toys about the lab floor. Then, a small robot wearing a tiny video camera and transmitter explores the obstacle-strewn landscape. Sending video images to a workstation running software that simulates human learning, the robot creates a "cognitive map"--an important first step toward becoming an autonomous robot. Up the street, Sony technical wizards are experimenting with futuristic software that puts a human face on a computer--almost literally. Its on-screen talking head carries out your instructions and responds to you: Smile at it, and it smiles right back.
Five thousand miles away, at Sony Pictures Imageworks in Culver City, Calif., engineers from Tokyo watch their American counterparts create whizbang special effects for Sony Pictures Entertainment. The team helped out last year with the high-tech hit Jumanji, and got kudos for animating Disney's James and the Giant Peach. But Imageworks' biggest challenge still lies ahead: helping Sony define the next generation of "human interfaces" that will transform television.
Cognitive maps? Human interfaces? Not the kind of lingo you would expect from a company that hawks Walkmen and Trinitron TVs. But for Sony, these futuristic preoccupations are a matter of survival. Under the stewardship of Nobuyuki Idei, a cosmopolitan iconoclast stamped in the mold of Sony co-founder Akio Morita, the company is preparing for the day when TVs and other consumer gizmos go digital, interactive, and smart.
Soon, Idei believes, TVs will manage a flood of programming from cable, satellite, video disks, and the Internet. The boxes themselves will incorporate computers many times more powerful than today's PCs. And the new interfaces will ensure that choosing programs remains as mindless as channel surfing with a remote control in one hand and a cold beer in the other.
A year into his tenure, President and Chief Operating Officer Idei has come up with a sweeping strategy for Sony's future. The first priority: defending Sony's position as the preeminent brand in the living room as the worlds of computers, communications, and consumer electronics converge. For that, he's depending on a string of new products, due out later this year and early in 1997, including widescreen TVs that can cruise the Internet and a next-generation video system known as digital video disk (DVD).
Idei is convinced that if he can find the best technical formula, Sony's consumer products will lead in the coming era of digital convergence as they have in the past half-century. If he can't, the baton will almost surely pass to one of America's digital giants--Hewlett-Packard, perhaps, or IBM, or some combination of Microsoft and its army of hardware partners. All have targeted the digital living room. If the others arrive first, Sony's clever robots in Tokyo could find themselves sweeping up around Japan's crumbling electronics factories.
The second goal for Idei is to thoroughly transform what has been Sony's biggest financial disaster and embarrassment: its Hollywood studios. For a start, Idei has put in place a determined cost-cutter, Alan Levine.
The third pillar of Idei's strategy is to make the hardware and software arms of his entertainment empire work better together. Since entertainment is, increasingly, a digital game, Idei wants to gain a foothold in the computer business and to turn Sony's site on the World Wide Web--called Sony Online--into a full-blown entertainment venue. Next month, Sony will unveil a personal computer in the U.S., its first since the 1980s, when Idei directed a failed effort to crack the business computers market in Japan. It won't be the cheapest PC on the market, but Sony's outstanding brand recognition could entice plenty of consumers.
If the idea of leveraging hardware against software rings a bell, it's no surprise. This was the "synergy" rationale behind its purchase of Columbia Pictures in 1989. But synergy never got much further than Arnold Schwarzenegger using Sony Mini Disc players in Sony's money-losing The Last Action Hero. Today at Sony, the word "synergy" is taboo.
This time around, however, the marriage of hardware and "content" could have a real payoff. The soaring popularity of the Internet's World Wide Web, and new software schemes such as Sun Microsystems' Java are reducing the power of the "Wintel" platform (computers using Intel chips and Microsoft Windows). The Web will permit the attachment of all sorts of new devices--and will drive demand for new content as well. Sony sees a chance to create profitable new forms of hardware that will attach to the Net, but will also run exclusive Sony software. The prototype is Sony's hot PlayStation videogame. Most of the software written for this device will runon no other computer or game platform, guaranteeing Sony lush margins and a loyal following.
In the new era of consumer electronics, Sony seems a logical candidate to lead. Since the company opened shop in May, 1946, in a bombed-out Tokyo neighborhood, Sony has done more than any other company to define consumer electronics. It gave the world affordable transistor radios, videocassette recorders, the Walkman, and with Philips, the audio CD. With its hardware fortune, it took over CBS Records and Columbia Pictures and grew into a global entity with 135,000 employees that has more revenue than Boeing Co. and Eastman Kodak Co. combined. On May 15, the company reported sales of $43.7 billion for the fiscal year ended Mar. 31. Earnings jumped to $517 million.
A LOCK. Today, Sony is the epitome of the vertically integrated company. Its business stretches over the complete electronics and entertainment food chain, from diodes to divas. It has a lock on critical components, owning more than half the world market in optical pickups used to read CDs and the top share of lithium-ion batteries used in notebook computers and cellular phones.
Sony sells 11 million color TVs a year--more than 10% of the global market--and is a leading supplier of most home audio and video gear. The rich output from Sony Music and Sony Pictures helps all these gadgets come alive. "Sony can take both professional customers and consumers from end to end in digital audio and video," says Alan Bell, senior analyst at Schroders Securities (Japan) Ltd. "And they are successfully pulling software into the scheme."
Systems integration could be next. When Hughes electronics conceived its ambitious effort in digital satellite TV--now a booming business--it turned to Sony to create the uplink facility in Castle Rock, Ariz. Under a $50 million contract, Sony designed and installed the system, which continuously feeds up to 200 channels of programming.
Idei, 58, can claim much of the credit for lifting the mood at Sony and elevating external perceptions. An intellectual jack-of-all-trades who loves golf and spins around in a metallic-gray Jaguar, he's a symbol of change for a company that only a year ago seemed to have fallen from grace. Distracted by the strong yen, the domestic recession, and the 1993 stroke of the revered Morita, Sony's management tripped up.
Things came to a head in 1994. Operating profits had been in steady decline for three years, but 1994 was a disaster. Sony Pictures Entertainment wound up taking a $2.5 billion write-off in goodwill from the Columbia purchase, and nearly $500 million to cover bad projects and lawsuits. It was the corporation's biggest embarrassment since it pulled the plug on its Betamax video format. In the 1994 fiscal year ending Mar. 31, 1995, Sony suffered its first loss ever: a wrenching $2.8 billion.
Norio Ohga, then president, was due to become chairman and find a new executive to run things. With Morita, Sony's spiritual inspiration, incapacitated, Ohga felt the company needed a strong leader in the mold of Morita--the pioneer who brought forth the Walkman, set up U.S. TV manufacturing in 1972, and put the first foreigners on Sony's board in 1989. The urbane Morita had made Sony a maverick, outside the government-led ring of electronics companies focused on semiconductors and mainframe computers.
Nobody could replace Morita. But in Idei, Ohga saw a man who at least resembled him in spirit. "Morita acted with his own ideas. I also acted with my own ideas. There aren't many Japanese managers like this," says Ohga, a former opera singer whom Morita had groomed from student days for the top spot. So Idei, then just a midlevel director, became the new president. He wasted no time setting Sony squarely on the path to digital convergence. He promoted younger "digerati" and quickly got rid of high-living Michael P. Schulhof, head of U.S. operations.
Ask Idei's friends what he's like, and the answer is the same: "Un-Japanese." He speaks his mind and demands candor from others. "He's so straight and logical, even when he speaks with Japanese," said Masaya Miyoshi, director-general of Keidanren, Japan's powerful business lobby, and an old family friend.
Idei and his wife, Teruyo, live in an A-frame house made with Scandinavian logs nestled in a tony Tokyo suburb. Unlike most Japanese, he socializes less with his office associates than with his golf buddies, most of whom run small businesses. He sings karaoke at home and is a fan of opera and rock music. "When we went to see the Eagles last November, he stood up and boogied," one of his secretaries recalls.
To help create a corporate culture conducive to his computer strategy, Idei has dubbed his minions "Digital Dream Kids." He hopes to spur them on to innovations that will extend the company's tradition--and ensure its survival. Just as the Walkman came together in 1979 from two existing technologies--the Dictaphone and the headphone--Idei aims to meld computer technologies with consumer electronics and "content" to create new products. One idea: "home terminals" to transform the TV into a multipurpose tool that handles games, Web browsing, photo printing, and financial planning.
To be sure, this vision is not unique. Thomson Consumer Electronics, whose RCA brand rivals Sony's in the U.S., has already demonstrated Web-ready televisions. Giant Philips is on the same trail, and a host of U.S. companies have ideas for merging the two technologies.
Moreover, for Sony to prevail, Idei will have to deal with some lingering cultural issues. Sony's loner origins and meteoric rise have bred a reputation for arrogance. The ill effects aren't difficult to spot: Sony supported its own Betamax VCR format long after the rival VHS system had triumphed in the market. Just last year, in the format battle over digital video disks, Sony and its partner, Philips, were trounced because they failed to court the Hollywood film industry. They just assumed the other movie studios would fall in line. Instead, Hollywood backed a setup from Toshiba Corp. and Time Warner Inc.
Sony's rivals in the Digital Age are betting that arrogance will trip the giant up once again. The new converging landscape, observes Thomson Consumer Electronics Executive Vice-President Joseph P. Clayton, "will be very complex, and Sony has a history of trying to go it alone." Idei insists that Sony knows how and when to collaborate. Take the PlayStation. Early in 1994, Sony resolved to introduce the new game platform in Japan in time for Christmas. To pull off the launch, it needed compelling games. Sony fired up its internal development teams. But it also offered cheap licenses and design tools to 200 independent developers, including Namco Ltd., which also writes for Nintendo and Sega. All told, about 80% of the 250 PlayStation titles on the market today were developed by outside contractors.
PIONEERS. The approach paid off. Since its debut in December, 1994, the PlayStation has grabbed about 40% of a market that had been dominated by Sega and Nintendo. Sony has now sold 5 million players. And consumers have bought seven or eight game disks each. These sell for about $50 and account for all of Sony's PlayStation profits.
Many of the new digital initiatives are based on partnerships. To get into PCs, for example, Idei struck an alliance with Intel, which will build motherboards for Sony's Wintel PCs. Sony also is working with Microsoft, Apple Computer, and others to create advanced set-top boxes for cable and satellite TVs. Working with Qualcomm Inc., it hopes to pioneer wireless home networks. These could make the spaghetti of wires behind the TV as quaint as banks of switchboard operators plugging in calls. At the same time, both Apple and Dell have turned to Sony for help in notebook products.
On the other hand, Idei continues to push projects that will use unique Sony hardware and content--and deliver fatter profits than industry-standard setups. Sony's Web site, from which Net surfers can now download movie or music clips for free, is in for a total overhaul this fall. The basic idea is to turn it into Sony Station, an online area for interactive entertainment, featuring Sony content. It will still be accessible over the Internet. But Sony executives hint that people who log on using Sony gear--whether game machines, Sony PCs, or handheld communicators--may get to see things nobody else will find. "If we can get an advantage to our hardware side by offering proprietary things you can only do with that hardware," says Jeff Sagansky, executive vice-president of Sony Corp. of America, "we'll do it, because the margins are better."
Can this approach work on the wide-open Internet? Many dismiss the giant because the company has failed in two attempts to crack computers--both times bucking then emerging industry standards. "Sony has always gone off in other directions on the computer side--always unsuccessfully," says Sun Microsystems Inc. CEO Scott G. McNealy.
Intel President and CEO Andrew S. Grove also has doubts. He dismisses the idea that consumer-electronics companies can steal the PC's thunder--unless, of course, they do it using Pentium chips. "If you try to make a TV mimic the features of a PC, you'd better be prepared to render the same level of consumer experiences that PC users are accustomed to," Grove argues. These users will want abundant local storage, fast microprocessors, and good connectivity to the Net, he says--in other words, a Pentium PC.
Some PC industry veterans, however, are less inclined to rule Sony out. Ian Diery, a former Apple marketing executive who now runs PC maker AST Research, believes that PCs will dominate the coming marriage between computers and televisions. But Sony's brand name "will be a big advantage...and Sony will throw lots of capital at the project," Diery says.
ELEGANT SHOPS. Indeed, the Sony name--a combination of the Latin sonus and the English "sonny"--is the most recognized brand in the U.S., according to a recent Harris Poll, outranking McDonald's and Coke. Idei knows this is a huge asset. To enhance it, Sony is building elegant "style shops" like the one at its New York headquarters. Paired with a "Wonder" museum explaining the history of Sony technology, it attracted 200,000 visitors last year. Sony's booming theater business is also bolstering its image. On a per-screen basis, Sony's Lincoln Square cinema complex at 68th Street in Manhattan is the highest grosser of any multiplex theater in the country, according to film market researcher Entertainment Data Inc. in Los Angeles.
The most important advantage, however, may be Sony's decades of making machines that work in the living room. The computer industry is well aware of how far it still needs to go in "ease of use" before its machines are welcome in the parlor. "It's fairly embarrassing to see the PC is not competitive," Microsoft Chairman William H. Gates III told an industry conference in April, where he outlined a new, consumer-friendly PC format. "It's too hard to use."
Sony's U.S.-based executives believe that on the Net, they can define a new relationship between hardware and software content. The essence of the plan is to create a system that rides on top of the "open" standards of the Internet, but provides additional ease-of-use features and special content that only will work on Sony hardware. The additional features will justify the higher prices that Sony hopes to charge.
Sony isn't, in fact, the only powerful company trying to pull off the delicate balancing act between open systems and more lucrative--but potentially less popular--proprietary approaches. Microsoft has taken a similar approach with the Microsoft Network. Originally conceived as a proprietary online service to compete with America Online, MSN is being recast as a Web site. But to differentiate the service and create some more profitable services, Microsoft plans to create special content that will only be accessible to consumers who log on using Microsoft's Explorer Web-browsing program. On the Web, "There can be something proprietary," says Forrester Research Inc. analyst William Bluestein. "Sony could use the Internet as a delivery platform that would support its devices."
Sony's approach to PCs gives a hint of how it might work on the Web. Sony's PC will start with a fairly standard Wintel PC with Sony embellishments in the areas of graphics and sound. But over time, it will evolve in some novel directions. For example, it will almost certainly incorporate Sony's upcoming consumer-electronics operating system, called Apertos. Aperto is designed to let consumer-electronics devices "talk" to each other in the home, and download programs off the Net.
Sony's ability to blaze its own path depends on how distinctive its technology is. That's why the company is working so hard to make sure that using its next generation of products won't resemble either channel-surfing or PC Web browsing on today's TVs and computers. Idei has little patience for lengthy program guides or complicated sequences of button-pushing, and he doesn't expect consumers to feel differently.
That's why the folks in that Tokyo lab spend so much time staring at a digitized talking head. A prototype for a future cyberguide, the three-dimensional boy speaks your language, gestures sincerely, and, no matter where you sit, looks you straight in the eye. Tell him what you want to watch, and in a few seconds, he will suggest some programs coming up and describe what was recorded during the day. The new technological paradigm "can't be a cool, hardware-oriented thing," says Toshi T. Doi, president of Computer Science Laboratories in Tokyo. "It will be a warm animal, otherwise it will not survive."
If Idei can move such marvels into the marketplace, Sony's smart robots won't have to sweep up in Japan's crumbling factories. They will be too busy helping Sony crank out all those digital gizmos for the living rooms of the 21st century.
HOT GADGETS AND FLASHY "CONTENT" COMMINGLE IN IDEI'S VISION OF THE FUTURE
HARDWARE
Globally admired quality and innovation let Sony charge a premium for consumer-electronics gear like Trinitron TVs and camcorders. Sony is also a top supplier of CD-ROM devices and digital production gear used by TV studios. It earns high margins on laser diodes, optical pickups, and lithium-ion batteries for laptops and cell phones.
MULTIMEDIA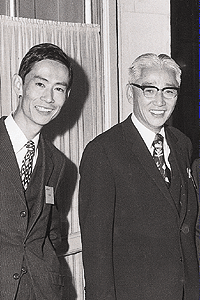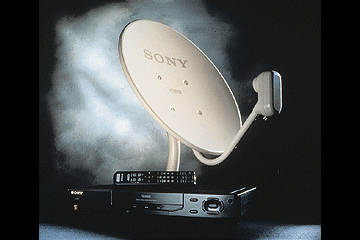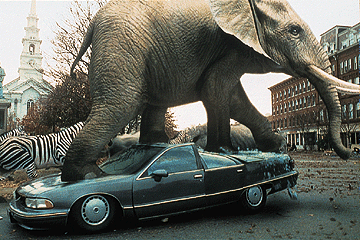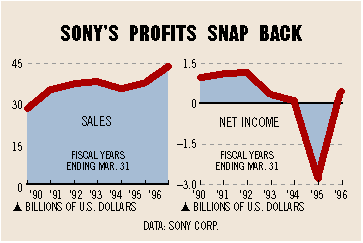 PlayStation symbolizes the union of Sony's manufacturing and entertainment software savvy. Sony's high-tech movie multiplexes are top grossers in America. Soon, visitors to "Sony Station" will be able to play video games and the Sony-syndicated Dating Game on the Internet. Visitors who log on with Sony gear will see things other cybertravelers can't.
SOFTWARE
Sony Music Entertainment (formerly CBS Records) has spiffed up its aging roster of stars--Barbra Streisand and Bruce Springsteen--with hot acts such as Pearl Jam. Sony's film studios crank out such hits as Jumanji, which took in $250 million worldwide. Sony's Imageworks creates whizbang special effects. Syndication of TV shows such as Seinfeld brings in $500 million a year.
Before it's here, it's on the Bloomberg Terminal.
LEARN MORE