Irate At A Miserly Student Loan
By
A shareholder revolt is brewing at Citicorp's 80%-owned subsidiary, Student Loan (STU), the nation's No.1 such lender. Several big stockholders blame managers and the company's Citicorp-controlled board for the lackluster performance of Student Loan's shares, now trading on the Big Board at 35, down from 41 in early March.
They're pressing management and the board to use Student Loan's huge cash hoard to buy back a big chunk of shares to enhance earnings and boost the price. So far, the company has ignored their pleas. But the dissidents are adamant: "We will continue to urge management to do something for shareholders," says Rick Conrad, a partner at Lincluden Management, a Toronto investment house that owns more than 800,000 shares.
He says Student Loan, which lends through Citibank and financial-aid administrators at colleges and universities, is "underleveraged and overcapitalized." Conrad argues it "should deploy its excess capital more effectively to enhance shareholder value." Conrad recalls that investors helped Citicorp in December, 1992, when it needed them to buy shares in Student Loan after 20% of the unit was sold by the bank to raise capital. Since then, he says, Citicorp has taken steps to enhance its own stock, including shares buyback.
"We're being treated like second-class shareholders," says Alex Porter, managing partner of Porter Felleman, one of the 71 institutions that own shares. Porter, who is a board member of Student Loan Marketing Assn., says Sallie Mae has repurchased 20 million shares over the past two years.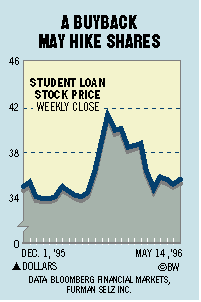 "Student Loan holds an unnecessarily high level of capital," notes analyst Les Nelkin of Furman Selz. "The ratio of capital to assets is about 5%, compared with 2.1% at Sallie Mae, the largest purchaser of student loans in the secondary market," he says. If Student Loan reduced this ratio to 3%--which he thinks is a figure acceptable to rating agencies, particularly because well-capitalized Citicorp is its parent--it could release about $117 million from its capital base. "That would be enough to repurchase 2.7 million shares at 45." Since there are only 4 million shares in public hands, with Citicorp owning the other 16 million, the repurchase would result, he figures, in 1996 per-share earnings of $3.75 vs. his current estimate of $3.35.
Nelkin says the stock is worth 50. But if the company were to deploy its excess capital more efficiently, he says, "the upside for the stock will be greater." The company didn't return a call for comment.
Before it's here, it's on the Bloomberg Terminal.
LEARN MORE