Choppy Winds At Sikorsky
Publicity from a crash will ease, but the Pentagon squeeze won't
Tim Smart
For 35 years, Thomas Malick Sr. watched helicopters take off and land at the Sikorsky Aircraft Corp. factory across the street from his service station in Stratford, Conn. "It had gotten to the point where I didn't hear them anymore," says Malick. But on May 9, as he was walking out to the pumps, Malick heard "a hell of an explosion," then watched in amazement as the U.S.'s largest helicopter, a CH-53E Super Stallion, disintegrated. "Parts were flying everywhere," he says.
The $26 million Marine Corps transport helicopter was slated for delivery to the White House to carry cargo. Its crash, and the deaths of its four occupants in a predelivery test, placed under sudden public scrutiny Sikorsky, United Technologies Corp.'s chopper subsidiary that has quietly borne four years of restructuring and retrenchment.
BLIP. After the initial publicity from the accident dies down, its financial impact on Sikorsky likely will be minimal. The crash, which the company says it is investigating, was its first in 20 years, and the mature Stallion program now accounts for only a handful of orders each year. While a series of problems in the mid-1980s led the armed services to ground the Stallion temporarily, its record since has been without serious incident.
But at a time when deliveries are off 30% anyway, "this kind of crash doesn't help," says Wolfgang Demisch, an aerospace analyst at BT Securities Corp. Production of Sikorsky's core Black Hawk helicopter is winding down, and several new and costly development programs have yet to take off. The company will deliver just 36 Black Hawks this year, down from 60 in 1995. Its new high-tech Comanche scout helicopter, meanwhile, is caught in perennial Pentagon budget-squeezing.
The result: Profits at UTC's Flight Systems unit, two-thirds of which are produced by Sikorsky, slid to $209 million last year, down 41% from 1993. And analysts expect Sikorsky to suffer sales and profit declines of up to 15% this year and next. "The reduced level of Black Hawk production will see them through this decade," says William Dane, an analyst at consultant Forecast International in Newtown, Conn. "But it's going to be a smaller company."
Blame the downturn on military downsizing that has cut helicopter spending by 55% since 1992. In the face of defense cuts, Sikorsky has trimmed costs ferociously. Total employment, at 8,400, is a third of what it was in 1991, and Teamsters Local 1150 Secretary-Treasurer Jack Powers expects to lose an additional 500 factory jobs by 1997. President Eugene Buckley has juiced manufacturing, cutting the time it takes to build a new chopper by more than half, to 15 months, in the past four years.
But the key to Sikorsky's future will be two new helicopters. With Boeing Co., it is building the Comanche, the military's new scout-and-attack chopper. Made of lightweight composites and featuring advanced electronics, the Comanche prototype can fly backwards at 80 miles per hour, with stealth characteristics that help it elude enemy radar.
PROMISE. Although under continuous budget pressure, Congress likely will authorize at least $339 million for the Comanche program this year. Indeed, military chopper spending is expected to rise steadily through 2001. So, even as its first production date slips into early next century, the Comanche holds the promise of becoming a multibillion-dollar annuity. "The support we're getting from the Army is better than we've ever gotten before," says Gary Rast, senior vice-president for government business.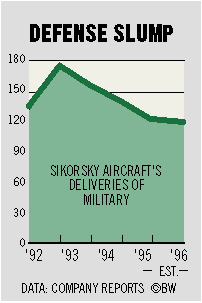 On the civilian side, Sikorsky last summer announced full-scale development of the S-92, a helicopter designed to lift as many as 20 people to offshore oil rigs and for civilian transport in places such as China and Russia. In fact, until new U.S. defense orders kick in, overseas markets are proving to be Sikorsky's life raft. In 1992, Turkey bought $1 billion worth of Black Hawks. This year, the chopper is favored to win contracts with Canada and Malaysia. Sikorsky wants foreign orders to grow to 50% of revenues, from 30% today. The Stallion crash? It may scare off a few passengers for a while, but it won't alter Sikorsky's long-term flight plan.
Before it's here, it's on the Bloomberg Terminal.
LEARN MORE