Under The Gun At Dayton Hudson
Susan Chandler
When Linda Ahlers was named head of hard goods at Dayton Hudson Corp.'s fast-growing Target Stores division in 1993, she surveyed her domain and made a command decision. The pink-handled tools had to go. The idea was great--hammers and screwdrivers with handles that fit a woman's hand. "But pink was going too far," says Ahlers. The women's tools stayed, but the Pepto-Bismol grips were history, replaced by strong colors such as red and blue. The upshot: a double-digit increase in the sales of the tools.
Ahlers is going to need that keen merchandising sense as she plunges into her biggest job yet. In March, the 45-year-old Ahlers was named president of Dayton Hudson's lagging $3.2 billion department store division. Her marching orders: Pump up sales and profits fast. That would be a tall order even for a department store veteran, but Ahlers has spent the past 19 years in the discount store arena, where price matters more than what designers are showing on Seventh Avenue. She isn't fazed. "The core elements of successful retailing are the same," she says.
She'd better be right, because she doesn't have the luxury of a long learning curve. For two years, Wall Street has been calling for Minneapolis-based Dayton Hudson to sell off its 64 upscale Midwest department stores--including the Marshall Field's, Dayton's, and Hudson's chains--to fund faster growth at discounter Target, where sales and profits have been booming.
The pressure continues to build: In April, J.C. Penney Co. confirmed it had made a $6.8 billion offer for all of Dayton Hudson in February but had been rejected. The move was seen as a sign of how undervalued the company is. "When someone lobs a takeover bid across your transom, and the offer is coming from one of the most conservative corporations in the country, it really gets your attention," says Sanford C. Bernstein & Co. analyst David A. Poneman.
Ahlers' boss and mentor, Dayton Hudson Chairman Robert J. Ulrich--who built Target into a powerhouse--is determined not to break up the company. But he needs better results from Ahlers to buy time with shareholders. The company's stock has been mostly lackluster since 1991, although it has risen 25% since January, to a high of 97 7/8, spurred in part by news of Penney's bid. Even at that price, however, the stock is up only 13% from two years ago. "Everyone who owns the stock would like to see them do something," says one major shareholder.
No wonder: The department stores' profits fell 32% last year, to $184 million, and were almost flat in 1994, evidence that customers were rejecting a 1994 shift to a "value" strategy emphasizing cheaper goods. The company's 295-store, moderate-priced Mervyn's division fared even worse, with 1995 profits down 51%, to $100 million. Overall, Dayton Hudson's earnings fell 28% last year on a revenue gain of 10%, almost all of which came from Target.
INNER CIRCLE. Ahlers does not have much of a chance, many outsiders say. Under pressure to cut millions in costs, she spends hours in meetings and poring over spreadsheets, not scouring the globe for snazzy goods. But insiders say her quiet determination, proven merchandise sense, and team-building skills made her the best person to take over after the abrupt resignation of longtime department store Chief Executive and President Stephen E. Watson, who was popular with subordinates but clashed with Ulrich.
Ahlers is one of the few women in Ulrich's cigar-smoking inner circle, and she earned her place as one of the "Target Boys" by getting results. Growing up in tiny Weyauwega, Wis., where her father ran a farm supply store, was great preparation. "He was really good with people, able to size them up and know who to take risks on," she says. At Target, where she rose from ready-to-wear buyer in 1977 to senior vice-president of hard lines in 1993, she took her own risks, expanding micromarketing so each store has items tailored to the local market. She also put the pharmacy business in the black and boosted sales by revamping merchandising.
Ahlers affects a low-key style. She eschews contact lenses for glasses and favors pants outfits for the office. Rather than bring in new blood, she's trying to achieve her turnaround with the existing staff. "I told my team, `I want you to figure out the solutions. That empowers you,"' says Ahlers, whom colleagues describe as unpretentious and reserved.
Still, she's already making her mark. She has brought in a greater assortment of popular men's lines, such as Tommy Hilfiger and Nautica, and she created a boutique for eye-catching children's clothes called Angelini. "We know we need to add back the distinctive merchandise," she says.
Ahlers says she's already seeing positive results from upgrading apparel but concedes that a full-scale turnaround will take over a year. Some customers already have been won over. Helen Charchut of Park Ridge, Ill., says she stopped going to Marshall Field's three years ago because the merchandise became dowdy. On a recent visit, "I found everything I needed," she says. "But more important, the attitude of the sales staff had changed. What a difference!"
As a department store shopper herself, Ahlers says she had noticed it was "getting harder to shop" because of a lack of knowledgeable salespeople. So Dayton Hudson store managers and, eventually, sales clerks will go through customer-service training. Shoppers are now called "guests," a service-oriented term Ahlers learned at Target, which in turn adopted it from Walt Disney Co.
Ahlers knows she must do the most fence-mending at Field's. She has rebuilt a Chicago-based buying staff to boost fashion content and has restored the chain's trademark forest-green shopping bags. The buying staff had been disbanded to cut costs after the chain was bought for $1 billion in 1990 from Britain's BAT Industries PLC. And the bags were changed to recycled brown paper. Thousands of shoppers wrote to complain about the bags and a decline in service.
POT OF GOLD. Ahlers' task would be easier if she had money to throw around. But Dayton Hudson has pledged to cut $170 million in costs over the next two years. More than half will come from Mervyn's, but the already pared-down department stores must pony up, too, even as the sales staff is increased by 10%.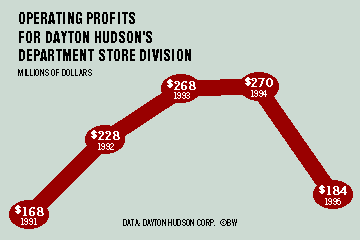 Those who know Ahlers say she's up to the challenge. She's used to working more than 70 hours a week--even more during Minnesota's long winters, when "I hunker down and put the burn on," she says. And she hasn't been afraid to make some unconventional personal choices to accommodate her career. When she was in her mid-30s, she and her husband, Steve, chose not to have children because of her frequent travels. Five years ago, Steve, whose job managing a kennel occupied him nights and weekends, quit to run their home. "We didn't need the income," says Ahlers. "We needed the time."
For all Ahlers' efforts, many experts believe Dayton Hudson's regional department store empire will belong to somebody else in a few years. The stores are "an undervalued jewel," says retail consultant Alan Millstein. "They are the last pot of gold for May Department Stores or Federated to pick off to complete their national expansion." With that kind of pressure, this understated Midwesterner is going to have to produce some pretty flashy results to keep Dayton Hudson in one piece.
Before it's here, it's on the Bloomberg Terminal.
LEARN MORE