U.S.: Listen To The Voice Of The Tortoise
by
The current argument over the economy's strength has the ring of an Aesop fable. In one camp, the hares think the economy is charging ahead, implying faster inflation and higher interest rates. The tortoises believe growth is slow and steady, an outlook that will limit wage and price pressures and keep the Federal Reserve on the sidelines.
Who will be right? The data still do not offer a clear answer, but the weight of the evidence tends to support the slow-and-steady crowd.
The surge-ahead camp, where the bond market is putting its money, took heart in the first quarter's surprisingly strong 2.8% pace of real gross domestic product, reported on May 2. The pace was more than a percentage point faster than most analysts had expected, and the yield on the benchmark 30-year Treasury bond soared above 7%, from a low of 5.95% in early January.
Twenty-four hours later, the turtles pointed to the Labor Dept.'s report that April payrolls were stagnant. Indeed, factory payrolls continued to shrink, and the trend of overall job growth remains down (chart). April auto sales dipped below March's pace, and in early May, retailers said sales were weak. These are hardly signs of an overheating economy.
The Fed's May 8 report from its 12 districts tends to agree. The so-called Beige Book, prepared for the May 21 policy meeting, said "economic activity advanced at a moderate pace in March and April," but that growth in some regions "had quickened recently."
TO BE SURE, the first half is shaping up to be stronger than most economists had anticipated at the end of 1995. However, a perkier first half will most likely come at the expense of a slower-than-expected second half. That's because higher long-term rates will cut into demand for housing and durable goods and increase households' burden of managing an ever-expanding debt load.
This scenario will please the Federal Reserve. The Fed is aware that the bond market is effectively tightening monetary policy already, without the central bank having to raise a hand--or short-term rates. Also, the Fed knows that any energy- and food-related spike in the price indexes will be short-lived.
Also, the first quarter's 2.8% growth rate appears to overstate the economy's trend. Four-quarter growth at the end of last year was 1.3%. It's now 1.8% and seems likely to finish the year at around 2%.
Consumer spending, which surged at an annual rate of 3.5% last quarter, cannot maintain that pace amid slower job growth and heavy debts. In addition, the surprising 14.5% jump in first-quarter capital spending for equipment is unsustainable given slower profit growth, low capacity use, and a government survey showing that companies plan to increase their 1996 capital outlays by only 1.5%, before adjustment for inflation.
Besides, growth led by business investment, which adds to capacity and enhances productivity, is hardly cause for worry about overheating and inflation. In fact, all of the first quarter's economic growth reflects productivity gains, since hours worked did not increase. Investment in information processing equipment soared 28% last quarter after rising 31% in the fourth. Spending elsewhere bounced back from a fourth-quarter decline, in part reflecting the end of the strike at Boeing Co.
One little-recognized feature of the GDP report was the acceleration of nonauto inventories (chart), which occurred despite a healthy 3.3% advance in overall final sales. Carmakers liquidated overstocked autos last quarter. So, as Detroit revs up production, inventory restocking will add to second-quarter growth.
Elsewhere, the numbers show there is still plenty of pressure on businesses to cut inventories further. That's why industrial production and factory payrolls will remain on the soft side in coming months.
MANUFACTURING CONTINUED to shed workers in April. Even with 28,000 workers returning to their jobs after the General Motors Corp. strike, factory employment fell by 17,000. Manufacturing payrolls have plunged by 319,000 in the past year, as productivity--not additional labor--accounts for all of the growth in output.
Total nonfarm payrolls eked out a gain of only 2,000 last month. However, that showing is no better reflection of reality than was the 631,000 jump in February. With the May data, the Labor Dept. will introduce a new seasonal adjustment process that it hopes will eliminate some of these distortions.
So far this year, payrolls are up at a moderate pace of 166,000 per month. In April, only service jobs, up 73,000, increased, while construction jobs plunged 53,000. During the past year, employment has grown 1.4%, half the rate of early 1995. This slowdown is why consumer spending will cool off from last quarter's pace.
However, tight labor markets mean pay growth will at least edge higher. The unemployment rate slipped to 5.4% last month, from 5.6%, but that mainly reflected a sharp drop in the labor force. The average wage jumped 0.6% in April, to $11.75 per hour. Still, a big gain is typical in the first month of each quarter.
Over the past year, pay increased 3.1%, faster than inflation. Will this pace exert some price pressures? Probably not, because the first-quarter rise in productivity means that unit labor costs hardly grew.
THE PROSPECT of steady income gains explains the paradox between what consumers say and what they do. Consumers keep shopping no matter how worried they say they are about jobs, how high their debt burdens are, or how small their benefit packages have become. The latter is the result of companies trying to balance their compensation costs. Since paychecks are expanding, businesses are cutting back on benefits.
These conditions should promote savings, but households are spending their extra cash. Consumers kept buying in the first quarter despite the East Coast blizzard, the federal shutdown, and the GM strike. Purchases grew a hair above the 3.2% gain in income (chart), and the savings rate remained a low 4.5%.
Households were also piling up more debt last quarter. Installment credit rose $6.4 billion in March. For the quarter, debt rose $29.4 billion, about the same large gain as in the fourth quarter.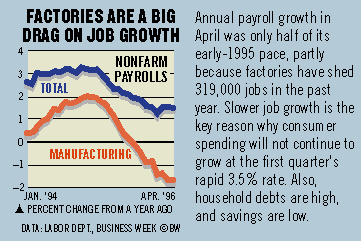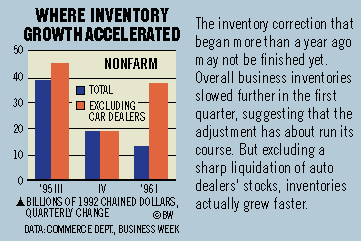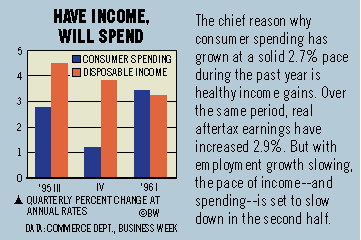 Early April data suggest that consumer buying was soft last month. Sales of motor vehicles fell 8.8%, to an annual rate of 14.9 million, and weekly retail surveys were lackluster. However, consumer confidence was at a six-year high in April, and as real wages continue to rise, spending could bounce back in May.
Clearly, consumers are not about to abandon the economy. Of course, the slowdown in hiring and higher long rates mean their spending trends won't be jackrabbit-fast. But with paychecks increasing and confidence high, households are not likely to pull back into their shells, either.
And for the economy, slow and steady will prove to be a winning strategy.
Before it's here, it's on the Bloomberg Terminal.
LEARN MORE