The Son Also Rises At Danone
As chairman, Franck Riboud will keep up the push overseas
Stewart Toy
After earning an engineering degree in Switzerland, Franck Riboud succumbed to a driving passion: to lead the vagabond life of a professional windsurfer. Wisely, his father, Antoine, didn't complain when young Riboud set off for California. Not long afterward, however, Franck got bored and came home to Paris, where he took a trainee job at BSN, the giant French food company then run by his father. Now--15 years later--the son is succeeding the father as chairman of Groupe Danone, as BSN is now called.
Managing the world's biggest producer of yogurt and cookies is a tall order for 40-year-old Franck Riboud. He will have to show that he deserves the job on account of talent, not his family ties. And that means restoring earnings growth at Danone, which has suffered from weak margins despite a strong stable of such supermarket brands as its namesake yogurt, Lu and Club cookies, Kronenbourg beer, and Evian spring water.
DEALS. The complaints of nepotism have already started. His appointment on May 2 reflects "a French disease," according to Colette Neuville, a leading French shareholder-rights advocate. "He may be quite competent," she says, "but he had more of a chance than others." Although the Ribouds own less than 1% of the company, its history is intimately connected to the rise of the father, now 77. Antoine Riboud took a modest bottle manufacturer in 1966 and turned it into a $15 billion food concern. A power in leftist circles, he was a great friend of late French President Francois Mitterrand.
Young Riboud rejects the carping about his elevation to the company's top spot. Noting that he has risen through a dozen jobs at Danone and knows its products and markets intimately, he insists that "people should judge me by my ability."
By most accounts, Riboud has plenty. Jovial and energetic like his father, this youngest of four children has been managing Danone's globalization. With only 15% of its sales generated outside Western Europe--vs. 55% for rival Nestle--Danone badly needs to tap markets in Asia and Latin America to build economies of scale and offset its mature, cutthroat markets in the European Union.
In recent years, Franck Riboud has guided a global search for acquisitions and joint ventures. This year's crop of deals includes a Chinese venture to produce milk-based drinks, a 33% stake in South Africa's largest dairy company, and a cookie operation in Brazil. On top of its power in yogurt and cookies, Danone is the world's second-largest marketer of mineral water: Nestle is No.1. In keeping with a plan to turn its corporate name into a global brand--Nestle-style--this year the French company will launch a new mineral water, labeled Dannon, in the U.S. (where the brand is spelled differently).
Trouble is, after spending more than $5 billion on global acquisitions in the past five years, Danone has increased its worldwide sales substantially without reaping similar gains in profits (chart). Meanwhile, its European margins have been falling because of weak economies and the growth of "house-brand" products. Margins are even worse in emerging markets, where Danone is still working with small, inefficient startup ventures.
NEW CAPTAIN, OLD TEAM. Many analysts are betting that Riboud can boost the margins by increasing sales and cutting production costs in new markets. "Danone has great savoir faire in brand marketing," says Emmanuel Weyd, a food industry analyst at Standard & Poor's Compustat in Paris. Franck Riboud has also shown that he knows how to cut costs--by engineering plant closings and restructurings in Europe. Those efforts burdened earnings with a $360 million charge last year. The stock price, at $154 on the Paris exchange, is off from a 12-month high of $173 last August. Now, analysts think Danone's European costs are in good shape.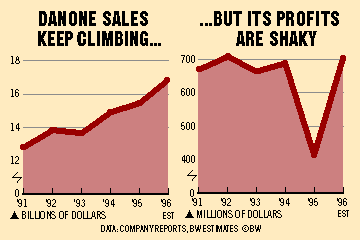 To allay any qualms that the new Danone chairman is lacking in experience, insiders note that his team of seasoned managers won't change--and his father will remain a director. But Franck Riboud's backers insist that he has what it takes. "He has a vision of the products and is extremely attached to Danone's reputation," says Michel David-Weill, head of Lazard Freres & Co. and a longtime Riboud adviser. "For me, the fact that he's his father's son is just chance." That's surely an overstatement. In any event, Franck Riboud now has the opportunity to prove his mettle.
Before it's here, it's on the Bloomberg Terminal.
LEARN MORE