The Sanity Underlying A `Schizophrenic' Market
Why higher interest rates may not destroy stocks
Jeffrey M. Laderman
It looks like trouble. Long-term interest rates continue their upward climb, crossing the 7% threshold. Blue-chips, which initially shrugged off rising rates, finally start to give ground, with the Dow Jones industrial average falling more than 200 points from its high. Meanwhile, the riskier over-the-counter issues are surging. Advisers tell investors to raise cash, and one prominent Wall Street strategist writes of "The Coming 1000 Point Decline."
Scary? Sure. Disastrous? Probably not. Rising interest rates have certainly diminished the relative attraction of stocks, but they haven't destroyed it yet. If interest rates continue to increase, stocks can really get clobbered. But with inflation subdued, rates could even retreat.
The bears also point to speculative froth. Two cases in point: Shares of Zenith Electronics Corp. shoot from 6 to 23 a share in six days, after the company says it plans to make cable modems that would speed access to the Internet; Comparator Systems Corp. soars from 6 cents to $1 a share as word spread about its device that can read fingerprints. But such excesses are a hallmark of a bull market--not necessarily a top. What's behind the broad uptrend in the NASDAQ Composite Index and other small- and mid-cap measures are some hard fundamentals. With the economy stronger than expected--the cause of the rise in interest rates--analysts are forecasting that these companies will have double-digit earnings growth in 1996, vs. meager gains for the large-cap stocks.
FINDING "FAIR VALUE". To Mary Farrell, a small-cap strategist at PaineWebber Inc., emerging-growth stocks have a way to go. She says the price-earnings ratio of the stocks in the T. Rowe Price New Horizons Fund--one of the oldest and largest small-company funds--is only 1.48 times that of the stocks in the Standard & Poor's 500-stock index. Historically, these small-cap stocks are good bets until that figure hits 2.
Presuming that most of this year's rise in rates is past, the blue-chip stock market should muddle through the next few months and show some renewed life later in the year as investors start to focus on 1997, when better earnings could help stocks move higher.
Until then, "it's a schizophrenic market," says Abby Joseph Cohen, investment strategist at Goldman, Sachs & Co. "You get signs of a stronger economy, rates move up, and stocks fall. Then people realize if the economy is stronger we'll have better profits, and stocks rise." Cohen counts five such bounces in the stock market since rates started moving.
Interest rates and earnings are the two key factors in determining the "fair value" of stocks. Craig T. Callahan, chief investment officer at Meridian Investment Management Corp., says that in January the market was undervalued by about 15%. Now his model shows stocks are overpriced by about 5%. "There's only 95 cents in value for every dollar you invest," says Callahan. He's not a seller yet, but says he will be if it slips to 10% overvalued.
POSITIVE PESSIMISM. Morgan Stanley & Co. strategist Byron R. Wien's model suggests that stocks have reached fair value. Still, Wien is warning of a 1,000-point decline from the Dow industrials' high to around 4700. He argues that the economy is strong and long-term interest rates will keeping rising, climbing more than 8% in 1997's first half. Corporate profits will pick up, he says, but not enough to offset the rise in rates. And investors, says Wien, who have patiently waited out the periodic declines in the stock market until now, may lose their nerve, exacerbating the downdraft.
The problems posed by rising rates can't be ignored, but they are not the entire story, either. "Look at technical and sentiment indicators, and the market's in pretty good shape," says Robert S. Meeder Jr., portfolio manager for the Flex-funds Muirfield Fund, who can shift his portfolio completely to cash if necessary. Right now, he has 75% in equities, 25% in cash, down from all stocks in January. Meeder notes that the New York Stock Exchange cumulative advance-decline line, a measure of the "breadth" of the market, has continued to climb as the stock averages stalled. That's a plus, not the sign of a fading bull market.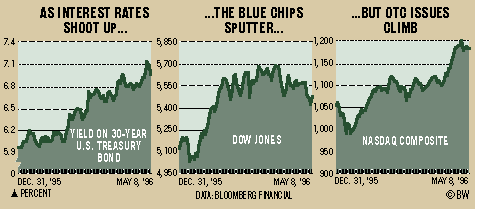 Ironically, another bright spot is the deterioration in market sentiment. Deterioration is positive? Sure, says Michael Burke, whose Investors Intelligence report tracks advice from investment newsletters. Burke says the percentage of bullish recommendations has declined steadily from 55.4% in late February to 38% now. That's historically a signal that the market will soon head back up.
Investors thinking about bailing out should remember that the Dow has risen 2000 points in just 16 months. In that light, the current decline is hardly a reason for the jitters.
Before it's here, it's on the Bloomberg Terminal.
LEARN MORE