Italy: Prodi Goes Into The Frying Pan
By
The honeymoon between Romano Prodi's newly elected center-left coalition and Italy's financial markets may last a while, but only if the new government quickly establishes its commitment to fiscal responsibility.
Prodi inherits an economy that is slowing down under the weight of 12.1% unemployment and Europe's slump, a mix that is starting to hit industry. A weak economy could hamper Prodi's efforts to work with the Communist Refoundation Party, which gave Prodi his election margin but opposes many of his programs. The current government of Prime Minister Lamberto Dini recently cut its 1996 growth projection from 3% to 2.4%, while private forecasts are about 2%, down from 3.3% in 1995.
The Prodi regime's first test is already waiting: a minibudget to eliminate the overshoot in the 1996 deficit target of 109 trillion lire ($70 billion), or 5.8% of gross domestic product. That would be down from 7.4% in 1995. Vincenzo Visco, a top economist in Prodi's Olive Tree coalition, says needed cuts may total 15 trillion lire, not 10 trillion as the Dini government estimates.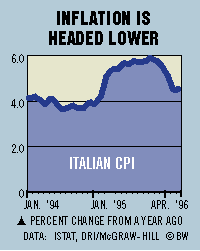 By the end of May, Prodi will have to give Parliament his Three-Year Economic Plan, which sets all fiscal targets for the 1997 budget. The budget itself is due by the end of September. The Olive Tree's electoral mandate includes fiscal austerity, aggressive privatization, reintegration into Europe's exchange-rate mechanism, and eventual entry into European monetary union. Thus, the gradual progress toward fiscal consolidation seen under Dini is a good bet. But first, the markets want a quick fix for the 1996 budget overshoot.
Given that, analysts expect the Bank of Italy to cut official interest rates by as much as a full point by yearend. Inflation, at 4.5% in April, is trending down and is expected to hit the central bank's 4% target by midyear (chart). And the market-friendly election results have boosted the lira. Lower rates will help the economy by yearend--and extend Prodi's honeymoon.
Before it's here, it's on the Bloomberg Terminal.
LEARN MORE