Imperial Oil May Soon Spurt
By
As most oil stocks rose to new highs, Imperial Oil (IMO) remained a sleepy giant. Indeed, the stock of Canada's No.1 oil company has been a wallflower, inching up just 16% since 1991. So why are some investors loading up on it?
They're convinced that management has decided to take bold steps to enhance its value. The betting is that Chairman Robert Peterson will seek board approval to authorize the repurchase of a huge block of stock--up to 25 million of the 189 million shares outstanding. These pros expect the big buyback between mid-May and mid-June. Spokesman Jean Cote says Imperial, which has been buying shares under a repurchase plan that expires in June, is still considering all options--including a big buyback move.
Imperial is 70%-owned by Exxon (XON). Expectations are that Exxon itself will buy back about 7.5 million shares, or 30% of the chunk to be repurchased. Imperial has a cash hoard of about $1.6 billion that could be used for a major buyback.
"Peterson has been on a kick trying to revive this long-neglected, unappreciated, huge cash machine," says veteran Wall Streeter Seth Glickenhaus, head of the investment firm Glickenhaus. "With all its assets, including proven and probable reserves, and with management's new drive to bolster the company, the stock should double in a couple of years," argues Glickenhaus. The stock is now at 39 1/2.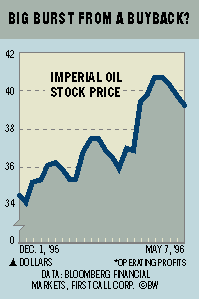 Sandy Margoshes, managing partner at the New York investment house of Cooper Wolpert & Margoshes, agrees that the Street has unjustifiably ignored this oil-and-gas producer. "While not particularly distinguished by its performance, Imperial appears determined to raise its earning power over the balance of this decade," he says. Margoshes sees management striving to expand production at Cold Lake, Alta., and increase polyethylene capacity and output. He also expects more cost-cutting, downsizing, and improving of refining and marketing operations. Imperial's highly competitive hydrocarbon reserve "is only bound to grow in value as time passes," he says.
Last year, Imperial produced 280,000 barrels of crude oil a day. Net proven reserves totaled 1.6 billion barrels of crude and natural-gas liquids, and 2.1 trillion cubic feet of natural gas. "My valuation raises those figures by 25% to include Imperial's vast unproven and probable reserves," says Margoshes.
Because of Imperial's "very good first-quarter results," Margoshes has revised his 1996 earnings estimate from $2.35 to $2.50 a share, and for 1997 from $2.80 to $2.90.
Before it's here, it's on the Bloomberg Terminal.
LEARN MORE