Amex Stoops To Conquer
It's going after card deals with the banks it once ignored
Leah Nathans Spiro
On May 2, American Express CEO Harvey Golub lobbed the equivalent of a Molotov cocktail into a credit-card confab in Atlanta. After years of either ignoring or picking fights with banks, Golub invited his rivals to team up with him and issue American Express cards, something no U.S. bank has ever done.
True, under Visa USA Inc. bylaws, banks that market Visa cards can't issue AmEx cards. But that didn't stop Golub: He said banks would "make more money" with AmEx than with Visa and urged them to revolt. "There is no reason for you to continue to live under this bylaw.... You and your customers have everything to lose from it," said Golub, who even provided the astonished bankers with his office phone number and told them to call him to talk deals.
FAST DANCE. Golub doesn't have any takers yet, but his aggressive move is yet another example of the shock treatment that's helping to revive American Express Co. after years of stagnation. Earnings were strong in 1995 and in 1996's first quarter, when they soared to $396 million, a 12% rise from a year ago. One big reason: a cost-cutting effort that trimmed $450 million in 1995 alone.
To stop a slide in the number of its cards in use, AmEx has been launching new cards, including the Hilton Optima card and the Delta SkyMiles Optima. The effort is paying off by boosting total cards outstanding to 37.8 million in 1995 from 36.3 million in 1994. In the first quarter of 1996 alone, AmEx opened 400,000 new Optima accounts, says Robert E. McKinley, editor of Bank Card Update.
AmEx also has used independent sales agents to expand its merchant network, which had been beset by defections and quarrels. Result: AmEx earned a 22% return on equity in 1995, and its stock is up 57% since the beginning of last year. Crows AmEx Vice-Chairman Kenneth I. Chenault: "We have made major progress in closing the gaps."
Not all the gaps, though. AmEx is still losing market share in the card market, while banks, now the dominant card-issuers, are gaining by offering low-rate, low-fee Visa and MasterCard cards. That's why AmEx wants to form partnerships with banks. Says Ned Davis, an analyst at Oppenheimer & Co.: "The best way to gain market share is to get the banks to issue the cards."
NICHE PRODUCTS. AmEx argues that bank customers want AmEx cards. For example, banks might want to issue the Platinum or Corporate Card, two AmEx cards that dominate their markets. "There are certain niches where certain AmEx cards would make sense," says Stephen A. Cone, chief marketing officer for KeyCorp, who nevertheless is not talking to AmEx about issuing its cards.
To make it worth the banks' while, AmEx is promising them increased profitability. The company can pay banks more because it collects more from its merchants. Banks could earn 1.3 cents on every dollar spent, compared with approximately 1 cents for Visa and MasterCard, estimates Oppenheimer's Davis.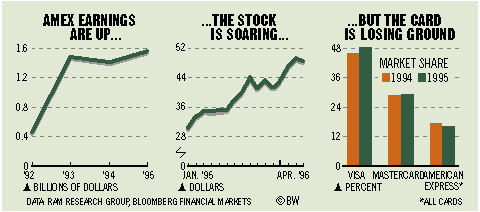 The big obstacle is Visa, a bitter enemy known for ads that viciously attack AmEx. Visa says none of its member banks has asked to be able to issue AmEx cards. "This is as if Pepsi steps up to Coke and says, `Could you help us out and bottle our product for a while?"' snipes Michael Beindorff, executive vice-president of Visa USA. MasterCard International Inc. acknowledges that it has no prohibition on its members issuing AmEx cards but will only say in a statement that it is "examining this issue." Bear, Stearns & Co. analyst Susan L. Roth expects one or more Visa issuers to challenge the prohibition and bring the matter to court. Golub says it could be a while before any deals are announced. Meanwhile, he's promised to wait by his phone.
Before it's here, it's on the Bloomberg Terminal.
LEARN MORE