A City Asks Where The Tourists Are...And Dreams Of The Olympics
Rachel Katz
On a chilly day, Gennady Grachev, 33, stands in his leather jacket near the baroque magnificence of the Hermitage Museum and hawks books and postcards featuring St. Petersburg's attractions. Available are photos of opera and ballet performances at the Mariinsky Theater, masterworks of art at the Hermitage and Russian Museum, and many other exhibitions featuring everything from musical instruments of the Romanov Empire to the city's horrific struggle during 900 days of Nazi siege. Grachev knows his livelihood depends on the whims of visitors who used to flock to the city. "I make enough to live on, but I'm not about to get rich," he says with a shrug.
If tourist numbers are any indication, Grachev knows what he's talking about. Even though the Iron Curtain drew open five years ago, tourism is far below levels hit during communist rule. Back then, Intourist, the Soviet tourism monopoly, counted as many as 15,000 tourists entering daily, and around 4 million annually in 1987-88. "We couldn't handle the requests we were getting," said Igor Dobroserdov, director of the St. Petersburg Travel Company, Intourist's local heir.
FIVE STARS. But last year, only 1.8 million sightseers arrived. That's peculiar, especially since Russia's move toward capitalism has brought more and better services, including ethnic restaurants and decent stores. Before, for example, visitors were shunted into drab Intourist hotels. But today, two of those hotels, the Nevsky Palace and the Grand Hotel Europe, have been renovated into five-star elegance with international bank backing to the tune of $120 million each. They are managed, respectively, by Austria's Marco Polo and Germany's Kempinski chains.
The dearth of tourists has city officials scratching their heads. One reason, they figure, is waning foreign fascination with Russia's reform efforts. Another is that under communism, it was politically easier and cheaper for tourists from East bloc countries to visit. Now they're heading to the West. And for Western tourists, St. Petersburg is no longer the bargain it used to be. Several days in the city once cost roughly $300, including travel from Scandinavia. Today it has become the world's 17th most expensive city, and the same package would cost several times as much.
The biggest obstacle to tourism, however, is the city's reputation for crime, deserved or not. The U.S. consulate considered the problem so serious that its crime report in February, 1994, advised American tourists to stay away. (The warning has since been toned down.) City officials counter with statistics showing that the violent crime rate is only about one-third of that in big U.S. cities such as New York. But the city can't make headlines go away. On Feb. 26, a British consultant for the European Bank for Reconstruction & Development was shot dead when he was caught in a mob shootout while sipping coffee at the Nevsky Palace. Such horrors scare off direct foreign investment in tourism, which has been at a standstill since 1993.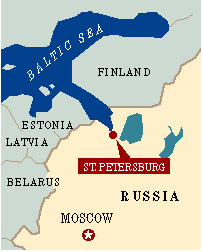 Undaunted, city officials have ambitious plans--for example, they want to host the Summer Olympics in 2004, though few experts think they have a shot at it. So city boosters are hitting the travel festival circuit to spiff up St. Petersburg's image. Foreign companies are trying to help, too. French catering firm Potel & Chabot just sponsored its second annual New Year's Eve ball to attract winter tourists, while American Express Co. is training high school students aspiring to the tourist trade to be more courteous and helpful. European Union consultants are looking at helping hotels sharpen their management, while the city in May is holding an auction to privatize the rundown Oktyabrskaya Hotel.
Another problem is that the city has far more pressing needs than tourism. It earned $100 million last year from visitors but chose to apply it to social services, which have been severely cut as a result of Russia's rocky shift to capitalism. Even though the city has been a pioneer in selling municipal bonds, it plows that money into fixing roads and bridges. So it looks as if Gennady Grachev's business won't pick up for a while.
Before it's here, it's on the Bloomberg Terminal.
LEARN MORE