Washington Ain't Seen Nothin' Yet
Small-business owners are increasingly flexing their newfound political muscle. According to the National Federation of Independent Business, contributions from entrepreneurs to the organization's political operation have soared over the past several election cycles (chart). Much of the money is used to finance pro-small-business candidates in state and federal elections. Some of the money goes to educate members on how to become more politically involved.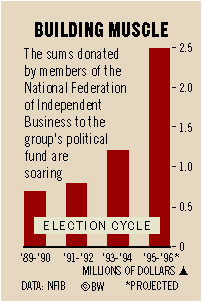 The catalyst for this surging activism was President Clinton's ill-fated health-care reform. Small-business owners mobilized to help kill the bill, which they viewed as potentially crippling to small operators. "We found with health care that small business could coalesce around an idea and be a powerful force," says Jeff Butzke, national political director for the NFIB.
Butzke's group is gearing up for November. On Apr. 18, it led a conference to train small-business owners in political action, such as offering their phones after hours to candidates' volunteers or teaming up with other small-business people to advertise for a pro-small-business candidate in the local paper. The session linked 500 members in 18 cities via satellite and included a speech by House Speaker Newt Gingrich (R-Ga.).