U.S.: In This Derby, Inflation Is Still An Also Ran
by
After plodding along in the first quarter, the economy now is picking up the pace. Consumers are feeling upbeat and industry is showing somewhat more pep than it did in the winter.
Don't cue the band to play My Old Kentucky Home just yet. The economy still hasn't the speed of a Kentucky Derby entry. Still, the early readings on consumer confidence, construction, and industrial activity indicate that it is performing considerably better this spring than in the fourth or first quarters. Growth in gross domestic product could pick up to 21/2% in the second quarter, which would be the strongest gain since the third quarter of 1995.
One reason is that inventories are better aligned with sales, enabling manufacturers to book more orders and boost output. Auto makers, in particular, are expected to lift their production schedules this quarter.
The economy is not ready to run flat-out because the bond market continues to show that it can jerk the reins anytime it wants. Long-term interest rates are lodged in nosebleed territory, especially when you consider how docile inflation is. Moreover, inflation will remain tame, even with the recent spike in oil and grain prices. That's because businesses are keeping a lid on labor costs--their biggest expense.
THE INDUSTRIAL SECTOR seems ready to add to economic growth. The National Association of Purchasing Management says its business index rose to 50.1% in April, from 46.9% in March. April was the first month since last July that the index has been above 50%, the mark indicating that manufacturing is expanding.
The NAPM production index jumped to 52.1% last month, from 46.6% in March. Manufacturers continued to pare inventories in April but at a slower rate than in March. The bulk of NAPM members--58%--felt that their customers' inventories of products sold by the purchasers' companies were at just the right level.
Leaner inventories pave the way for more orders. And indeed, the index of new orders rose to 53.8% from 49.7% (chart), helped by an increase in exports.
New demand will ensure gains in output this spring. However, payrolls may not expand. The April NAPM employment index rose to only 45.3%, from 44.7% in March. A reading under 47% is consistent with a decline in manufacturing payrolls.
In keeping with the mild inflation outlook, the purchasers also said that more prices are falling than rising. The NAPM index of prices paid edged up to 40.1% in April, from 39.5%, but any reading below 46% is associated with a decrease in prices.
Looking ahead, demand should increase over the course of 1996. That means the combination of rising orders, leaner inventories, and few price pressures will continue to lift the mood in the factory sector, which struggled through some sullen times in the winter.
FOR THEIR PART, CONSUMERS seemed euphoric about the economy in April. The Conference Board's index of consumer confidence jumped from 98.4 in March to 105.3, the highest reading in six years (chart).
Confidence had plunged in January, brought down by some high-profile layoff announcements and the miserable weather. Spirits are much better now. The board reported that its index of expectations rose to 96.7 from 90.7 in March. In addition, consumers' assessment of current economic conditions climbed to 118.2 in April from 110 in March.
The Conference Board also said that the percentage of consumers who thought jobs were "hard to get" fell to 21.3% from 26.2% in March. This suggests the labor market is solid and will support future income and spending growth.
Housing demand is fading, though. Sales of new single-family homes fell 7.6% in March, to an annual rate of 672,000. Mortgage applications to purchase a home were no higher in April than in March, indicating demand has not picked up this spring.
The number of unsold homes rose 4.4%, to 379,000, in March, the biggest inventory bulge since 1980. When compared with the selling rate, builders had a 6.8-month supply of unsold homes in March--the same rate as a year ago but high enough to table some new projects.
The construction industry did end the first quarter with a bang. Building spending jumped 3.1% in March, more than recouping a revised 1.6% drop in February. After adjusting for prices, outlays were still up 3%, with residential, commercial, and public-works spending all posting large increases.
Eventually, though, weaker demand will drag down residential building, the largest segment of the construction industry. Home buying is slipping because of rising mortgage rates. After falling as low as 7% in mid-January, the fixed rate on a 30-year mortgage has hit 8.11%.
Credit--or blame--the bond market for making home buying more expensive. The bond market fears that faster growth will spark inflation. The yield on the benchmark 30-year Treasury bond ended April at 6.91%, up from 6.67% in March. The yield had dropped below 6% in mid-January. By worrying about inflation, the bond market has succeeded in raising long rates high enough to subtract about half a percentage point from growth in the second half of 1996.
THE PROBLEM with the bond market's thinking, though, is that inflation shows little sign of stirring. And despite the expected pickup in economic growth, prices are unlikely to rise by much this year.
That's because labor costs are growing so slowly. Employment costs for civilian workers rose 0.7% in the first quarter, or only 3% from a year earlier. That's about the same as in the fourth quarter of 1995.
Tighter labor markets are exerting some upward pressure on straight pay. Wages and salaries rose 1% last quarter. Over the past year, pay increased 3.2%. That's the biggest gain in four years and about half a percentage point faster than inflation.
To offset fatter paychecks, companies are cutting back on their benefit packages (chart). Benefit costs fell 0.1% last quarter--the first decline since the Labor Dept. started to track compensation back in 1980. Benefits are up a mere 2.2% over the past year, reflecting a slowdown in some bonuses, health and unemployment insurance, and workers' compensation.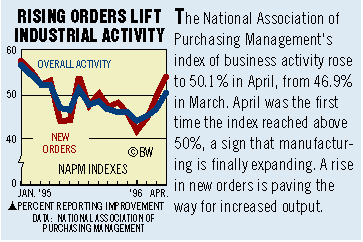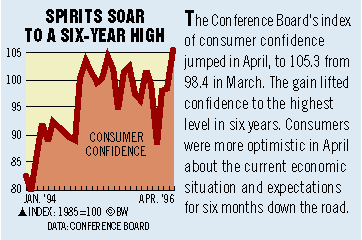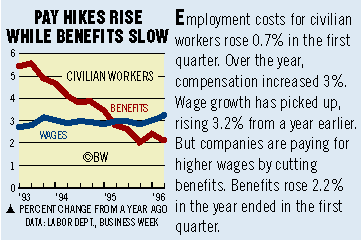 The rise in the demand for labor, especially for skilled workers, means that real pay will edge higher this year. However, companies will just juggle wage gains against benefits to slow the growth of total compensation. That's not to say that wage growth won't squeeze profit margins. It will, but only a bit.
Any pay hikes will be modest even though the latest reading from consumers and purchasers show a better economy. However, if you think it is a foregone conclusion that a healthier economy means a worrisome rise in inflation, bear this in mind about sure bets: No favorite has won the Kentucky Derby since 1979.
Before it's here, it's on the Bloomberg Terminal.
LEARN MORE