Revco: It's Great To Be Alive, Sort Of
The drug chain retools for a future it thought it didn't have
Zachary Schiller
For 19 years, the Revco-Cleveland Marathon has been a springtime civic celebration. But participants wondered if this year's race, scheduled for May 5, might be the last--the victim of the local drugstore chain's merger with rival Rite Aid Corp.
It was a close one. Thanks largely to the Federal Trade Commission, the marathon--and Revco D.S. Inc.--will remain in business. On Apr. 24, Rite Aid withdrew its offer, bowing to FTC complaints that the new drugstore chain would control too much of the market in nine states. The unexpected decision may have been good news to 10,000 marathon runners, but it has complicated the economic future of a company that had planned to vanish from the corporate scene. Executives had been scouting for new positions. Expansion plans were shelved. And modernization of acquired stores ground to a halt. "They thought they were dead, and have been laying on a slab for five months," says Mark A. Husson, an analyst at J.P. Morgan Securities Inc. "They have to get off a slab and start moving again."
Can a company come back from such a near-death experience--particularly after emerging from a searing bankruptcy reorganization just four years ago? The short-run prognosis appears good: In an upbeat Apr. 29 conference call with Wall Street analysts, President and Chief Executive D. Dwayne Hoven assured Wall Street that earnings would meet analysts' estimates for the fiscal year ending in June--and exceed them next year. Philip J. Muldoon, an analyst at McDonald & Co. Securities Inc., figures Revco will earn $83 million on $5.2 billion in sales this fiscal year. In fact, because it had suspended efforts to find and build new stores and invest in its systems, expenses are a bit lower, and sales have remained strong.
A Revco spokesman says it is wrong to "think we've just been counting ceiling tiles the last few months." But the company is just restarting its real estate development efforts. It also has fallen behind rivals in developing its own department to manage pharmacy benefits, which would compete with the big managers that have come to dominate the prescription-drug business.
Revco's long-term strategic challenge is to grow fast enough--and be efficient enough--so that it can offset the pressure being put on drug prices by these huge purchasers. Managed-care companies are quickly increasing their share of prescription-drug sales (chart), and Revco is winning plenty of their business. But with managed-care companies now paying for the bulk of Revco's scripts, gross margins are being squeezed, falling from 29.6% to 29.3% in the past year.
SWEETENER. Revco's long-term fate may depend on its ability to retain managers who had expected to leave the company once Rite Aid took charge. "Everybody was out looking for jobs," notes Muldoon. Even Hoven, who says he now will stay with Revco, had already sold his house and planned a move to Florida. Top managers had reason to wait around for the conclusion of the sale before leaving the company: severance packages and options that ran into the millions of dollars. That's why only about 120 of the 1,100 lower-level headquarters employees had left before the FTC intervened.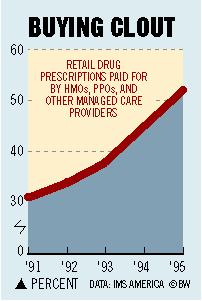 Since the deal's collapse, Chief Financial Officer James J. Hagan is the only top manager who has announced his departure--and he had promised to go elsewhere months ago. "You'll see defections here and there," says Hagan, who emphasizes that "there is no mass exodus here."
To make sure, Revco is planning an incentive sweetener for executives. Hoven expects most of Revco's management to remain intact. The day after Rite Aid abandoned its bid, owners Sam Zell and Talton R. Embry declared that "our board is not seeking another buyer for Revco." Indeed, says Chief Operating Officer Carl A. Bellini, Revco hopes to become a buyer itself as consolidations continue. Now back from the brink, Revco is warming up again for a new marathon.
Before it's here, it's on the Bloomberg Terminal.
LEARN MORE