Renewing Veins Gives Esc A Leg Up
by
Despite the frenzy in initial public offerings, it's hard to be blase about the splash ESC Medical Systems (ESCMF) is making. ESC was taken public by Smith Barney and Montgomery Securities on Jan. 24 at 15 a share and closed that day at 27. Analyst Stephen Handley of Smith Barney quickly boosted his 12-month price target to a lofty 40. Montgomery's Leonard Yaffe set a target of 39. Those proved to be low: The stock hit 45 7/8 on Apr. 23.
What's so hot about Israel's ESC Medical? Analysts expect its PhotoDerm VL to soar: Using an intense, pulsed-light-source technology, PhotoDerm treats varicose veins, spider veins, and other vascular lesions.
ESC introduced PhotoDerm in Europe in late 1994. By August, 1995, the product got U.S. Food & Drug Administration approval. ESC has sold 80 PhotoDerm units so far in the U.S. Rival methods for treating veins exist, such as sclerotherapy injection, surgical ligation, and laser systems.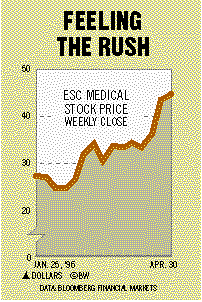 "PhotoDerm VL has distinct advantages over these alternatives," says Montgomery's Yaffe. Because it's noninvasive, he says, PhotoDerm does not cause the pain and scarring associated with surgical ligation and sclerotherapy. ESC is also more flexible: It can treat vessels too small or too big for other methods, he adds.
"First-quarter results exceeded expectations by a wide margin," notes Handley. So he has raised his earnings estimates to 94 cents a share for 1996 and $1.30 for 1997, up from 34 cents last year. Prospects for new products are bright, says Handley. These include Epilight, a hair-removal technology that could be sold in foreign markets soon. ESC Chairman Shimon Eckhouse says he expects to seek FDA approval of Epilight in the next few months.
Before it's here, it's on the Bloomberg Terminal.
LEARN MORE