Radioshack Looks Like A Palace Now
A new focus on service has made it Tandy's hottest unit
Stephanie Anderson Forest
When Tandy Corp. tapped Leonard H. Roberts to be president of its flagship RadioShack chain in July, 1993, some observers thought it an odd choice. After all, what could a guy from the food business know about consumer electronics? Jim Livingston, president of a RadioShack dealers' group, recalls his comment when he heard about Roberts: "Where is he going to put the salad bar?"
Livingston isn't making wisecracks anymore. With a new focus on the service side of the business, Roberts, 47, has brought salad days back to RadioShack. While the Fort Worth-based Tandy's other chains are floundering, RadioShack's sales and profits are up smartly. That has positioned Roberts--who also became president of the $5.8 billion Tandy in January--as heir apparent to Chief Executive John V. Roach, 57. Tandy officials declined to respond to questions.
The first outsider to run RadioShack, Roberts has revitalized the 6,836-store chain, mainly by highlighting customer service. Yes, RadioShack's core business still consists of such hard-to-find doodads as diodes and cables. But you can also activate your cellular phone or have a radio gift-wrapped and shipped. "The company was born again with outside leadership," says Tandy director and former RadioShack President Lewis F. Kornfeld Jr.
Roberts' hiring has paid off nicely. On Apr. 18, Tandy reported that RadioShack's first-quarter same-store sales rose 5%, compared with flat sales at rival Circuit City Stores Inc. and 1% at Best Buy Co. Analyst George F. Sutton of Rauscher Pierce Refsnes Inc. estimates that RadioShack's operating earnings were up 10.3% over the previous year. Overall, Tandy's operating income was $53 million excluding an accounting charge, an increase of 4% from the year-ago quarter.
An energetic marketer, Roberts had previously engineered key customer-service programs and slick campaigns that tripled profits at both Arby's Inc. and Shoney's Inc. His experience overseeing some 2,000 sites at each of the chains helped bridge the gap between roast beef and electronic gizmos.
REPAIRS AND GIFTS. Roberts wasted little time at RadioShack. Within months, he had junked its longtime slogan, "America's Technology Store," in favor of the current service-oriented tag line, "You've got questions. We've got answers." New offerings include electronics repairs for RadioShack and other branded goods, a gift service, and in-store kiosk-catalogs for ordering 100,000 hard-to-find items. Salomon Brothers Inc. analyst David C. Childe estimates the repair and gift services, launched in 1994, racked up a cool $75 million in sales last year.
Roberts has also moved RadioShack further away from personal-computer-related products, where prices are falling. The new mix stresses higher-margin items such as private-label batteries and electronic parts. That's why RadioShack's gross margins of 49% are more than double Circuit City's 23.3% and nearly four times Best Buy's 13%.
Another initiative was to better utilize RadioShack's database of 80 million names--one of retailing's largest--with targeted marketing. And Roberts is adding hot items such as direct satellite systems (DSS) from RCA and Tele-Communications' Primestar, cellular phones from GTE, and IBM's Aptiva PC to attract brand-conscious customers. While rivals sell some of these, RadioShack has won some exclusive deals.
Donald E. Herr, Primestar's senior vice-president for sales and distribution, says RadioShack's vast network of stores helped it land Primestar's distribution deal. "If you ask 95% of the population where a RadioShack is," says Herr, "they will know." The service emphasis also made a difference. "Four to five years ago," Herr adds, "we would have looked for a different partner."
Service agreements with Primestar and others have also created an incremental revenue stream. Under the Primestar agreement, customers who buy their equipment at RadioShack pay the retailer both a percentage of the installation and a chunk of the ongoing monthly programming fees. Analyst Childe says RadioShack plans to add one to two new service alliances each year, with each adding up to $100 million in annual sales within two to three years.
FUTURE SQUEEZE. Although Roberts' emphasis on popular products such as cellular phones and DSS has helped turn RadioShack around, his success has also handed the company a new challenge. Because these products are less profitable than staples such as cables and cords, they have begun putting some pressure on gross margins. With overhead already more than twice as high as its competitors--mostly because it has smaller stores in many more locations--this could pose a problem. "RadioShack has to maintain margins of 50% or thereabouts to remain profitable," says analyst Ursula H. Moran of Sanford C. Bernstein & Co., "or it has to cut costs dramatically."
RadioShack's revival couldn't come at a better time for Tandy--or for Roach, who has overseen a host of failed strategies since he became CEO in 1981. While Tandy's sales have more than tripled since Roach took the reins, profits are up a paltry 25%. And Tandy's total shareholder return over the past decade is a dismal 13%, vs. nearly 170% for the Standard & Poor's 500-stock index. Indeed, RadioShack's performance seems to be the exception. Since 1993, when he ditched PC manufacturing to return to retailing, Roach has been revamping RadioShack and developing Tandy's other two units, superstore chains Computer City and Incredible Universe, a "gigastore" packed with everything from blenders to computers.
DOCILE BOARD. But the two chains have been major disappointments, losing a combined $50 million last year. This means RadioShack accounted for all of Tandy's 1995 net income of $212 million, down 5.5% from 1994. "The only reason Mr. Roach still has a job is because of RadioShack," says outspoken Roach opponent Matthew D. Upchurch, grandson of Tandy founder Charles D. Tandy and son of board member Jesse L. Upchurch. The family owns 2.4% of the common stock. Indeed, many observers see Roberts as a shoo-in for the top job. "If something happened to [Roach] today," says director Jack L. Messman, CEO of Union Pacific Resources Group, "we would certainly consider Len." Ironically, though, Roberts' success could slow his ascent by bolstering Roach's shaky tenure.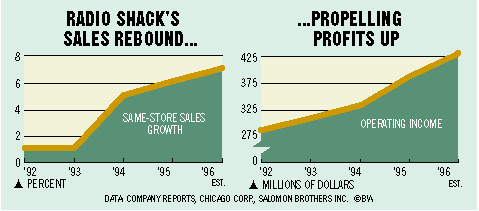 In recent months, Tandy stock has climbed from its 52-week low of 34 1/8 to around 52 1/2, primarily because of RadioShack. And Roach remains firmly in control--thanks in part to a docile board stacked with associates. After Roach stared down angry shareholder-rights groups in the early '90s, many gave up and sold their stakes. The current investor crop isn't sweating yet. "They've stumbled," says Richard L. Jenkins, portfolio manager for Trimark Investment Management Inc., which owns 4.5% of the stock. "But management is trying to fix the problems." Until that happens, the only palatable part of Tandy is RadioShack--thanks to Roberts' relish for customer service.
Before it's here, it's on the Bloomberg Terminal.
LEARN MORE