Is Tokyo A Bull About To Wake Up?
A stable yen and easy credit could fuel Japanese stocks
by
It's hardly a reprise of the bubble years, yet the scent of quick money is in the air again at the Tokyo Stock Exchange. When Daiwa Securities Co. recently targeted Japanese office workers and housewives with ads in women's magazines promoting its "ministock" program for modest trades, 50,000 new customers signed up.
They're not the only Japanese investors returning to equities for the first time in years. With domestic life insurers and other big institutions joining investors from abroad, the Nikkei stock average rebounded to a four-year high of 22,282 in early April. Although it has retreated a bit since then amid fears of rising short-term interest rates, market watchers still expect the average to gain an additional 1,000 points or so and finish the year up 15% from its 1995 close. Some analysts even see the Nikkei hitting 25,000 in 1996.
Such bullish sentiments haven't been felt on the Tokyo Exchange floor for a long time. After its 1989 peak, the Nikkei plunged into a death spiral, shedding over 60% of its market value by the time it hit its low of 14,500 last summer. Then, the market finally turned around. As Japanese financial authorities took forceful steps to rein in the soaring yen and slash interest rates to record lows, overseas investors poured in some $62 billion in a huge bet on an economic rebound. Now, the locals, convinced that the yen will remain stable and credit easy, want in on the action.
UNTETHERED. Indeed, the Ministry of Finance (MOF) wants to see Japanese investors take part. The Ministry is making it easier for Japanese money managers running Japan's $2 trillion pension market to invest in equities. Free to steer more money out of government bonds yielding 3% and into stocks, pension funds plan to sink $40 billion into equities in 1996.
Tokyo's stock market staged abortive recoveries in 1993 and '94, of course. But "this is the real thing," insists Ian C. Burden, representative director at HSBC Asset Management Japan. Indeed, after four years of stagnation, investors are regaining confidence. Japan is on track for gross domestic product growth of about 2.5% in '96, with manufacturers preparing to announce profit gains of over 20% for the fiscal year that ended in March. Analysts expect pretax earnings to rise an additional 33% in the fiscal year ending in March, 1997. Industrial production, business investment, and consumer spending are also up. Even commercial-property prices may be close to bottoming out.
Small wonder that Tokyo stockpickers have jettisoned their defensive strategies of buying only companies with a proven technology edge, pricing power, or scads of cash. Now, some are moving into lesser-known companies traded on the over-the-counter market. Shuei Abe, manager of the Warburg Pincus Japan OTC Fund--whose net asset value has jumped by a third since last June--thinks innovative retailers will ride the rebound in consumer spending. His favorite: Yamada Denki Ltd. It is growing 40% annually by supplying personal computers to small markets outside Tokyo and Osaka.
TESTS IN STORE. Big-capitalization auto, steel, and equipment issues are also coming back into fashion, as are high-tech stocks, even though they were bid up by American and other overseas investors last year. But the rally still could face some tough tests before a bull market is finally in place.
Fears that the Bank of Japan might raise rates if the economy rebounds too quickly have already trimmed some of the Nikkei's gains and pushed the dollar down modestly against the yen. But some economists think the economic recovery may start to slow as early as next year. Consumer spending, for one thing, could suffer if the MOF, as expected, pushes through a hike in the national consumption tax to cope with Japan's widening budget deficit.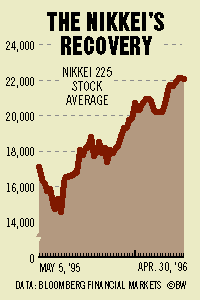 The rising deficit itself could push long-term interest rates higher. And while banks are currently enjoying a windfall by borrowing at near-zero rates and plowing the money into stocks and bonds, their estimated $800 billion in bad debts is still expanding, thanks to record-high corporate bankruptcies. A big bank failure could trigger a run on bank stocks--a sector representing 23% of the Tokyo Stock Exchange's market capitalization.
So far, though, the Nikkei's turnaround looks like anything but a fluke--especially now that individual Japanese consumers are starting to buy. Kenichi Sagami, general manager mf equities for Yamaichi Securities Co., points out that individuals control $11 trillion in financial assets. If Japan's penny-pinching homemakers pile into stocks, this rally should have some staying power.
Before it's here, it's on the Bloomberg Terminal.
LEARN MORE