Gucci, Armani, And...John Paul Ii?
The Vatican embarks on a big-time marketing campaign
Silvia Sansoni
Maybe you have traveled to Rome to view the wonders of the Vatican--St. Peter's Square, the Basilica itself, or the city-state's great collections of Renaissance painting and medieval manuscripts. Well, if all goes as planned, you can recreate some of that experience at home--by wearing a T-shirt with Vatican artwork on it, say, or decorating the Christmas tree with an ornament emblazoned with a Madonna and Child from the Vatican. Or maybe lighting a candle bearing St. Peter's keys and the papal crown.
In a marriage of theology and marketing, the Holy See is using the power of modern licensing and brand management to raise cash and spread the word about the Church. In June, the Vatican Library will launch a mass-licensing program that will put images from the library's art collection, architecture, frescoes, and manuscripts on such mundane objects as T-shirts, glassware, candles, and ornaments. In a separate Vatican deal, cassettes of the Pope saying the rosary are already available. And you can expect other ventures before 2000, when the Vatican celebrates two millennia of Christianity.
ROSARY BEADS. Because of its size and intent to sell in department stores and other mass outlets, the marketing blitz differs from earlier, small-scale Vatican ventures, such as its gift shop. Holding a master agreement with the Vatican Library is California-based licensing company Cortile Del Belvedere Inc. Founded in 1987 solely to handle the Vatican account, Cortile has already gotten a few ventures up and running. Last fall a Burbank (Calif.) company called 1928 Jewelry Co. launched a line of Vatican Library costume jewelry, including rosary beads, crucifixes, and medallions. The trinkets fetch from $15 to $75 in department stores such as Macy's and Dillard's. The jewelry, which Marketing Vice-President Gary Edenfield says is "not just for Catholics," should bring in revenues of $10 million this year.
Meanwhile, Turner Publishing Inc., an arm of Turner Broadcasting System Inc., has come out with a $395 Bible illustrated with illuminated manuscripts from the Vatican Library. This version of the Good Book sold 7,000 copies within four months of its release. And New York-based Echo Design Group is peddling ties and scarves at $28 to $75 bearing designs from the Vatican Library's art collection.
To prepare for the summer launch, Cortile Del Belvedere has carefully vetted dozens of U.S. merchandisers, picking 16 sublicensees. "We've gone very slowly and chosen partners that would not embarrass us or the Vatican," says Elaine Peconi, who founded Cortile Del Belvedere. Products will carry a tag bearing the Vatican Library's seal. Up to 10% of proceeds go back to Rome.
The Vatican is not expecting a windfall from the ventures, which will defray the multimillion-dollar costs of renovating the library. "We are not expecting great returns--just returns," says Father Leonard Boyle, the Vatican Library's director. The Vatican has also been choosy, rejecting an idea for a bath oil, for example. Father Boyle says he personally considers proposals "so that the stuff is in keeping with good taste."
SUPERSTAR? Other Church institutions are following the library's lead. Vatican Radio is trying to offset high expenses by cashing in on its exclusive rights to the Pope's voice. Last fall, the broadcaster struck a licensing deal with New York-based Alliance Entertainment Corp., a major music-distribution company, to market in Europe and America compact disks and cassettes of Pope John Paul II reciting the rosary. Under the agreement, the Vatican will receive "royalties in the superstar range," says Tom P. Lipsky, a consultant to Alliance. Industry analysts say the going rate for celebrities is about 20% of wholesale revenues.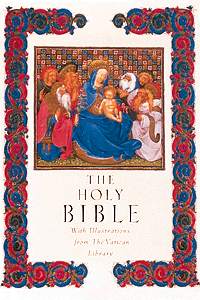 The new business credo is not troubling Vatican officials. "We live in a world that uses commercial means all the time," says Father Kevin P. Locke, a 39-year-old Jesuit who is coordinating the deal with Alliance. Locke, an American priest who once produced promotional campaigns for Boston's public-television station, is looking into other ways of using the radio station's papal recordings for commercial use. One idea is to sell recordings of folk songs sung by the Pope on his world tours. But the main goal, says Locke, is not just to make money. "Part of our mission is to use appropriate business techniques for a pastoral purpose," he says. Keep the faith, Father.
Before it's here, it's on the Bloomberg Terminal.
LEARN MORE