Getting Justice Is No Easy Task
by
For workers who have endured sexual harassment, the Equal Employment Opportunity Commission is supposed to be their champion. That's why the suit against Mitsubishi Motor Manufacturing of America Inc.--potentially the largest EEOC case ever--has brought praise from civil rights groups and uneasiness from business groups.
But for such victims, a search for justice is no simple task. Overcoming fear and embarrassment to confront a lecher is hard. But even those who clear that hurdle don't easily find vindication when the two best avenues for help--law-enforcement agencies and the courts--are fraught with delay. The underfunded EEOC is struggling to stay on top of a heavy caseload. State agencies take up some of the slack but face budget constraints, too. And private lawsuits are costly.
HOLDUPS. Result: When fresh evidence can make or break a case, "justice delayed is justice denied," says Gary E. Phelan, a plaintiffs' attorney in New Haven. To get recourse, workers facing alleged harassment can first turn to their employers or unions for help. If those channels don't pan out, they can sue their employers and co-workers in court or turn to the government to pursue a case on their behalf. Either way, they must first file a complaint at the EEOC or a state antibias agency within 180 days of the alleged discriminatory act.
Even those who want to pursue their own lawsuits must first get a so-called right-to-sue letter from a government agency--a step meant to keep complaints from clogging the courts. The EEOC is required to issue such approvals within 180 days of the charge. In reality, the process averages eight months, even though complainants can ask for a go-ahead earlier. After approval, plaintiffs have 90 days to file in court.
Workers who press their complaints through the EEOC face a backlog of 97,000 cases. In the past five years, the workload has exploded. Sexual-harassment charges alone rose by 150% from 1990, to 15,549 last year--driven in part by publicity over allegations by law professor Anita Hill against Supreme Court appointee Clarence Thomas during his 1991 confirmation hearings. Yet the agency's budget rose by only 26%, to $232.6 million, during that period. New EEOC Chairman Gilbert Casellas is pushing an overhaul of agency procedures and is giving charges of systemic bias priority.
HARD TO WIN. There's always the option of hiring a lawyer to pursue a grievance in court. But they're expensive. Fees vary, but some charge $2,500 to $7,500 to go on retainer, according to Phelan. For many women with harassment complaints, a government-run case is often the only recourse.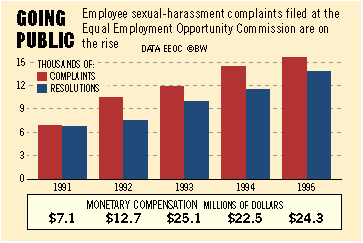 Like all bias complaints, sexual-harassment cases are difficult to win. Under the law, "a stray remark or a cross-eyed look" does not make a case, says Ellen J. Vargyas, EEOC general counsel. And sexual-harassment cases often boil down to the credibility of accuser and accused. If a victim does win, there's a cap on damages. Plaintiffs can recover a maximum of $50,000, including compensatory and punitive damages, from employers with fewer than 100 workers and $300,000 maximum from those with more than 500 workers.
For harassment victims, an EEOC overhaul can't come soon enough. Speedy resolution of such painful cases is the best way to deliver justice--to all parties involved.
Before it's here, it's on the Bloomberg Terminal.
LEARN MORE