Commentary: Memo To Gm And The Uaw: End The Game Of Chicken
Kathleen Kerwin
General Motors Vice-Chairman Harry J. Pearce has brought a sharp change in tone to a company long considered a paper tiger in its dealings with labor. His get-tough stance has Wall Street buzzing with talk that GM will wring major concessions from the United Auto Workers when its labor pact expires this fall. Among GM's goals: more outsourcing, more sales of parts-making plants, and lower wages for new parts workers. But what has really put the gleam in Wall Street's eye is the hope that General Motors Corp. might get out of the parts business altogether.
Nonetheless, the risks of pursuing such a hard-line strategy are high. The UAW is almost certainly not going to give GM its way without a knock-down, drag-out fight. How bad can it get? Consider that a 17-day walkout in March against GM's Dayton (Ohio) parts plant cost it $900 million in profits. A lengthy national strike would cost billions. Even if GM won in the end, it would be left with a deeply embittered workforce--severely hampering its crucial efforts to improve productivity and quality. "They are embarked on a high-risk gamble that could fray or destroy their long-term relations with the UAW," says Harley Shaiken, a labor professor at University of California at Berkeley.
PRAGMATIC PLAN. A better strategy: GM should stand firm with the union and insist that a half-dozen uncompetitive parts operations be dumped. In exchange, the company should pledge to then continue the tough work of grinding out higher productivity plant by plant at those that remain. Such an approach may not sound glamorous to Wall Street, but it's more pragmatic than Pearce's grandstanding.
There's also evidence that it would work. Since 1992, collaborating with the UAW, the auto maker has slashed the number of its money-losing parts plants from 50 to 14. Its giant Delphi automotive systems parts division has turned a profit for the past three years. GM's hydraulic-valve-lifter plant in Grand Rapids, Mich., has been restructured to include workers in operating decisions--and won quality awards from Toyota. Similarly, a steering plant in Saginaw, Mich., got good results by installing a flexible manufacturing system.
At the heart of GM's labor conflict is a dispute about the company's future as an integrated manufacturer. For decades, the carmaker extolled the advantages of its strategy of "vertical integration," meaning it makes more of its own components than other auto makers. But today, many parts operations are inefficient. And GM feels that the union aggravates the problem by forcing it to pay parts workers the same $43 an hour in pay and benefits that assembly-line employees earn. The union, concerned partly about its thinning ranks, will fiercely resist if GM tries to ditch too many parts jobs.
Pearce's tough talk would be more sensible if he toned it down. There's nothing wrong with letting the union know that the company has greater resolve than before. GM has gotten more efficient, but it still lags behind its U.S. rivals: Even now, GM spends 30 hours making a vehicle, vs. 27.2 hours for Chrysler Corp. and 25 hours for Ford Motor Co. (chart). But GM has overplayed its hand, losing a ton of money in the Dayton showdown and gaining little in return. At best, management retained the freedom to outsource a hundred or so future jobs. But it was forced to agree to add other jobs at the plant.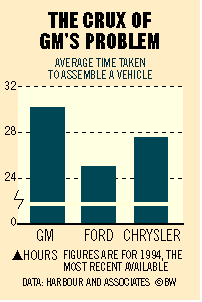 OVERWHELMING. Pearce and GM's board undoubtedly hope to repeat the success of Caterpillar Inc., which went head-to-head with the UAW and then won a lengthy strike last year. The Cat struggle left the UAW more vulnerable by chewing up nearly $200 million of its $900 million strike fund. But GM isn't Cat. Caterpillar raked in record profits by running its plants with replacement workers. And it has only 12,000 union members. GM would have to hire 220,000 people at 142 plants to do the same--a daunting task.
Since the UAW isn't going to let GM take the easy way out, Pearce & Co. have two choices: They can get down to business and demand that UAW President Stephen P. Yokich help in fixing the carmaker's problems. Or they can play a noisy game of chicken that's likely to cost a bundle and produce few results. The latter is a gamble GM can ill afford.
Before it's here, it's on the Bloomberg Terminal.
LEARN MORE