Abuse Of Power
The astonishing tale of sexual harassment at Astra USA
Mark Maremont
The lights were dim, the music was softly romantic. It was the final night of the Astra USA Inc. national sales meeting last June, and pairs of employees were dancing in the ballroom of a suburban Boston hotel. Astra President and Chief Executive Officer Lars Bildman, then 49, was entwined with a 25-year-old sales representative, Pamela L. Zortman. Two onlookers noticed that Bildman, extremely drunk, was running his hands along her back and nibbling at her neck.
Suddenly, Zortman rushed into a nearby rest room. Sobbing, she told other women there that Bildman had tried to kiss her. Zortman, who had worked at the company less than a year, apparently didn't get much sympathy from two longtime female managers present. According to accounts Zortman later gave to two sources, the women told her, in effect: "That's the way it is at Astra, and you'd better get used to it."
Not anymore. On Apr. 29, as BUSINESS WEEK was about to publish the results of a six-month investigation into allegations of rampant sexual harassment at Astra, Bildman was suspended and relieved of his responsibilities by Astra's parent, giant Swedish drugmaker Astra AB. The parent company appointed one of its most senior executives, Jan Larsson, to replace Bildman and hired outside counsel to perform a thorough probe.
Senior Astra executives acknowledge that BUSINESS WEEK's investigation sparked the abrupt action. Although Bildman had told superiors about the investigation months ago, Carl-Gustav Johansson, a member of Swedish Astra's executive committee, says the company was unaware of the full scope of the allegations until it received a lengthy letter from BUSINESS WEEK on Apr. 19. "We hadn't heard anything this detailed--and certainly not that Mr. Bildman himself was the focus" of some allegations, says Johansson. Refusing further comment on Astra's own preliminary inquiries--which also now include allegations of minor financial improprieties by Bildman--Johansson says Astra suspended its U.S. CEO because "we lost some trust in him."
The BUSINESS WEEK investigation, which involved interviews with more than 70 former and current employees, uncovered a disturbing pattern of complaints during much of Bildman's 15-year tenure as CEO of Astra USA. BUSINESS WEEK found a dozen cases of women who claimed they were either fondled or solicited for sexual favors by Bildman or other executives. Many women described evenings in which they were expected to escort senior executives to bars and dancing clubs. Others received frequent invitations to join the often inebriated managers in their hotel suites for more intimate late-night gatherings. Until recently, company parties were raucous affairs at which heavy drinking and dancing were virtually mandated. "Guys were encouraged to get as drunk as they could-- and do whatever they could to the women," recalls Kimberley A. Cote, a former Astra sales rep who obtained an out-of-court settlement of harassment charges in 1994. "If they felt like grabbing a woman by the boob or by the ass, that was O.K."
Even many male employees were appalled. "I've never seen anything as blatant and untoward," says Mashaan Guy, an Astra rep who quit in 1992 because he disliked the culture. Adds David G. Thurston, a respected district sales manager who quit last September in disgust: "If ever there was a company where sexual harassment was rampant, this is it."
Bildman and other senior managers at Astra USA did not respond to BUSINESS WEEK's repeated requests for interviews over the course of two weeks. On May 1, as the article was going to press, Bildman categorically denied the allegations in a written statement. An attorney for Bildman claimed his client hadn't had enough time to respond. In a preliminary interview one week before Bildman's suspension, Astra USA General Counsel Charles E. Yon and national sales manager Robert Vogel vehemently denied the allegations of excessive drinking and widespread sexual harassment. Yon refused, however, to talk about complaints that had been settled, and he declined to respond to numerous specific allegations. Now, as executives from Sweden take charge of the investigation, Johansson says he cannot comment on whether earlier denials still stand.
Some of the individual allegations may be difficult to prove conclusively. That's the nature of sexual harassment, which is partly a question of perception: What one woman might believe is harmless fun, another might find grossly offensive. Plus, some of the incidents took place with just the supposed harasser and his accuser present. But in many cases, the alleged harassment at Astra was witnessed by more than one person or experienced by more than one woman in an evening. And the sheer number of complaints centering on the same male executives, as well as the widely held view among both current and former employees that the environment was generally hostile to women, suggests Astra has a serious problem.
The Astra example comes on the heels of the sexual-harassment scandal at the Normal (Ill.) factory of Mitsubishi Motor Manufacturing of America Inc. There, 15 women allege they were groped and subjected to demeaning and offensive comments. The Equal Employment Opportunity Commission, which brought its largest suit of this kind against the company, alleges Mitsubishi did not respond to the repeated complaints. Mitsubishi denies wrongdoing and, at least initially, mounted an aggressive public-relations campaign designed to show that its employees disputed the EEOC's charges.
While Mitsubishi and Astra are extraordinary for the breadth and depth of their problems, many companies are struggling with sexual-harassment claims. Since the issue burst upon the public's awareness four years ago with Anita Hill's challenges at Clarence Thomas' confirmation hearings, complaints to the EEOC have more than doubled--to 15,549, while monetary awards have more than tripled. In response, many employers have introduced sensitivity training and instituted clear policies for handling complaints.
What is sexual harassment, exactly? EEOC guidelines define it as "unwelcome" sexual attention in the workplace. At the extreme, that means the demand or hint that job benefits will be gained in return for favors. But federal law also bans any conduct that creates "an intimidating, hostile, or offensive working environment."
TRICKLE DOWN. What is especially disturbing about Astra is the way the alleged harassment emanated from the top--then coursed its way down through the organization. Legions of women who felt embarrassed and angry nonetheless conformed to an unacceptable standard of behavior set by the subsidiary's very own CEO. So, too, did their male colleagues, many of whom later said they also considered Astra's conduct offensive.
As the Astra case suggests, few people have the fortitude or the financial wherewithal to blow the proverbial whistle. Some Astra employees were daunted by the prospect of taking on a deep-pocketed corporation--especially since those who did complain allege they were targeted for retaliation. Economic need meant others put up with behavior they felt was degrading. Many of those interviewed also said they feared complaints would only result in a reputation as a troublemaker--something that would haunt them in the job market. "If another pharmaceutical company knows you're involved in something like that, your chances of being hired are slim," says Mary Ann Lowe, a former rep who left in 1991. "Plus, it's very personal. Nobody wants to go public with sexual harassment. You know that if it ever went to trial, you'd be on trial, not the harasser." With the alleged harassment sanctioned at the top, many women who felt harassed--and the men who sympathized with them--simply quit.
Where were the legal deterrents? Former employees say that in many cases where women with evidence of harassment or retaliation threatened suits, Astra settled to avoid legal sanction. It has paid cash sums ranging from $20,000 to about $100,000 to five women that BUSINESS WEEK knows of. In return, those women agreed to keep silent. "When women won't back off, they pay them off," says former district manager Thurston. As a result, for the executives charged with harassment, there was no real penalty. Worse, they appear to have used shareholder funds to protect themselves.
Yon denies that Astra paid off women in exchange for their silence. Astra says there have been only a few settlements, and that the majority of the claims came from people fired for poor performance. Though it says most of the claims were baseless, it insists the settlements were made primarily to avoid costly litigation. From the outside, Astra appears to have a clean record. The company says it has won the only harassment case to go to a jury, and there's only one serious complaint in Massachusetts files since 1990. As for the EEOC, Astra says it has faced just four claims, two of which are pending.
MILITARISTIC. Insiders ascribe much of the responsibility for the harassing environment to Bildman, a 22-year Astra veteran. The Swedish-born executive has run the U.S. arm since the early 1980s and is credited with its financial success. "He's a very disciplined, goal-oriented guy," says Stefan Solvell, Astra USA's No.2 executive for years until he quit to run another company last year. With campuslike headquarters in the Boston suburb of Westborough, Mass., the company has grown to 1,500 employees and $323 million in revenues. Its products include the local anesthetic Xylocaine and the allergy medication Rhinocort. A hot new asthma drug, Pulmicort, is expected to hit the market soon. Bildman's bosses in Sweden, meanwhile, have also engineered fast growth: Parent Astra had $5.3 billion in sales last year, triple that of 1991.
Lanky, with longish hair, a shaggy mustache, and piercing eyes, Bildman is a charismatic, if somewhat quirky, leader. He favors suits in unusual colors: purple, coral, or traffic-cone orange. Those who've worked for him describe Bildman as obsessed with youth, beauty, and health. He also has a taste for the high life. According to Massachusetts records, among his six vehicles are a 1967 Lamborghini Miura and a 1967 Ferrari GT. Married, with children, insiders say he's a connoisseur of caviar, fine wine, and Dom Perignon champagne.
Inside Astra, say many sources, Bildman was an autocrat. He established a rigid, almost militaristic atmosphere at Astra's stark offices. Most staffers were required to go to lunch at precisely the same time every day and had to get permission to hang anything personal on their cubicle walls. Another oddity: All but the highest-ranking executives had to use one centralized fax number, and many former insiders say Bildman received copies of all incoming and outgoing messages. "He has total control of the company; everybody's afraid of him," says a former manager who left on good terms two years ago.
Numerous sources say Bildman would exercise power in capricious ways. At one meeting, recalls a sales rep, Bildman didn't like the suit a high-ranking executive was wearing and told him to change it. The executive quickly obliged. Bildman insisted on other unusual rules about attire, including one mandating that an Astra pin had to be worn at all company functions. People who forgot their pins were severely reprimanded. "I used to carry extra pins around," says a former manager. "The fear got so out of hand that I recall at least six times that I gave somebody an extra pin and they were literally shaken by the fact that they had lost theirs."
ASTRA WAY. To fuel its fast growth, Astra has hired hundreds of young salespeople, both men and women, since the late 1980s. For female recruits, say numerous sources, appearance seemed inordinately important. One male sales rep who quit early this year recalls being asked by two senior male managers to help persuade a wavering candidate to join the company. "They told me in no uncertain terms why they wanted her hired--because she was extremely attractive," he says. Another ex-manager recalls George Roadman, a vice-president then running Astra's fastest-growing unit, rejecting an unattractive candidate by saying: "We're not hiring her. I can't see me sitting at a bar having a drink with her." In an interview before Bildman's suspension, Vogel, Astra's national sales manager, denied that looks played any role in selection. Roadman, in a written statement, denied allegations that he had behaved inappropriately. He said he did have a drinking problem but that he had gone for voluntary counseling and had not consumed alcohol at Astra functions since 1994.
To many recruits, the job was a dream come true. Selling pharmaceuticals is a high-paying, much-sought-after profession. Starting at $35,000, plus a car and hefty bonuses, compensation at Astra was better than at most rivals. But before going out into the field, newly hired reps--few of whom had prior pharmaceutical experience--attended Astra's rigorous nine-week training course, which included in-depth sales instruction as well as subjects such as anatomy and physiology. Trainees had to study hard and were tested often.
The training also offered an immersion in Astra's unique culture, known as the Astra Way. Each class of up to 100 people was billeted for the entire nine weeks at the Westborough Marriott near Astra headquarters. The company paid for just one plane ticket home and discouraged trainees from taking other trips or receiving visitors. Trainees soon learned that the Astra Way included a rigid set of rules covering everything from sales techniques--presentations had to be memorized and delivered to doctors virtually by rote--to acceptable casual dress. (No jeans. No shorts. Socks required.) Some rules seemed petty. Others added polish to the new recruits. Trainees were taught how to hold their silverware European style and how to drink wine.
Dozens of sources who went through the training describe it as all-encompassing--and isolating. Cut off from family and friends and frequently reprimanded if they didn't adapt fast to the extensive new rules, many say Astra's training bore more than a passing resemblance to military basic training. Some new recruits were even marched around the building in sweats for a day, as managers dressed in fatigues barked questions. Those who flubbed the answers had to do push-ups. Others add it was almost like a cult. "They tell you how to eat, drink, and sleep," says Kristina K. Bell, an Astra rep who quit last year. "It was a very controlling, domineering atmosphere--like Astra owned me."
OPEN-BAR NIGHTS. Socializing also appeared to play a key role in the Astra Way. Over and over, recruits were told that to succeed, they had to play hard as well as work hard. "Work eight hours, play eight hours, sleep eight hours," was a phrase Bildman and other top managers frequently used. "Part of being a successful rep is to be with your customers--and not just nine to five," explains Solvell, the former No.2. "It means entertaining."
Of course, good social skills are key to many sales jobs. But at the open-bar nights that managers would host three or four nights a week, the social skills of attractive women drew most of the attention. "Upper management was barely paying attention to the male students, but they were all over the female students," says Kendra Kurz, a 1993 trainee who left Astra a year later. Yon and Vogel deny that socializing or drinking played an inappropriate role at Astra.
Nevertheless, trainees from four different classes say the bar nights were common--and that Bildman and Roadman were frequent revelers. "Bildman would sit in on meetings," recalls one former rep who left in 1993 because of the environment. "He'd go to the bar afterwards, when everybody else went." Numerous others say Roadman would often stay at the bar until late at night--and pressure others to do the same.
RACE MATTERS. Frequently, Roadman and other managers would call female trainees in their rooms to ask them down to the bar. Such invitations were hard to refuse. According to Terrance Leahy, who recently retired after years as Astra's director of training, roughly 15% of new recruits were fired during training. Participants say they were repeatedly told that social skills were key to evaluations. Moreover, the managers hanging out in the bar could make the difference between being assigned to San Francisco or Fargo, N.D. "You had to go to the bar," says a female rep still with the company. Adds another who quit Astra last year: "They would use their power and authority to make you think you didn't have a job if you didn't go along."
Trainees say they were often offended by what went on down in the bar. Lelia Bush, a black woman who trained in late 1992, says that Roadman called her in her room several times inviting her to join him at the bar. She and another black ex-rep, Cordelia E. Webb, who has also filed an EEOC complaint, claim Roadman liked to talk about racial differences in sexuality. "He said black women were stallions compared to white women, sexually," Bush alleges. "He said he was a black man in a white man's body." Both women were terminated in circumstances that are under dispute.
Bildman, Roadman, and other managers would also invite women out on the town for more intimate excursions. After rebuffing him repeatedly, Kurz recalls finally agreeing to join Bildman when he organized a night out with six trainees--four women and two men. Also joining them was Edward Aarons, a senior executive in charge of institutional business. After dinner, the group retired to a darkly lit piano bar, where Bildman ordered up dancing and Dom Perignon. Trainee Bell remembers it as a "come-on" bar, "the type of place where you'd meet somebody, have a steamy dance, and go home."
As the party moved to a raucous nightclub, Bell remembers Aarons "pawing me," and alleges that both executives were "dancing very close to me. I kept thinking: `How do I get out of this?"' she says. In a written statement, Aarons denied that he ever harassed any women, terming such allegations "completely false."
The group arrived back at the Westborough Marriott after 2 a.m. Although Bildman lived nearby, he had taken a suite for the night and wanted everybody to join him. "We didn't want to go up," says Bell. "But we felt we should make an appearance." Only Kurz slipped away.
Upstairs, the drinking and dancing continued. "I didn't feel I could say no," Bell says. Bildman was dancing "way too close," she alleges, and kept steering her near the bed. When Bildman remarked that she seemed tense, she told him she was uncomfortable. Bildman's alleged response: "We're very open here at Astra." After she escaped to the couch, Bell alleges Bildman came and "put his arms around me, pulling me toward him. I kept thinking: `He's the president of the company. Is there any way to get out of this discreetly?"'
Not long after, Bell moved to her new territory in Cincinnati. At her first meeting with her new manager, Thurston, she started crying and told him the entire story. He filed a formal harassment complaint on her behalf. Astra's Yon says the company investigated and concluded that Bell's claim had no merit. The investigation, he says, involved taking sworn statements from the other five trainees. "The other five," he says, "swore that they saw nothing inappropriate, nothing offensive."
But the way in which Astra seemingly conducted its investigation raises questions. For one thing, Bildman got directly involved. Not long after Bell filed her complaint, she says Bildman called her at her hotel. Lars was very concerned about that night," Bell recalls. "He asked me: `Did I feel my job was in jeopardy? Did I feel pressured?"' Bell says that Bildman even told her not to tell Thurston he had called. It was clear, Bell says, that Bildman "was trying to cover himself."
At a national sales meeting soon after, Kurz was called out of a meeting and ushered into Bildman's penthouse hotel suite. "It was very intimidating," she recalls, "just me and Lars." During a long discussion, she says Bildman told her he was going to fire somebody else who had vocally pursued a separate harassment complaint. Then, he directed her into another room to meet Yon, the general counsel, and to sign an affidavit about the dinner-and-dancing evening. The affidavit, Kurz says, merely stated that she hadn't been harassed by Bildman himself that evening. "They were very careful in the questions they asked," says Kurz, who felt she had no choice but to sign. "It was clear they were trying to protect Lars."
Few women protested such treatment during training. Most were in their mid-20s, and Astra was their first or second job after college. "People were inexperienced," says Ann Marie Nowak, who left in 1991. "They don't really know what's appropriate or inappropriate in a business setting."
Still others say they believed complaining would be tantamount to quitting. Just weeks into a new job, most weren't prepared to do so. "I kept telling myself: `The training is only for two months, and then I'll be out in the field,"' recalls one ex-rep.
Of course, some women who gave top execs the cold shoulder found that their careers did not suffer. And there were others who openly responded to the attention from senior managers. Some were naturally flirtatious and enjoyed the party atmosphere. A few perhaps hoped to improve their careers in the age-old tradition of the casting couch. Inside Astra, these women became known as The Chosen. Long after training was over, they were frequently seen with senior managers at dinners and other corporate functions. Vogel insists that reps who sat with Bildman were chosen "strictly based on performance."
But those who thought the harassment would end with training soon found they were mistaken. For each of its two main divisions, Astra held three national sales meetings each year. With Bildman and other top executives typically attending each weeklong meeting, the drunken partying and harassment began anew. "I'd get my package in the mail, and I'd start feeling sick," says Webb.
The gung-ho partying often turned boisterous. At one Fort Lauderdale meeting, dozens of men in tuxedos and women ended up in the hotel swimming pool. Many ended up sleeping on the pool lounge chairs that night. At another meeting, held at the exclusive Sagamore resort in upstate New York in 1991, the partying got so out of control, say several people present, that people threw dishes out the window and burned furnishings in the fireplace. After hotel managers threatened to call the police, the group checked out the next morning. "Their behavior was unbelievably unprofessional," says a hotel official. "I've never known this to happen with a corporate group."
At mther meetings, much of the late-night action took place at invitation-only parties in managers' suites. Michelle Porter, a former rep who left in 1991, recalls going to one such party in Bildman's quarters. After much eating and drinking, Porter started to leave when everyone else did. Bildman asked her to stay, and he ducked into another room. "All of a sudden, he came out wearing a robe," she recalls. "I said: `I want to leave.' He grabbed my arm, and said: `I want to talk to you."' Porter quickly left.
"THIS ONE'S MINE." Ed Aarons was another object of many complaints. During one late-night party at a 1993 sales meeting, Webb recalls, Aarons grabbed her by the neck in a corridor, tried to kiss her, and bellowed: "Hands off. This one's mine." Aarons, she says, "was reeking of alcohol. I kept thinking: `I've got to get away."' But when she tried to leave, Aarons became belligerent and berated her manager for giving her permission to leave. In his written statement, Aarons denied that he was drunk or that he had tried to kiss Webb or harass her in any way.
Although Astra's parent insists it didn't know about the goings-on at its U.S. subsidiary, many sources say that when Europeans visited from headquarters, they, too, became involved. Lisa D. Hall, a 1992 trainee, recalls that Roadman asked her to come to the bar to entertain visiting execs. "These were VPs, high-level people," says Hall, a black former rep who left in 1994 after twice taking disability leave; the circumstances are under dispute. "Roadman told me to be friendly to them." The Swedes, she says, "liked black girls."
Several people also remember a 1994 visit of Andreas Feulner, president of Astra's German subsidiary and a member of the company's executive committee. At one evening function, a former rep says Feulner came up behind her, "grabbed my butt, and pulled me toward him. He said: `I want you to come sit with me."' She says she had never met Feulner before. Later that night, after being pressured to have her picture taken with him, former rep Webb claims that Feulner "tried to put his room passkey into my hand. He told me to wait up there." Webb says she refused to take the key. Feulner denies all the allegations: "I can assure you that I never grabbed any women...on the buttocks," he said in a written response, adding that he had also not asked any women to join him in his room or given them his key.
OBSESSION. Webb says she later told her manager about the incident and asked him to file a complaint. He agreed to do so, she says, but "he told me a lot of people had filed complaints in the past and it hadn't worked." She says she never heard another word about her complaint.
Although the obsession with sex was strongest during training and sales meetings, former staffers say its influence spread throughout the culture. Women who were Bildman's favorites would often deal with him directly, say several former male managers, while higher-level male managers rarely talked to the CEO. Others say they didn't dare discipline laggard female reps with links to the top for fear of losing their own jobs. "If someone in your district is close to Lars, it's hands off," alleges one longtime insider who recently left.
Many sources also contend that women who were either physically attractive or close to top managers seemed to get bigger bonuses and do better generally in their careers. Bush, for instance, complains in her EEOC filing that she was fired for poor performance at the same time that another female rep, with worse sales figures, was retained. This rep, Bush alleges, was having an affair with a regional manager. And in her EEOC filing, Webb charges that her roommate during training had an affair with Roadman. The woman later was among the first in her class to be promoted to district manager. Although several reps say the woman was a good performer who may have deserved the promotion, the appearance of favoritism remained.
There were other problems as well. Given the signals from the top, some lower-level male managers allegedly took them as a license to act in a similar manner. After Kim Cote began working in the Boston area in late 1992, her then-manager, Mark Hollands, began traveling in her car as she made her rounds. She claims Hollands would touch her inappropriately and would recount scenes from lurid novels he read, suggesting that Cote "could fit nicely in this" scene. Although he praised her performance in person, Cote claims, when she didn't respond, Hollands began criticizing her in written evaluations. When she didn't receive a raise she says she had been promised earlier, Cote says she finally confronted Hollands. According to Cote, Hollands responded: "You know what I want. I know what you want. What are you going to do about it?" Cote's reaction: "I said: `I'm not going to sleep with you."' In a written statement, Hollands proclaimed his "absolute and complete denial of those allegations."
Cote says she protested to Vogel but never heard anything about her complaint again. Vogel agrees that Cote lodged a complaint and says he investigated, following Astra's complaint procedure. After interviewing Hollands and Cote, he says he passed the complaint on to personnel, where Cote's allegation was found to have "no basis in reality." Yet Vogel concedes he only phoned personnel and never filed a written complaint. Nor did he speak to Cote further or follow up. She left the company two months later under conditions that are under dispute. Cote reached a partial settlement with Astra in 1994 and on Apr. 29 filed a follow-up suit against Hollands.
Of course, many other lower-level male managers were appalled by such behavior. The conundrum they faced, however, was what to do. Former rep Mashaan Guy says that if he saw a woman in an awkward situation, for example, he would join the conversation. He also counseled women on how to deflect the attention. But the culture left him so angry he eventually quit. "A few times, I wanted to deck one of these guys," he says. "I felt powerless and embarrassed as a man."
Former manager Thurston says he and a small group of male managers frequently discussed the impact harassment was having on morale. In part, they were also worried for their own reputations: They feared that all men at Astra would be tagged as harassers. Finally, Thurston says he approached his boss, Vogel, and told him the harassment was harming the company. But Thurston says the male managers had little ability to force change. "What you wanted to say was: `Lars, keep your pants on, and we wouldn't have this problem,"' he says. "But you couldn't do it. It was a totally autocratic company. Whatever Lars said, goes." Vogel denies that there is any generalized harassment problem at Astra or that any manager ever spoke to him about it.
With most of the female reps out in the field, there were fewer overt problems at headquarters. But similar attitudes toward women seemed to prevail. One notable example: a glossy calendar distributed through the building in early 1991, called The Astra Glamour Girls. It featured photos of home-office employees in suggestive poses, complete with makeup, fancy clothes, and come-hither looks. Four sources involved, including the photographer who took the pictures, say the calendar was created as a gift for Bildman, though Astra denies that allegation.
STIFLED. Women who objected to Astra's climate soon found their own conduct under scrutiny. About a year after the calendar appeared, one of the women in it, Nanette Corcoran, filed a gender discrimination complaint with the Massachusetts Commission Against Discrimination in which she alleged that "women at Astra have been continually subjected to sexual harassment." In response, Astra denied that Corcoran had ever been harassed. Instead, the company attacked Corcoran for what it called "inappropriate and unprofessional conduct." In one incident, Astra stated, "it was reported to Corcoran's superiors that Corcoran would socialize with various [trainees] following training sessions," and that she once had hosted a party at her apartment during which "there was excessive consumption of alcohol--as a result of which a fight broke out" between two trainees.
Indeed, there is ample evidence that people who brought harassment complaints found their careers stifled or became targets for dismissal. At a September, 1991, sales meeting, a Boston-area rep named Maura Lynch called an informal meeting of female reps to discuss ways to improve Astra's hostile environment. Top management soon found out about the meeting, and Lynch, who had been a rep for several years, suddenly came under a microscope. According to people close to Lynch, her manager began making surprise visits and finding fault with small things. By December, he said she had to leave. She hired a lawyer to file a complaint with the MCAD, but Astra quickly settled. She, too, signed a confidentiality clause. The women's group never met again.
SABOTAGE SCHEME. Perhaps the most serious case of alleged retaliation resulted from an incident in late 1993 involving a young trainee, Laura Moore. According to people familiar with the situation, Moore claimed that Roadman approached her in the hotel bar one night and asked her to go to another bar. Afraid to refuse, she dragged two male friends along. Roadman was allegedly all over her in the car on the way back from the bar. After she returned to her room well after midnight, Moore told friends, Roadman knocked on the door and talked his way in. Although she repeatedly asked him to leave, he allegedly pinned her against the wall and kissed her. He also allegedly asked her to sleep with him. Roadman "was lucky the cops weren't called," says one person familiar with the episode.
Moore finally got Roadman out of her room and immediately called the manager in her soon-to-be-assigned territory, Jennifer Price. An experienced manager hired from outside Astra, Price agreed to pursue the complaint aggressively. Once again, Bildman got involved in the inquiries. One of those he quizzed was Kurz, a friend and fellow trainee of Moore's. "Lars was telling me...he was concerned that Jennifer Price had a scheme to sabotage people in the company," Kurz claims. "Lars told me he was planning to fire Jennifer."
Not long afterward, Price was fired. The official reason: poor performance. Convinced she was fired in retaliation, Price threatened to sue. The company quickly settled in return for Price's silence. Astra refused to discuss allegations concerning Price.
In the past 18 months, Astra has toned down its rambunctious culture. Now, sales reps are issued a limited number of drink tickets at meetings, and recent training courses have been quieter. But heavy drinking remains a staple--and the old Astra shows through when the liquor flows, as last June's incident with Zortman demonstrated.
Moreover, until Bildman's forced suspension, Astra continued to deny it had any problems. At the initial interview with BUSINESS WEEK, Yon paraded out a host of mostly low-level female staffers. Their stories, told in the presence of three Astra legal representatives and two outside public-relations executives, flatly contradicted those told to BUSINESS WEEK by numerous independent sources. Those efforts appeared to be part of a much broader strategy to discredit the BUSINESS WEEK article and those who've raised allegations of harassment. Indeed, after Astra executives became aware of the investigation in mid-January, the company asked female sales reps to sign a letter denying they had seen or experienced any harassment. Ostensibly a grassroots effort organized by loyal female sales managers, insiders say many employees believe the action originated from a panicky executive suite. Most women signed; some feared they would lose their jobs if they didn't.
Although many of the women subjected to the worst of Astra's harassment have left the company, some remain scarred by their experiences. Leaving Astra abruptly has often made finding another job hard. Prospective employers always ask why they left. "It's difficult, because you want to tell them what happened at Astra but you don't know if they'll understand," says Kurz. At one interview, Kurz says, she told the female interviewer some of her story. "You could tell by the look on her face," says Kurz. "She was thinking: `Scandal, stay away from us."' Many others say they lie about the reasons they left in order to get a job.
Some claim they still suffer from psychological trauma. Former rep Yvonne Stokes says the combination of extreme stress and sexual harassment got so bad that she started crying one day in front of a doctor she had called on as a sales rep. He referred her to a psychiatrist. Still taking antidepressant drugs, she says: "I just want to be me again. I look back and say: `How could I have let this company do this to me?' "
Webb claims Astra turned her from a happy-go-lucky and deeply religious young woman into an emotional basket case. She says the toll from 21/2 years of harassment was so bad that her hair started to fall out, she was often sick to her stomach, and she started to scratch her back and chest until the skin was raw. Her doctor ordered her to go on disability leave last May, and she is still under psychiatric care.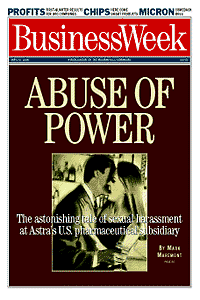 Nearly a year after going on leave, Webb's perceptions of normal, everyday events are still warped by her Astra experience. A regular in her church choir, Webb says: "There's something wrong when I think the people in my church are hugging me wrong." And at a recent job interview, she says the male interviewer asked her a perfectly innocent question: Was she willing to travel? But Webb says her instinctive reaction was: "He wants to get me into a hotel room." The happiest day of her life, Webb says, came when Astra finally fired her a few months ago. Now preparing a lawsuit, she vows: "If I have to lose every penny I have, I'll do it to show them that what they do isn't right."
Before it's here, it's on the Bloomberg Terminal.
LEARN MORE