A Big Stack Of Chips On Aztar
by
Aztar (AZR), the owner and operator of the Tropicana in Las Vegas and TropWorld in Atlantic City, is high on the buy list of of some big players: Fidelity Management increased its stake from 8.5% in March to 12.5% in early April. And Mario Gabelli's investment funds have upped their combined holdings to nearly 10%. Another group, run by an aggressive hedge-fund manager, is poised to file a 13D form, indicating a stake of 5% or more.
What's behind this surge of attention? Last summer, Aztar was rumored to be a takeover target, but no buyer surfaced. Now, interest has refocused on Aztar mainly because of the breakdown of merger talks between ITT and Hilton Hotels on one hand and Bally Entertainment on the other. Scuttlebutt is that ITT and Hilton offered, separately, between 20 to 26 a share for Bally. But Bally CEO Arthur Goldberg is holding out for 30, says a pro close to Goldberg.
So Aztar is logically the next prey, says this source, a New York money manager. "Suitors wooing Bally are also interested in Aztar," he says. MGM Grand, which owns the MGM Grand Hotel on the Las Vegas Strip, has also expressed interest in acquiring a company with solid Atlantic City operations, such as Aztar, he adds. It has applied for a license to operate in New Jersey.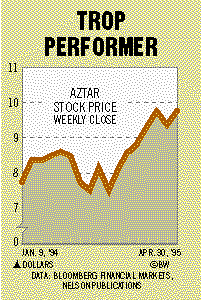 This money runner is betting that Hilton will be the first to make a move towards Aztar, whose stock has climbed to nearly 10 a share from 7 1/2 at the start of the year. Many analysts see it rising to 16 just on gaming fundamentals. But in a buyout, the stock is worth 18 to 20, figures one hedge fund manager. Based on the reported offer for Bally, "Aztar is a compelling bargain," says this pro.
Another reason for zeroing in on Aztar: Operators realize Atlantic City will continue to grow as the gambling center of the East Coast, despite competition from casinos in Connecticut. Aztar's TropWorld, one of the biggest Atlantic City outfits, accounted for 60% of the company's net revenues and is currently being expanded. Aztar's Joe Cole says it's company policy not to comment on rumors. Spokesmen for ITT, Hilton, and MGM also declined comment.
Before it's here, it's on the Bloomberg Terminal.
LEARN MORE