Vegas' Tallest Strip Tease
Stratosphere is gambling on supergimmicks
by
To its proud papas--would-be gaming barons Robert Stupak and Lyle Berman--all you need to know about their 1,149-foot Stratosphere tower is that it's a casino, hotel, and retail complex. It's also the tallest building west of the Mississippi, and it features a sky-scraping amusement park where patrons will hurtle through space aboard a roller coaster 100 stories high, or get flung 160 feet in the air in a harnessed seat. Shares of Stratosphere Corp., the public com-pany controlled by the pair, have jumped nearly 60% in the past four months (chart), although the Stratosphere Tower, Casino & Hotel doesn't open for business until Apr. 30. "This is going to be the biggest thing to ever hit Las Vegas," crows Stupak. "How can you miss knowing we're around?"
But a few things about the Stratosphere are not so glamorous. For starters, the tower is located at the seedier end of the Vegas Strip, miles away from the crowds. The effective interest rate on most of its $244 million debt load is a sobering 20%. The cost of building Stratosphere ballooned from $67 mil-lion in 1993 to $550 million this year, as new attractions and features were added, including 2,500 hotel rooms, a $35 million aquarium, and a $6 million, 70-foot mechanical gorilla that will climb the exterior of the tower, carrying as many as 48 tourists along with him. Outside partners are picking up $90 million of the Stratosphere's $550 million price tag. But key Stratosphere insiders--Stupak and one other director--have filed to sell sizable amounts of stock in the past month. A company spokesman says that Stupak's sales were made, in part, to satisfy a $20 million personal debt Stupak owes the company.
Stratosphere execs think the tower's attractions will draw in crowds that will linger at the gaming tables, where casinos make their real profits. In fact, they project that 5.2 million of Vegas' 30 million annual tourists will pay Stratosphere a visit. The tower will draw visitors, but some aren't so sure that financially it will be a winner. "I just don't think it will work," says Saul F. Leonard, a leading hotel consultant in Los Angeles. "I can't see the kind of people who ride roller coasters dropping a lot of money at the tables."
PLANE HAZARD. Stratosphere's opening is a triumph of will for Stupak, who ran twice, unsuccessfully, for mayor of Las Vegas and once owned the low-end Vegas World casino. He fixated on the tower project in the late 1980s, after seeing tourists in Australia queuing to ascend a tower in Sydney.
Many things went wrong along the way. Stupak had to cut its 1,825-foot height after the Federal Aviation Administration said the tower would interfere with air traffic. Then, a fire at the construction site in 1993 forced him to cancel a public equity offering. A planned 1994 bond offering was dropped for lack of interest in gaming issues.
Out of money, Stupak turned to Berman, a poker buddy who had made a fortune in leather goods before starting Grand Casinos Inc., which operates two riverside casinos in Mississippi and four casinos on Native American land. Thanks to Berman, Grand made the first of several investments in Stratosphere. All told, Grand has put in $107 million for a 43% stake. Ber- man, who holds a 12% stake in Grand and a 1% stake in Stratosphere, serves as chief executive of both companies.
Berman seems unconcerned about the risk to Grand should Stratosphere's financial performance not meet expectations. Grand is picking up the tab for the tower-climbing gorilla. And it guaranteed Stratosphere mortgage-holders, who get to skim off 10.8% of the complex's cash flow in addition to the high interest rate, that it would pay up to $60 million if the Stratosphere didn't gener-ate at least $50 million in cash flow for the first three years. "We've bet the company several times in the past," says Berman, who last month sold nearly 20% of his Grand stock. This time around, "we're putting this tower where a wide group of tourists all have one thing in common: They like to gamble."
Increasingly, Berman has been calling the shots at the Stratosphere. Last year, Stupak crashed his motorcycle and was in a coma for weeks. The 53-year-old has undergone frequent plastic surgery, though he recovered well enough to fork over $100,000 of his own money for two minutes of playing time with the Harlem Globetrotters in February. He remains Stratosphere's chairman and retains about a 16% stake.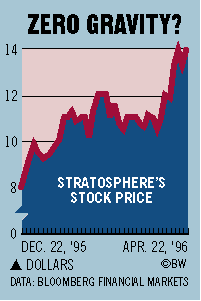 WEDDING CHAPELS. Now that Stratosphere is built, will the throngs materialize? To make its steep debt payments and cover its operating costs, Stratosphere has told investors that more than 14,000 people a day will pay an average of $5.35 to take the elevator ride to the tower's top. It figures that 53 couples daily will pay an average of $350 to get married in one of its three sky-high wedding chapels. If it meets all those expectations, the company says it will generate $244 million in revenues and $81 million in operating cash flow for its first full year of operation. Those numbers are better than Circus Circus Enterprises Inc.'s casino, which is better located and has long been among Vegas' most profitable casinos.
Stratosphere's promoters are certain that the casino's sheer size and bizarreness will be its salvation. "You can see this tower from the moment you hit town, whether it's from the airport or car," notes Stratosphere President David R. Wirshing, a veteran casino manager. No doubt. But will tourists drop enough cash to make Vegas' tallest gamble pay off?
Before it's here, it's on the Bloomberg Terminal.
LEARN MORE