The Money Lady Of The Mesas
by
The early morning hours bring dusty pickup trucks and banged-up cars to McGee & Son's trading post at Keams Canyon in northeastern Arizona. Hopi and Navajo Indians in their 50s and 60s climb out of the vehicles. Stray dogs race around their ankles, yelping for scraps.
In Hopiland, a 1.5 million-acre reservation surrounded by the 25,000-square-mile Navajo Nation, time seems to stand as still as the majestic buttes. Then you notice the glossy white Chevy van in the parking lot. A sandwich board announces: "Bank One today at this location."
Inside the van, Dorothy Altig, 50, wearing a white Anne Klein blazer, looks as if she could be selling cosmetics behind a counter at Nordstrom's. Instead, she's here to make consumer loans to Native Americans. It's an unusual job. Altig is on the road four days a week, averaging 1,000 miles as she criss-crosses the Hopi and Navajo reservations from Window Rock on the east to Tuba City, 170 miles west.
For Altig, born and raised in Pittsburgh, this is a dream job. A year ago, she took a pay cut and left one of the bank's lucrative Scottsdale (Ariz.) branches, where she wrote up $50,000 equity loans and credit lines. "I grew up watching Roy Rogers and Dale Evans. I was hooked on Hopalong Cassidy and Audie Murphy movies," she says. "This isn't a job. It's an adventure."
It's no less an adventure for the Hopi and Navajo who are amused to see a blonde white woman in the soft burgundy interior of a van equipped with a desk, computer, laser printer, fax machine, and cellular phone. Traveling through the mesas of this bleak, arid landscape, Altig moves her bank around a circuit of trading posts and chapter houses. Van locations are advertised on the Navajo radio station, which gives out Altig's cellular phone number, too.
On a recent morning at Keams Canyon, Ben Pete, a 54-year-old Hopi in faded jeans, cowboy boots, and a black baseball cap, sits in the van, hoping to borrow $500 to repair the roof of his hogan. But Pete has no credit history and virtually no assets for collateral. Like most Native Americans here, he lives in a remote camp with no car, no phone, and no electricity. His income is a $808 monthly Social Security check.
The unemployment rate on the reservations is 27.9%, and per capita income just $4,106. The Navajo Times contains but a few help-wanted ads. Burger King seeks managers in Kayenta, Ariz., and Walt Disney Co. is holding auditions for Native Americans to play Sitting Bull--in its theme park near Paris.
NOT LUCRATIVE. But Pete, who has spent his entire life on the reservation, isn't likely to apply. He just wants a roof that doesn't leak for the home where his father and grandfather once lived. Pete's sister, Rita Showie, 61, has agreed to co-sign his loan. Showie, in a red cotton broomstick skirt, a brown scarf wrapped tightly around her head, wears a happy, weathered smile. She has only one payment left on a $1,500 loan from Altig, which she used for graduation presents, including a television, for her grandchildren. Showie weaves rugs, works part-time at a local hospital, and has a monthly Social Security check of $800. She speaks little English, but Pete translates for her.
Within 45 minutes, Altig is writing out a check to Pete for $500. The terms of the loan, which she patiently describes to Pete, zip off the laser printer. Pete agrees to pay $47 a month for a year at 24% interest, the same rate the bank charges in Phoenix on a similar loan. Altig makes it clear he'll save on interest if he pays off the loan early. She warns Pete that if he doesn't make his payments, she'll tell his sister. He nods his head and laughs.
For Bank One, which began serving the reservations in mid-1994, this is hardly a lucrative business. But it's necessary to show federal regulators that Bank One is delivering services to Native Americans, tribal governments, and unbanked markets in states where it operates. Bank One may add mobile vans for the Tohonoodam tribe in the southern part of the state and the San Carlos Apache reservation in east central Arizona.
Bank One hasn't had a single default on the $500,000 it has granted through its van. But most of the loans are so small that interest payments don't cover the transaction and servicing costs on the 100 or so loans Altig writes up each month. The average loan is about $2,500, usually to finance a truck or car. One Navajo borrowed $500 to hire a medicine man for her mother, who had cancer. A Hopi man wanted money to install an outside light so he could carve Kachina dolls after dark. Native Americans also borrow to buy ceremonial items, such as red-tail-hawk feathers, deerskins, and Navajo baskets.
INDIRECT APPROACH. Few Indians approach Altig by requesting loans directly. Instead, they ask: "How does this work?" or "Do you need good credit?" Education is a big part of her job. "A lot of the Native Americans don't know banking. They know barter and trade. They are often intimidated to go into a bank," Altig says.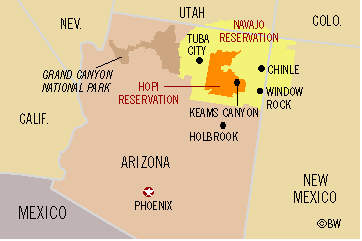 Out here, where generations still live together, the pace is slow and easy, and there is little concept of time and distance. Material possessions are few and seem to mean little. Altig tells of a young Navajo who had a fight with her boyfriend. "I went to the edge to read a book," she told Altig. The edge? "Yes, the edge of the mesa"--a quiet place to seek the peace and beauty in nature.
Her day's work done, Altig heads home to Holbrook, Ariz. Willie Nelson and Beethoven's Fifth blast out of the radio as she zooms under a vibrant dome of swirling clouds and rainbow colors, past canyon walls and cliffs that rise 600 feet above the desert floor. "I can see God in all this," she says.
Then Altig drives up over a hill under the stars of a dark sky, and the glaring lights of a truck stop come into view, evoking another, different world.
Before it's here, it's on the Bloomberg Terminal.
LEARN MORE