Global Appetites Should Keep The U.S. Cooking
by
The latest data rolling in continue to reinforce the idea that the U.S. economy is growing modestly. Overseas, however, the news coming out in recent weeks has shown more deviations, with some economies exhibiting a stronger tone and others waning.
Why should you care? Because more and more economic activity is global. And the course of foreign growth will have a significant effect on the U.S. economy in 1996. That's why the latest round of interest-rate cuts in Europe matters, as does the improved outlook for overall world growth.
Meanwhile, the so-so pace of domestic demand will slow U.S. imports and help to narrow the massive trade deficit. But not by much, because the pickup in the dollar will eventually lower import prices, and domestic demand should increase in the second half. Overall, the combination of robust export gains and moderate import growth means that foreign trade will be a small plus for economic growth in 1996.
The ailing manufacturing sector will be the prime beneficiary of stronger trade. After all, the gain in exports accounted for more than half of the increase in output last year.
U.S. FACTORIES COULD USE a little boost right now. New orders for durable goods rose a surprisingly good 1.5% in March, but all of the increase was in defense orders. Excluding military bookings, orders fell 1.2% in March, the third straight drop (chart).
Private sector demand for hardgoods should pick up in the spring. In particular, orders for cars and trucks should rise now that inventories of motor vehicles are in better shape. And more orders are likely to come from abroad, helping to lift exports later on.
Exports rose in February, bouncing back by 2%, after a 1.9% drop in January. That helped to shrink the trade deficit to $8.2 billion from $9.9 billion in January. Imports in February slipped 0.5%, partly reflecting falling oil prices. That's not the case anymore: Oil prices in mid-April are $4, or 21%, higher than in mid-February. So look for a larger oil-import bill later on.
So far in the first quarter, the trade gap is running above the monthly average of $7.3 billion of the fourth quarter (chart). That suggests a widening in the real net export figure that goes into the gross domestic product data. As a result, foreign trade likely subtracted from GDP growth last quarter. That's not unusual in the winter period, however. In the past three years, net exports have deteriorated in the first quarter compared with the fourth.
Since July, exports have been growing faster than imports. In February, exports were up 9.8% from a year ago and imports were up just 6.7%. But because the volume of imports is so much larger than that of exports, real exports have to grow about one percentage point faster just to keep net exports unchanged. That means if real imports grow 5% this year--the same as in 1995--exports have to advance about 6%.
HOWEVER,THE IDEAL is for the trade deficit to shrink and contribute to economic growth. Luckily, for 1996, several factors make that a likely possibility.
Most important, many overseas economies look healthier than they did at the end of 1995. For example, America's biggest trading partner, Canada, is coming out of last year's slump faster than expected. And Mexico is stirring out of its deep recession.
Overall, the global economy is set to expand by 3.8% in 1996, according to the latest forecast of the International Monetary Fund released on Apr. 17. That's up from the 3.5% rise in the IMF October forecast. And it's better than the 3.5% gain in 1995.
The U.S. forecast is little changed. But Japan is expected to grow 2.7% in 1996, compared with 0.9% in 1995. And developing countries will continue to expand much faster than industrialized nations. The IMF expects developing economies to grow 6.3% this year, on top of a 5.9% increase in 1995.
Still, the IMF cut its projection of European growth to 1.8% from its October forecast of 2.8%. The possible recession in Germany has dragged down other Continental economies. But even here, the outlook has brightened a bit. The Apr. 18 cut in German short-term rates was quickly matched by other European central banks.
The downward revision to Europe is not as ominous as it once might have been. Europe's share of merchandise exports has slipped over the years, accounting for 22% of all U.S. overseas shipments, down from 29% in 1990. In comparison, sales to Canada have been stable at around 21%, and exports to Japan have fallen by less than two percentage points, to 10%.
Exports to the industrial world are still growing, but until 1995, demand from developing nations had been soaring at a faster pace. Mexico's peso crisis and the spillover to the rest of Latin America quelled exports last year, but the outlook for '96 is much improved.
The key reason is faster economic growth. For developing countries, income growth is a bigger determinant of export demand than are exchange rates because many countries in east Asia and Latin America tie their currencies to the dollar. Booming China has increased its purchases of U.S. goods by 10.7% in the first two months of 1996 compared with 1995. Singapore shipments were up 22.8%, and Mexican purchases have rebounded by 10.8%.
SO WHY HAVEN'T U.S. DEFICITS with these countries narrowed? The problem is that the U.S. continues to buy more from these economies than it sells. So far in 1996, U.S. imports of Chinese goods are up 11.5% from 1995, and Mexican imports have grown 16.4%.
Altogether, imports account for 25.8% of U.S. purchases of nonoil goods. That's shy of the 25.9% peak in 1995's second quarter but up sharply from 18.6% at the start of the expansion (chart). That's why the U.S. trade position has deteriorated so rapidly in the 1990s.
Reflecting the U.S. spending spree on productivity-enhancing business equipment, imports of capital goods have swelled by 13.2% over the past year. Increased purchases of foreign-made semiconductors and computer accessories lead the pack. But imports of low-tech items, such as metalworking machine tools and industrial machinery, have also surged.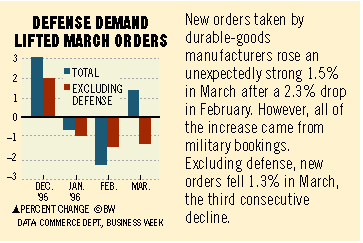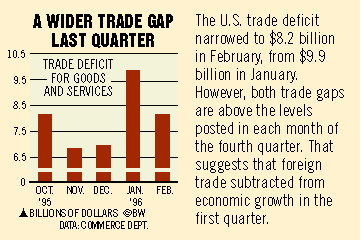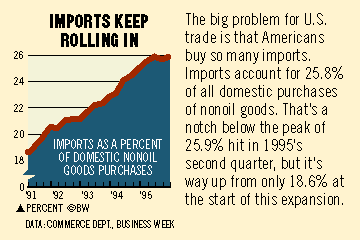 Import growth is likely to be slower this half than in the second. For one thing, domestic demand will be peppier later on. Also, the ongoing adjustment to inventories is cutting orders of foreign-made goods just as much as it hurts domestic supplies. But that process should end soon. In addition, consumers may begin to find some imports cheaper because of the dollar's 27.8% gain against the yen and its 8.3% rise against the mark since last April.
Does that mean the best trade news will occur in the spring? Not necessarily. As long as foreign economies grow faster than the U.S. does, their demand for goods labeled "Made in the U.S.A." will pick up steam. The upshot is that strong export growth can narrow the trade deficit as well as offer support to manufacturers and the overall economy.
Before it's here, it's on the Bloomberg Terminal.
LEARN MORE