Germany's Slide Picks Up Speed
by
The Bundesbank cut short-term rates earlier than the financial markets expected, but the easing cannot come soon enough for Germany's hurting economy.
On Apr. 18, the Buba trimmed a half-point off its discount rate, to 2.5%, and the Lombard rate, to 4.5%. Equally important, central bankers hinted that rates could fall further to help jump start the economy.
Certainly, help is needed. The latest data suggest that real gross domestic product fell in the first quarter. Industrial production is down, retail sales have dropped at a 4.3% annual rate from the fourth quarter, and the jobless rate in March was unchanged at 10.4%. Last quarter's drop would follow a fall of 1.6% at an annual rate in the fourth. Back-to-back drops in real gross domestic product usually signal recession.
Moreover, the spring quarter doesn't look very healthy. Manufacturing orders are down a steep 5.1% from a year ago. And the index of business confidence in west Germany fell to 90.4 in March, the lowest level in two years (chart). Executives' assessment of current conditions and their expectations for the future have both been declining. Confidence in east Germany is down, too.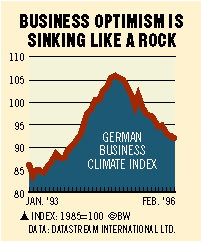 Longer-term, Germany will feel the drag of fiscal austerity. Bonn remains committed to meeting the Maastricht Treaty target of a federal deficit equal to 3% of GDP by '97. In late April, the government was preparing spending cuts of up to 50 billion marks (U.S. $33 billion). Some private analysts think the cuts could total much more.
The markets were expecting a rate cut sometime in the first half. The central bank had room to ease because inflation remains tame. Union settlements call for wage hikes to average only 2% in 1996. And consumer prices were up just 1.5% in the year ended in March. Prices may feel some upward pressure from rising oil prices and the weaker mark. But on the plus side, the fall in the German currency will give a boost to exports--a key sector for the German economy and a source for much-needed jobs.
Before it's here, it's on the Bloomberg Terminal.
LEARN MORE