French Aerospace Can't Live On La Gloire Alone
Aerospatiale's chief calls for all-out European restructuring
Stewart Toy
Louis Gallois seems an unlikely candidate to lead the transformation of Europe's aerospace industry. The former French civil servant, 52, has worked for years in the government-controlled defense and aerospace sector--currently as chairman of troubled Aerospatiale. He has even gone along with nationalistic French policymakers who have tried stubbornly to preserve the independence of their aerospace industry, even as U.S. rivals team up in huge cost-cutting mergers.
In a sharp departure, the low-key Gallois is proposing a new entente among Europe's biggest aerospace companies as the only way to avoid chronic losses. He has the support of France's government, which can no longer afford to bankroll losers. Gallois firmly backs plans by British Aerospace PLC and Daimler Benz Aerospace--Aerospatiale's main partners in Airbus Industrie--to convert the commercial-aircraft venture into a stand-alone, for-profit company. He's also merging Aerospatiale's tactical missile and satellite units with those of Daimler Benz (DASA). Longer term--perhaps by 1998--Gallois even wants a full transnational merger with his German and British partners. That would create a European aerospace giant with sales topping $25 billion, in a league with the big U.S. companies created by years of mergers.
This is a grand plan that faces many risks, given all the delicate negotiations that must take place. Yet driving Gallois' strategy is a stark economic necessity that not even French notions of la gloire can overcome. Gallois has managed to cut Aerospatiale's debt by $2 billion, to $1.3 billion, since his arrival in 1992 from engine-maker Snecma. But as orders for weapons have slowed in the post-cold-war years, he has not been able to stem Aerospatiale's big losses--totaling $1 billion over the past four years (chart). And the hard-pressed French government cannot afford more capital for the company, which had $9.6 billion in sales last year. Other European contractors face similar crises. "Europe's aerospace industry must come together," says Gallois. To cut costs in an era of skimpy defense orders, "size counts," he says.
Gallois will find eager listeners to his proposals at DASA, which last year lost money on its Airbus work and its defense orders. British Aerospace (BAe) also likes Gallois' merger idea--in theory. "But it won't be as simple as merging Lockheed and Martin" in the U.S., says a BAe official, partly because his company has already completed a costly restructuring, while the others--especially the French--haven't. Some analysts suggest Aerospatiale and DASA may merge first, since they have many joint ventures already. The British might hop aboard later.
GALLIC INTRIGUE. Before any transnational merger, however, Gallois must navigate Aerospatiale through a maze of Gallic intrigue to strengthen his company. Backed by France's President, Jacques Chirac, he is trying to persuade a fiercely independent Serge Dassault, chairman of Dassault Aviation, to merge with Aerospatiale. Dassault says his company's fighter planes and business jets offer no synergy with Aerospatiale, which gets its revenues from Airbus work, satellites, missiles, and helicopters. Gallois disagrees, but there's another reason for Dassault's desirability: its cash hoard of $1.8 billion. That could slash Aerospatiale's debt and boost its appeal to investors at privatization time--possibly late in 1997.
The French government wants Gallois and Dassault to work out a merger deal by June. Paris prefers a friendly deal, even though the state owns 45% of Dassault and can outvote the Dassault family. But insiders say Serge Dassault is fighting hard, insisting that he be named the boss of a merged company. If a Dassault deal fails, "I must find a new [partner] who can bring capital," says Gallois. One candidate, he suggests, is Thomson-CSF, the French defense and electronics giant owned partly by the government and partly by investors who trade its shares on the Paris bourse. However, insiders say the government prefers to use Thomson to beef up troubled telecommunications giant Alcatel Alsthom. Missile maker Matra Hachette also covets Thomson.
KNOTTY PROBLEMS. Gallois faces the equally crucial issue of how to revamp Airbus. That venture is now little more than a marketing cooperative, selling planes built jointly by its partners. The plan is for the partners to pool their Airbus facilities in a new company that would run the whole show with a strict profit motive and possibly issue shares to the public.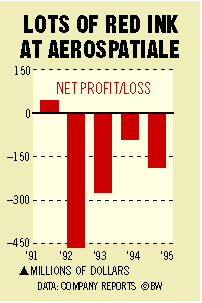 This solution would require spinning off some Aerospatiale assets into the new company. That's a delicate task for Gallois, since Aerospatiale owns the division that designs Airbus planes. Gallois is loath to give up this operation, which feeds engineering expertise to other Aerospatiale projects. "I'm sure we can find a formula" to solve this problem, says Gallois, who hints there might be some way for Aerospatiale to keep an interest in this division. Yet France's Airbus partners are wary of such gambits. Warns Manfred Bischoff, chief executive of DASA: "It would be impossible for one partner to put all its assets and knowhow in [the new company] if the others didn't." The French counter that giving up assets is easy for DASA, which builds relatively low-tech fuselages for Airbus planes.
These are knotty problems. For once, however, the French seem almost as eager as their European partners to convert an inefficient state-backed venture into a profit-disciplined company. Like its allies around Europe, France is learning that nationalism in aerospace is a costly cold-war relic.
Before it's here, it's on the Bloomberg Terminal.
LEARN MORE