Cisco Finds Its Pancho
StrataCom is the sidekick it needs to be No.1 in networking
Robert D. Hof
As a veteran of lumbering companies such as IBM and Wang Laboratories Inc., John T. Chambers doesn't seem like a guy who could run one of high tech's hottest stars. Even his father, a retired physician who dabbled in business, swears Chambers, chief executive of Cisco Systems Inc., isn't "mean enough" for the business world. But on Apr. 22, Chambers pulled off one of the biggest, meanest deals around: Cisco said it would spend a stunning $4.1 billion in stock to buy StrataCom Inc., a leader in a crucial new computer networking technology.
Chambers' bold goal: to make San Jose (Calif.)-based Cisco as dominant in networking as Microsoft Corp. is in personal computers. A salesman by trade, Chambers, 47, has made a string of six acquisitions totaling $4.6 billion since last August. Now he thinks Cisco has all the pieces in place to dominate the business of linking computers together in networks. Says Paul Deninger, managing director with technology investment banker Broadview Associates: "Every time the rest of the industry thinks they're catching up, Cisco blows right past 'em."
HOT STUFF. Cisco was already outrunning chief rivals 3Com, Bay Networks, and Cabletron Systems in the market for routers, switches, hubs, and other specialized networking gear. Driven by the explosion in the Internet and corporate local-area networks (LANs), Cisco's sales are expected to rocket 70%, to $3.4 billion, in the fiscal year ending July 31. Its stock is up 36%, to about 50, since early January (chart).
By buying StrataCom, which had 1995 sales of $335 million, Chambers will fill the main gap in Cisco's lineup: network switches based on emerging high-speed networking standards. The market for such switches is expected to quintuple in size by 1998, to $8.4 billion.
Jumping into such a hot market is typical of Chambers' drive. Starting out at IBM in 1976, he watched as managers ignored technology changes and plunged the company into a funk. Wang, which he joined in 1982, fared worse. As its senior vice-president for U.S. operations, he had to lay off 4,000 people--including friends. "It just about destroyed him," says his father, John. So in 1991, Chambers switched to Cisco, already a hot company, as executive vice-president and became CEO in January, 1995.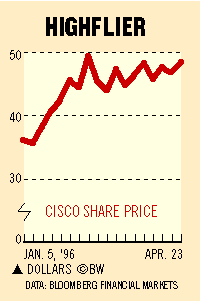 "EARLY INNINGS." The StrataCom deal is vintage Chambers. In mid-April, shortly after IBM announced plans to resell key switches made by archrival Cascade Communications Corp., Chambers responded to the competitive challenge with a pitch to StrataCom CEO Richard M. Moley. While on vacation in Australia, Chambers kept in touch with negotiators. He and Moley met on Apr. 20, his first day back, and closed the deal the next day.
To make the deal pay off, Chambers has to boost StrataCom's 24% operating margins closer to Cisco's 36%. But mainly, he doesn't want to become too cautious. "We're in the very early innings of this game," he says. Chambers figures if he can keep throwing strikes, Cisco will come out a big winner in the end.
Before it's here, it's on the Bloomberg Terminal.
LEARN MORE