Can Hang Seng Hang On To A Winning Hand?
The Hong Kong bank goes go-go for a younger clientele
by
When Hang Seng Bank Ltd. CEO Alexander S.K. Au says "we are moving with the times," he's not kidding. Au, a 49-year-old accountant who became the Hong Kong bank's chief executive in 1993, is going all out to shake up the 63-year-old bank's sleepy management, update its dowdy image, and make Hang Seng the place where the British colony's growing corporations and Chuppies--the Chinese version of the West's yuppie set--go for financial services.
Throwing aside decades of disdain for marketing, Au has launched a Zen-like ad campaign, sponsored concerts by Cantonese pop stars Anita Mui and Leon Lai, and updated Hang Seng's 1950s logo with a sleek, modern emblem--which was unveiled at a gala fashion show in March featuring hip-swaying models displaying the bank's crisp new uniforms. Hang Seng, a 61.5%-owned affiliate of Hongkong & Shanghai Banking Corp., is also doling out credit cards to local college students and wooing affluent 25- to 40-year-olds with smart cards, feature-packed all-in-one accounts, and phone banking. Says Hang Seng's chief strategic planner, Anthony Wong: "This is a new era."
PROFIT CHAMP. You might expect this kind of makeover at a bank struggling against encroaching rivals. But Hang Seng is anything but in crisis. The London-based credit-rating agency IBCA Ltd. ranks it as the world's most profitable bank. Its overhead costs are among the lowest anywhere. And as the third-largest bank in the colony, behind Hongkong & Shanghai and mainland-owned Bank of China Group, it needn't worry about being left in the lurch. One of the most massively capitalized banks on earth, Hang Seng accounts for an estimated 12% to 14% of the British colony's $280 billion in bank deposits. Last year alone, its operating profit reached a record $1 billion, up 26% from 1994. It's no surprise, then, that Hongkong Bank Chairman John M. Gray calls Hang Seng--which contributed 16% of the group's earnings last year--"one of the best investments we've ever made."
But Au found early on that even with such a stellar record, Hang Seng's chances of maintaining its winning streak were far from assured. For one thing, about the time Au took over as CEO, regulators started freeing deposit rates, cutting into the bank's profit margins. And its reliance on elderly Chinese in slippers and pajamas for its deposits meant that its clientele would inevitably waste away.
So in addition to reaching out to Chuppies, Au is also stepping up efforts to turn Hang Seng into a full-service financial house. In November, the bank set up a life insurance company along with Hongkong Bank. It will soon move into private banking. And it's pumping out zippy new product lines for its retail branches. The newest is leveraged foreign exchange trading which lets punters bet big on currencies with as little as $2,500 down.
Au's strategy for Hang Seng is hardly risk free. He wants the bank to eventually lend out as much as 65 cents for every dollar of deposits it garners, a sharp increase from the 47 cents it lends today. "That is still conservative," Au says. "We have a lot of room to grow." But can Hang Seng boost lending without risking increased losses? Au believes he can keep the bank's bad loans at their current low rate. Indeed, Hang Seng has a well-deserved reputation for sobriety that extends into the lowest reaches of the bank. That allowed it to escape the loan crunch that hit Hong Kong banks in the 1980s.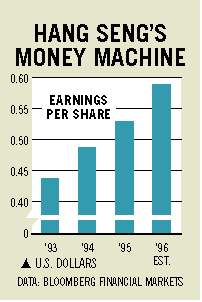 One of the bank's biggest hurdles could be something it can't do anything about--its dependence on Hong Kong's and China's economies. But Au has decided that the handover of Hong Kong to China in 1997 is a nonevent, given his bank's push into China and the colony's role as a financial and marketing center for the mainland.
As Au changes Hang Seng's image, one of his major challenges will be to maintain the bank's legendary reputation for service. W.K. Mok, Hang Seng's retail-banking chief, likes to tell about staff in a Kowloon branch who recently pitched in to repair a customer's broken high-heeled shoe. That's a trait of the old Hang Seng that Au doesn't want to lose. And so far, Au's efforts to remake this venerable lender are paying off where it counts: the bottom line.
Before it's here, it's on the Bloomberg Terminal.
LEARN MORE