A British Miner For Phelps?
by
Although the Street is split about earnings prospects for Phelps Dodge (PD) in 1996 and 1997, the shares of the largest U.S. copper producer (and the third-biggest in the world) have been on quite a streak, hitting a 52-week high of 75 3/4 on Apr. 16.
"There are as many bulls as bears on Phelps," notes Chuck Hill, director of research at First Call, which tracks analysts' earnings projections and stock recommendations. The uncertain course of copper prices--and the fear of a possible glut--are fueling disagreement about Phelps. Some investors, however, are quite sure why they are buying Phelps: They sniff a takeover.
These bulls are betting that Phelps, the industry's low-cost producer, has attracted the eye of acquisitive RTZ, a Big Board-listed British company. RTZ became the world's largest mining company in October, when it acquired CRA, another British mining outfit.
Those betting on a buyout say Phelps remains undervalued--worth 95 to 100 in a takeover. They think RTZ wants Phelps because of its more than 25% share of the U.S. copper market. Analysts estimate that Phelps will produce 1.45 billion pounds this year, up from 1.42 billion last year. The company has strong cash flow. Its hoard at yearend: $609 million, or $9 a share.
They believe RTZ has sent feelers to Phelps management for a buyout or merger deal. This investor group notes that RTZ has never engaged in an unfriendly acquisition. "It has deep enough pockets to do a Phelps Dodge acquisition," says a top banker at a major Wall Street investment house.
RTZ, with a market capitalization of $15 billion, had sales of $8.1 billion last year and made about $1 billion, or $3.69 per American depositary receipt. Phelps, with a market cap of $4.7 billion, had revenues of $4.1 billion and made $747 million, or $10.42 a share.
After a buyout, RTZ could, says the investment banker, sell Phelps's industrial operations: Phelps Dodge Magnet Wire, whose products are used in motors, generators, and transformers, and Columbian Chemicals, which makes carbon black. Phelps is also North America's largest maker of steel wheels and rims for trucks and buses.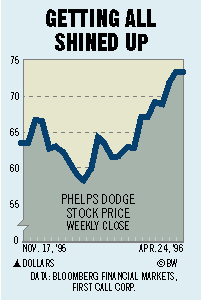 Last year, RTZ acquired an 11.8% stake in Freeport-McMoRan Copper & Gold. Other RTZ mining holdings: Kennecott, which in Utah operates the world's largest open-pit copper mines, and a 30% stake in a low-cost copper mine in Chile.
Phelps also has interests in South Africa, with a 44% stake in copper, lead, zinc, and silver mines in that country, as well as a 16.3% stake in Southern Peru Copper. Paul Galloway, RTZ investor relations officer in London, says RTZ has a strict policy against commenting on market speculation or rumors. Phelps spokeswoman Susan Suver says the company doesn't comment on market rumors.
Before it's here, it's on the Bloomberg Terminal.
LEARN MORE