Twa: Up, Up, And Away Again
The airline is cutting debt, hiring workers, and even showing a profit
Susan Chandler
In his first 24 months as chief executive of Trans World Airlines Inc., Jeffrey H. Erickson regularly spent 18-hour days rushing from one crisis to another. When he wasn't engaged in hardball negotiations with former TWA owner Carl C. Icahn, who remained a major lender, he was imploring creditors to exchange debt for equity.
Erickson, 51, won those battles. But he was still edgy in March, when TWA issued stock for the first time in a decade. After all, TWA's demise had been predicted for years.
NEW JETS. He needn't have worried. The 8% preferred shares were gobbled up, raising $169 million that TWA can use to pay off debt with a 12% coupon. "As the marketplace becomes more aware of our story, it creates a lot of excitement," says the low-key Erickson, a former aeronautical engineer who in 1994 startled colleagues by leaving Reno Air Inc., which he helped start, for TWA.
Today, TWA is the industry's biggest comeback kid. "I firmly thought they were done for two years ago," says Michael Boyd, president of Aviation Systems Research, a consultant. "But now, it looks like they're out of the woods."
On Apr. 10, the St. Louis carrier's common stock was trading at 23 1/8, up from 4 5/8 after it emerged from bankruptcy in 1995. It posted a 1995 operating profit of $25 million, its first since 1989. S.G. Warburg estimates TWA will report a loss of $68.9 million in the seasonally weak first quarter. But that's an improvement over 1995's first-quarter loss of $122.8 million. The airline is hiring 780 flight attendants, 300 pilots, and 1,300 reservation agents. And it has ordered 10 new Boeing 757-200s and leased 10 more.
The gains have come at a cost. Erickson arrived just after TWA closed its mini-hub in Atlanta. He went on to shutter TWA's commuter subsidiary, Trans World Express, and dump flights to several European cities. Debt holders suffered a $500 million cut in the value of their holdings.
Employees also paid a price. They had already given up $660 million in wage concessions in 1993, but under Erickson they agreed as well to forgo a "snapback" provision that would have restored their previous wage levels in 1995. Also in the 1995 restructuring, they saw their equity stake in the company chopped to 30%, down from 45%. Today, though, with TWA's stock soaring, no one is complaining. "We're breathing easier, both as employees and investors," says Don Jacobs, head of TWA's pilots union.
HALCYON DAYS. Certainly, TWA is benefiting heavily from the current favorable environment for airlines. United, American, and Continental all posted record operating profits last year. And some of TWA's fiercest rivals are focusing elsewhere. Retrenchment by American Airlines Inc. and Delta Air Lines Inc. has given TWA breathing room. And Southwest Airlines Co. is busily expanding in Florida, not a big TWA market.
With its restructuring behind it, TWA can compete better even where big rivals do remain. Erickson says that on the 15 routes where TWA goes head-to-head with Southwest, TWA is making money because of its reduced costs, which dropped to 8.28 cents per available seat mile--lower than United's 8.5 cents and American's 8.43 cents but higher than Southwest's 7.1 cents.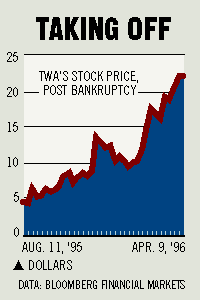 TWA's productivity still trails those of the five largest carriers. Its on-time performance lags behind the industry. And its debt levels remain high. Ray Neidl, a Furman Selz analyst, says that while airlines' current good times may well give TWA time to get its house fully in order, its problems are "by no means solved." Echoes Southwest Chief Financial Officer Gary C. Kelly: "Any airline that doesn't have its costs, service, and balance sheet in order could be in trouble when the economy weakens."
That may be. But even then, TWA will have a leg up on its rivals: It's been through the fire several times already.
Before it's here, it's on the Bloomberg Terminal.
LEARN MORE