A Cold Spring Has Futures Sizzling
Greg Burns
By early April, Jeffrey Heil is usually riding high aboard a tractor, applying fertilizer and planting the first corn on his central Iowa farm. But this April, Heil and his tractor stand idle as frost glistens across the 800-acre spread. "Basically, nothing is done," he gripes.
With grain prices hitting record highs, Midwest farmers can hardly wait to get rolling. But Mother Nature already is threatening to spoil the party. Dry, frigid conditions have delayed the start of spring planting across the Midwest. There's still plenty of time to get the crop in the ground, but commodity traders are made jittery by even a hint of weather worries. And with good reason: Supplies are tighter than they have been in decades (chart). "It's the first time in a lot of lifetimes that we're seeing a sharply reduced supply of grain," Heil says. Experts figure it would take two bumper crops in a row to bring supplies back up to normal.
BIG JUMP. As a shortage looms, grain futures have soared like Internet IPOs. At the Chicago Board of Trade, corn futures closed at $4.44 per bushel on Apr. 10, after setting records in four recent sessions. During the past year, the price of corn has jumped 80%. Soybeans hit a seven-year high of $7.94 per bushel on Apr. 10. Wheat prices have risen, too, after a disastrous winter crop. Meanwhile, demand is booming in all quarters, especially in Asia, where China is now a key buyer of U.S. commodities.
The latest price surge was touched off by a Mar. 29 government report that pegged corn stockpiles at 3.8 billion bushels, below previous estimates. That's a meager supply, and it shows that demand has continued to grow in spite of higher prices. The big worry: that stocks won't fill the gap until the new harvest comes in. "If we continue at this rate unabated, we will run out of corn," says Richard J. Feltes, director of commodity research at Refco Inc.
Corn is the U.S.'s biggest cash crop but, much as farmers relish strong demand, they're planting less of it than analysts expected. As of Mar. 29, some 79.9 million acres were earmarked for corn--much more than last year, but nearly 2 million acres below bullish estimates. Farmers are switching some acreage to soybeans because they think corn prices could fall six months from now as the new crop comes in and eases today's acute shortage. The corn futures market reflects that bet: The price of corn for December delivery--which tracks the coming crop--is nearly $1 per bushel below the price of May contracts.
One reason: Market forces could intervene to ease the shortage. For instance, today's high corn prices could force some meat producers to slaughter their herds and flocks, lowering demand for feed grains by the fall. Other forms of rationing have started already: Archer Daniels Midland Co., among others, is cutting production of fuel-grade ethanol, which is made from corn. "Every few years, Mother Nature doesn't treat us too kindly," explains ADM Chairman Dwayne O. Andreas.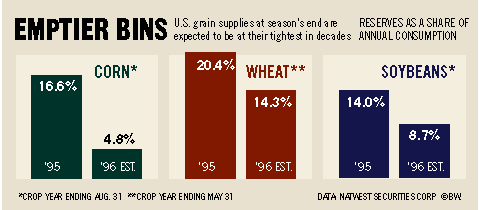 DROUGHT? Mother Nature could have worse in store, however. Besides cold weather, which delays planting because seed won't germinate in chilly soil, the grain belt could be facing a drought. A dry weather pattern "is firmly in place," says meteorologist Jon B. Davis of Smith Barney Inc. He expects little rainfall into June. Dry conditions could be a blessing early on, by speeding along planting. But a summer drought would be devastating, especially after a parched winter. "I haven't had a good rain since last May," moans Vic Riddle, who farms near Wapella, Illinois. Another worry: Gray leaf spot, a debilitating disease, could hit the corn crop again, after cutting into yields last year.
During the next few weeks, farmers will decide how to divide their land between corn and soybeans. The 1995 Farm Bill has done away with government set-aside programs that idled land, so they have new freedom to make those decisions. For now, Heil is betting on soybeans, which tolerate drought better than corn. "I'm gambling because I sort of have a feeling of a dry year," he notes. Such feelings will keep the commodity markets on edge for weeks to come.
Before it's here, it's on the Bloomberg Terminal.
LEARN MORE