Tyson Bruno: Bait For High Rollers
by
No city works harder on its image than Las Vegas. That image, of course, is glitter and glitz, pasties and parties, and it's easy to be swept up in these rather dubious charms. Moments after stepping off the airplane, you're assaulted by a clanging of bells and faint drop of coins from the rows of slot machines that block the path to baggage claim. Posters of nearly clothed women greet you as you head for a cab.
Little wonder, then, that Mike Tyson, the man-child boxer turned ex-con, wound up in Las Vegas for his first heavyweight title fight after about three years in stir and a couple of tune-ups. His opponent, a well-spoken Brit named Frank Bruno, hardly mattered. With Tyson out of competition, Bruno, 34, an imposing 6-foot 3-inch, 247-pounder, held the World Boxing Council's version of the heavyweight championship. But everyone here knew who the real champ was. Tyson collected $30 million from ticket and television revenues for the fight, Bruno, a mere $6 million.
The Mar. 16 event was at the MGM Grand Inc., the hotel, casino, and theme park built by billionaire investor Kirk Kerkorian for $1 billion back in 1993. A shimmering green building with a giant lion's head in front and a Wizard of Oz Emerald City entry, the hotel, with 5,005 rooms, is the largest in the world. Since opening, it has become Vegas' big-event mecca. This is where Barbra Streisand came out of semi-retirement to give her first live performance in years.
The MGM Grand, like just about every other major Vegas power, thrives on such big events, offering free flights, free $1,000 ringside seats, and free use of 4,000-square-foot suites to the highest of its high rollers. The casino expects them to reciprocate by dropping serious money at the baccarat tables.
And the gamblers do come. Last August, when MGM hosted Tyson's first fight since being released from the joint, against Peter McNeeley, baccarat was up more than 12%, the state's Gaming Control Board reported, with casinos taking in $80.5 million more than a year earlier. But sometimes the biggies do win, too. Last spring, Australian media mogul Kerry Packer rolled out of town with nearly $20 million from the baccarat tables at the Hilton and the MGM Grand. Those, as they say in Sin City, are the risks.
So, using a little financial wizardry of its own, the MGM management decided to change the odds in its favor. In a complicated deal, the casino gave electric-haired promoter Don King a $15 million loan instead of his usual hefty fee to stage six Tyson fights. King has to repay the loan, after buying 618,557 shares of the casino's stock. And MGM gets off without paying King anything if the shares double in value, to $30 million, by September, 1997. On fight day, the stock was valued at nearly $24 million. King clearly stood to make a bundle, sharing in the $11 million gate as well as the action from the pay-per-view and royalties from merchandise sales.
BEER SWILLERS. The MGM Grand stood to make little from the fight. Its take would come afterward--when the high-rollers repaired to the gaming tables.
As the bout approached, the megahotel looked in fighting trim. Behind the expansive check-in counter, a giant screen projected fight scenes featuring Tyson. A sign at the gift shop proclaimed that former heavyweight champs Ken Norton and Floyd Patterson would be on hand to sign commemorative fight T-shirts, selling for $18.95 each. Beer-swilling men stared at the armies of television monitors in the sports betting parlor in the middle of the casino.
At 8 p.m., when Tyson was expected to fight, the crowd settled in. Some 3,000 Brits, who had paid $200 each for seats in the rafters, rhythmically chanted "BRU-NO, BRU-NO." Jack Nicholson peered from behind dark glasses at the endless preliminary bouts. Three rows in front of Jack sat a contingent of big spenders from Asia, flown in on the Grand's 727. Their patriarch had bet $1 million on Tyson (half at the MGM, the rest at Caesars Palace) and would risk more at the baccarat tables after the fight.
Suddenly the crowd was buzzing. Denzel Washington took his seat. Kevin Costner, Pierce Brosnan, and Roseanne arrived. San Francisco Mayor Willie Brown was busy shaking hands. Crooner Wayne Newton stood arm-in-arm with movie star Eddie Murphy.
FOOD AND BOOZE. MGM owner Kerkorian, Bally Entertainment Corp. Chairman Arthur M. Goldberg, and Mirage Resorts Inc. chairman Steve Wynn, the most powerful player in the industry, were all on hand. The Mirage had purchased some 600 tickets for its own high rollers. Letting loose your clientele in front of someone else's tables can be dangerous, however, so the Mirage transported its guests in limos and sent along its own food, booze, and cocktail waitresses. A contingent of Mirage executives was also on hand to usher them past the Grand's tables and back to the limos that would whisk them safely back to home turf.
The MGM brass was getting nervous. The six preliminary bouts, including a bloody fight between two women, dragged on. Each minute the Tyson bout was delayed meant less time at the tables. Then things brightened: A scheduled 12-round fight ended abruptly in the eighth round. Tyson and Bruno would be in the ring before 9 o'clock.
Jack and Roseanne settled into their seats for the endless introductions. Tired, crippled former champions were cheered. But there were boos for Nation of Islam leader Louis Farrakhan, Tyson's spiritual adviser, and for Don King, resplendent in a bulging white tuxedo. A 12-foot-long blimp-shaped balloon emblazoned with King's name floated above the crowd, reminding the assembled who's really the greatest.
At 8:50 p.m., Tyson made his way to the ring. Bouncing and dripping with sweat, he looked fearsome. But Bruno made him wait, and Tyson's intensity started to wane--another bad omen for the edgy MGM brain trust. They had come expecting a Tyson win. If the former champ had lost, his next four MGM fights would have been worth less than last week's lottery ticket. When Bruno at last entered, cheers erupted from the drunken Brits.
The MGM execs needn't have worried. In the third round, Tyson, his muscular forearms bulging beneath a Mao tattoo that appeared during his prison years, hammered his taller, heavier opponent. Bruno staggered repeatedly. Two minutes into the round, his ordeal was over. Two strong punches to his head sent the Brit tumbling into the ropes. When the referee moved in to wave off Tyson's onslaught, the now dethroned Bruno was visibly relieved.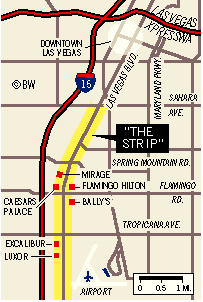 It was just past 9:15 p.m. In the casino, things were hopping. As the fight approached, MGM's wily casino managers had replaced $5 signs on the blackjack tables with $25 signs, but there was no shortage of players. Tourists, who had lined up earlier for a glimpse of Denzel or Eddie, crowded the slots.
King, his finger pointing to the skies, stood at the rope, shouting to MGM President Alex Yemenidjian: "MGM, MGM, we love you." In the middle of the ring, Tyson flopped on his knees, paying homage to Allah. MGM executives hadn't yet joined the merriment, but judging from the crowds in the casino, they, too, would have reason to pay homage.
Before it's here, it's on the Bloomberg Terminal.
LEARN MORE