Think Local And Invade
Look who's ready to steal the Bells' lunch
by
About a year ago, an AT&T salesman called on Chicago businessman Ted S. Bernstein. Between his home and his small insurance business, Bernstein spends $2,000 a month on local, long-distance, and wireless services. The salesman gave Bernstein a discount on his corporate long-distance service, the same discount at home, and consolidated everything on one bill.
In contrast, Ameritech Corp., his local telephone company, offers no such packaged services and didn't seem to notice that Bernstein's long-distance billing is now done by another company. "I didn't get one phone call from Ameritech," he says. The lack of attention will cost the company. AT&T is getting ready to offer local service in Chicago, and Bernstein says he'll likely defect.
It's the dawn of deregulated telecommunications, and the local phone companies have yet to prove they get it. The CEOs of every one of the seven Baby Bells are telling investors, customers, and potential partners that they want to be one-stop shops, offering a combination of local and long-distance calling, interactive television, and information services to their customers. But AT&T, MCI, and Sprint are aiming for that same converging world and have spent more than a decade honing their competitive skills. Plus, long-distance carriers can go after local markets immediately, while it will take local companies at least 18 months to win the regulatory go-aheads for long-distance.
The Bells could also use a shape-up. Even after huge layoffs, they're still bloated. AT&T, MCI, and Sprint's overhead averaged 26.4% of sales in 1995, compared with 31% for the Bells. The Bells also have outdated networks. Only 71% of their lines connect to digital switches, vs. 100% for AT&T, MCI, and Sprint.
MASS MUTINY? The local gang has a lot to learn about satisfying customers, too. A Deloitte & Touche survey found that 40% of business customers are "likely" to buy local phone service from an alternative provider. In a Morgan Stanley & Co. survey, 65% of residential callers said they'll consider switching. Morgan Stanley analyst Stephanie Comfort estimates that the Bells could lose 25% of their residential customers and 35% of the business market over the next 10 years. "You have the potential for a massive redistribution of the local business," says Steven M. Martin, telecom consultant at Deloitte & Touche.
One possible redistribution could result in fewer than seven Bells. "I think that it's likely that one or more of the [regional Bells] will disappear by 2000--either through an actual collapse or a buyout," says Alan Tumolillo, a consultant with Probe Research Inc. Analysts figure some Bells will group together by geographic proximity--Pacific Telesis Group and U S West Inc., for example. Bell Atlantic Corp. and Nynex Corp. have already studied a merger, but the plan is on hold while they see how the market shapes up. "I think there will be a natural coming together among some of the [Bells], but whether they combine the entire enterprise is another matter," says Bell Atlantic Chairman Raymond W. Smith. Another option: One or more Bells could throw in with a long-distance company.
Don't expect instant upheaval, though. The Bells, after all, have inertia on their side. It took AT&T 10 years to lose 40% of its long-distance market. And after one year of local competition in Rochester, N.Y., from the likes of AT&T and Time Warner Inc., Rochester Telephone has lost just 3% of its customers.
The local carriers also have a huge edge in offering a laundry list of communications services--they have the wires into nearly every home and business in their calling areas. SBC Communications Inc., for instance, is getting ready to sell long-distance and video services in addition to wireless and local calling. "Over the next several years, we'll be able to position ourselves well as full-service providers for our customers," says John T. Stupka, head of strategic planning for SBC.
For now, however, the Bells can't offer one-stop shopping. They are barred from entering new businesses within their regions right away. They can't, for instance, own a cable-TV system in their home markets. But away from home they can do virtually anything they want--including challenging each other in local calling. BellSouth Corp. already plans to go after GTE Corp. customers in Orlando, and U S West plans to offer local service via the cable systems in 16 states that it will get with the acquisition of Continental Cablevision.
NOTHING TO SHOW. Video is a favorite Bell target. PacTel and the Bell Atlantic-Nynex partnership both bought wireless cable operators last year. Those systems transmit cable channels via microwave. Bell Atlantic started up an interactive TV system this March in Dover Township, N.J. BellSouth, SBC, and U S West continue to experiment with interactive TV.
The Bells are also busy lining up "content." PacTel, Bell Atlantic, and Nynex have Tele-TV, a consortium headed by former CBS Broadcast head Howard Stringer. Ameritech, SBC, BellSouth, and GTE formed Americast with Walt Disney Co. Both teams are developing interactive TV programming, but have produced none so far--a sign that the multimedia future is still a ways off.
There's an immediate prize that more than makes up for postponed video gratification: the $76 billion long-distance market. Some 60% of long-distance calls begin and end within one Bell region, and analysts figure the local companies can easily grab a fourth of that business within a few years.
The prospect of that bonanza is what inspired the Bells to push for deregulation and now has their CEOs singing the praises of open markets. "We believe that competition will enhance our growth rate," says Ameritech Chairman Richard C. Notebaert. Nynex Chairman Ivan G. Seidenberg talks about grabbing more and more of the $180 to $210 per month that consumers in his region already spend on online services, voice calling, video rentals, and entertainment. "Our share now is 30%. That's the local part," he says. "By opening up these networks, we will lose part of that 30% but get a bigger share of the remaining part."
Still, Nynex isn't exactly welcoming the competition. No local-service rival has emerged yet in New York, but the company is blanketing the airwaves with ads warning consumers not to fall for any "confusing" offers from upstarts.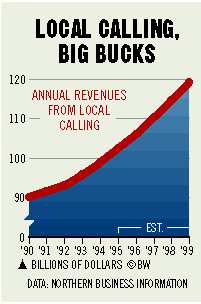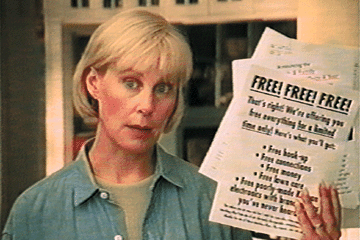 FULL-PRESS LOBBY. The Bells, in fact, have often blocked--or at least delayed--competition. SBC sent 42 lobbyists to the Texas state house last summer to convince legislators that it didn't have to provide access to its network to any major long-distance providers. U S West has said it won't negotiate interconnect agreements until the Federal Communications Commission sets the rules. Ameritech, after cutting an interconnect deal with Time Warner Inc. in Wisconsin, refused to make the same deal in Ohio. "I would guess that there was no technical or financial reason," says Terrence L. Barnich, former Illinois Commerce Commission chairman, "which leads me to believe that it was done to hold out the competition."
Such tactics may still work. But in the dawning era of deregulation and converging digital communications, it will take more than that to keep ahead of competition. It may take great services and aggressive pricing--at last.
Before it's here, it's on the Bloomberg Terminal.
LEARN MORE