Oxford's Education
The company finds there's more to health care than marketing
Keith H. Hammonds
The guy's outward tranquility is almost unnerving. While his company explodes around him, Stephen F. Wiggins talks in transcendental tones of "social ecology" and his childhood in small-town Minnesota. He reflects on Atlas Shrugged, Ayn Rand's paean to laissez-faire individualism: "You really should read it if you want to understand what we're doing here."
Or you could read the financials. Wiggins' 12-year-old managed-care company, Norwalk (Conn.)-based Oxford Health Plans Inc., has doubled in size each year since 1991, grabbing more than 1 million members and clobbering much bigger rivals in the New York market to do so. Profits jumped 71% in 1995, to $15.6 million, on sales of $1.77 billion, up 132%. On the strength of such hypergrowth and of Wiggins' charisma on Wall Street, Oxford's stock trades at a staggering 59 times 1995 earnings--nearly triple the industry average.
Oxford won legitimacy almost overnight by shrewdly marketing an exquisitely well-positioned product. Now, though, it must pursue the more difficult path of actually managing people's health care. Its new strategy is intensely systems-driven and education-oriented. If it succeeds, Oxford will have the capacity to determine who is likely to become sick, to show those people how to stay out of doctors' offices by taking care of themselves, and to give doctors both the medical and financial responsibility to decide what care is appropriate.
DATA-DRIVEN. Laissez-faire stuff, indeed--with a touch of Big Brother. Wiggins wants Oxford to become an organization "that people will come to depend on and trust as the best arbiter of health-care service." That's right--better than their doctors. Its marketing expertise gives Oxford a unique fix on members' demands and their medical status. Its doctors, with a unique fix on medicine, are given autonomy to decide on their patients' care--but increasingly, those decisions will be shaped by data. What is necessary? What really works? Oxford will know. The result, in theory, will be higher-quality medicine at lower cost. It is, in the end, a compelling design--and it could represent the future of medicine.
Wiggins started what would become Oxford in 1984. Only 27 years old, out of Harvard business school and fresh from an unsatisfying stint in venture capital, he saw a niche in the New York-area market for a high-quality health-maintenance organization in the image of plans in California and the Midwest. New York, fiercely resistant to managed care, wasn't ready. But it could handle a compromise: Oxford's Freedom Plan, a so-called point-of-service product that, for an additional charge, allows patients to visit doctors outside its network.
Doctors liked the Freedom Plan because Oxford paid them relatively generously. There was more than that, though: Where other HMOs fostered adversarial relationships, Oxford stroked its doctors. Wiggins enlisted a coterie of respected physicians as investors and advisers, and employees hustled to keep the expanding network humming. "We worked like dogs to establish relationships," says a former manager. Employers jumped at a product that promised quality care and flexibility. The kicker: While pricier than more draconian HMOs, Oxford cost 10% less than competing indemnity plans.
"By the time everyone figured out their pricing wasn't working, there was Oxford grabbing doctors and members," says Joseph T. Lynaugh, chief executive of NYLCare Health Plans, New York Life Insurance Co.'s health subsidiary. But as Oxford grew to a network of more than 25,000 physicians, it looked less and less like a managed-care company. The administrative controls to rein in medical costs and monitor quality were slipping. By last year, customers routinely were complaining of delays in service and claims processing. Offered less handholding and lower fees, moreover, fewer of Oxford's doctors viewed the company as distinctive.
Meanwhile, Oxford's costs were escalating. Its medical-loss ratio, the industry gauge of medical costs as a portion of premiums, jumped to 77.4% in 1995, from 74.1% the year before. In part, this represented slightly lower premiums and a dramatic increase in the company's Medicare and Medicaid members, who tend to require more medical care. But it also points to the need to manage costs more closely.
Managed care historically has relied on two mechanisms to control claims. First is the primary care provider, a "gatekeeper" doctor positioned to coordinate and regulate patients' care. Then there's capitation, which pays doctors a flat monthly fee per patient regardless of the services actually rendered. Such mechanisms often don't work very well, though. The gatekeeper role is an administrative nightmare, and doctors typically find ways to circumvent insurers' restrictions. And capitation, rather than encouraging fiscal conservatism, actually can motivate primary care doctors to send patients unnecessarily to specialists and hospitals.
BUDGET PLAN. Oxford's solution is to organize self-selecting groups of 40 to 100 physicians into "partnerships." Doctors are paid a percentage of patients' premiums, from a so-called global budget that fixes amounts for physician care, hospitalization, and prescription drugs. If one doctor sends a patient for an electrocardiogram, for example, the charge comes out of her group's budget. Oxford prepares quarterly reports, based on claims data, that detail the activity of each doctor in a group. Was a gall bladder patient sent to an expensive hospital? Was his stay unusually long?
The system is designed to play on individual ego, peer pressure, and financial self-interest. If doctors exceed their budget, after all, they lose money; yet withholding care will bring higher costs over time. Oxford admits it's a tenuous balance: "We thought doctors would grasp the economics right away," says Vice-President Thomas A. Travers. "Not all did." Ultimately, though, Oxford figures the partnerships will lower medical costs by 15%.
It expects to cut more through a series of initiatives known as demand management. One of these involves identifying patients with chronic conditions, then creating courses of care to prevent the need for expensive treatment later. Oxford spots asthma sufferers, for example, from claims data and patient surveys. It mails reams of self-care educational materials and a $10 peak-flow meter patients can use to assess their condition, then sends field workers to homes to instruct members on their use.
While broad academic studies of such efforts aren't yet conclusive, Oxford's results are tantalizing. In two years, hospitalization of Medicaid asthma patients has dropped by about a third, producing a savings of some $300,000 a year to Oxford. Education programs for expectant mothers, who get incentives for scheduling preventive checkups, have reduced underweight babies by about a third. "That's smart," says Michael Schechter, an obstetrician in Greenwich, Conn. "That shows me they care more than the next company. And they're going to pick up savings down the road."
TRIAGE. The other component to Oxford's demand management is a block of cubicles at the company's Norwalk headquarters. There, nurses staff Oxford On-Call, fielding patients' after-hours calls bounced from offices of participating doctors. Assisted by computer software that essentially replicates a doctor's expertise, nurses gauge the urgency of each call, reach a diagnosis, and determine what action is appropriate: self-care, a call to the doctor's beeper, or a trip to an emergency room.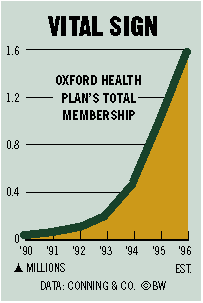 Such telephone triage is a relatively modest start. By this spring, Wiggins wants a larger corps of nurses to start giving patients direct referrals to specialists--saving members a trip to their gatekeeper, freeing up primary-care doctors for other patients, and getting rid of a lot of paperwork. Ultimately, the nurses could be supplanted by doctors who provide real-time diagnoses and treatment options, further diminishing demand for more expensive office visits.
Will all of this work? Oxford, like other insurers investing in similar strategies, believes the market will buy into the promise of higher quality. It will require, however, that doctors and patients change their behavior even more than managed care has demanded to date. The better the care gets, the easier that will be.
Before it's here, it's on the Bloomberg Terminal.
LEARN MORE