I Way Or No Way For Cable?
It's still chasing the interactive-TV dream
by
It wasn't that long ago that your TV cable was destined to be the most important wire in your home. The cable industry, after years of borrowing heavily to string the country with coaxial cable, predicted it would do more than just deliver TV programs. The promise of cable was that you could interact with the network, ordering a nearly endless supply of movies and the latest fashions or browsing digital libraries. In a test that became symbolic of the industry's boundless enthusiasm, Time Warner Inc. announced that by April, 1994, it would wire 4,000 homes in Orlando to fulfill that vision.
The Orlando test, like many of the cable industry's I-way forays, has been anything but the dazzling showcase that was promised. Time Warner finally finished wiring the homes a few months back. By then, its ambitious online mall had been scrapped. The most popular transaction, aside from ordering up movies and games, has been buying postage stamps. Even more modest tests by cable operators, of simpler digital set-top boxes for ordering pay-per-view movies without using a phone, languish years behind schedule because technical problems made costs prohibitive. "We're really not sure when true interactive TV will come," admits James O. Robbins, chief executive of Cox Communications Inc.
It can't come soon enough for the cable-TV industry, which is counting on deregulation to enable it to restart its plans for digital convergence. The industry still has a huge advantage: Its coaxial cable systems reach 66% of the country and can, with the right equipment, deliver far more services than the puny copper wires that link most phone systems to the home.
FASTER, FASTER. Now the cable industry has a new way to play on the I-way. It is betting on high-speed modems that can be used with both TVs and personal computers. These devices would be capable of pulling pages off the World Wide Web at 1,000 times the speed of conventional modems. The industry still has to work out some problems, including the $500 price tag for each modem. Also, a lack of nationwide cable-network standards severely complicates efforts to come up with a universal device.
Undeterred, cable companies such as Tele-Communications Inc. and Cox have ordered 500,000 cable modems. They say they intend to begin offering the new gizmos to Web surfers this summer. By 2000, as many as 7 million homes may have cable modems, predicts Forrester Research Inc., pulling in $1.3 billion in new revenue.
Cable operators are hoping the pure speed of the modems will turn couch potatoes into information addicts. At Boston College, where Continental Cablevision is testing 9,500 cable modems with students and teachers, they're a hit. But the real payoff will come if cable operators can sell them as part of a package of services, along with TV shows and voice services. Jones Intercable Inc., which delivers TV programs to 40,000 subscribers in Alexandria, Va., figures it can undercut Bell Atlantic Corp.'s phone prices by 20% by offering the two services in a single package to apartment dwellers there. By the end of the year, the company plans to offer its own online service as well as phone service to individual homes.
Jones's big advantage is its alliance with Bell Canada International, which owns 30% of the Denver-based cable operator. Such rich relations are going to come in handy. Just upgrading cable-TV systems to carry two-way conversations can be costly. By 1999, cable companies will spend $2.36 billion a year to upgrade their systems for new services such as voice, up from $1.78 billion a year ago, estimates Frost & Sullivan.
Will the investment pay off? The experience of Time Warner, which is testing local service in Rochester, N.Y., is not encouraging. Despite offering discounts of up to 10% off, sign-ons for the service have been slow. Time Warner refuses to provide numbers, but Rochester Telephone says it has only lost 3% of its customers to the media giant and nine other rivals since the market was opened up a year ago.
So the phone companies aren't quaking yet. Cable operators "don't have the capital or the technology," says Bell Atlantic Chairman Raymond W. Smith. In 2005, the cable industry will generate $5.9 billion in telephone revenues, figures Paul Kagan Associates analyst Sharon Armbrust. By then, however, the total market will have nearly doubled, to $300 billion.
TARGET PRACTICE. The safest bet for cable operators, then, is to team up with phone companies. TCI, Cox, Comcast, and Continental have been doing that for years through their jointly owned Teleport Communications Group, a competitive access provider that offers voice and data services to businesses in major U.S. cities.
TCI, Cox, and Comcast are now aiming at the consumer market through their joint venture with Sprint, the No.3 long-distance carrier. Their plan is to build a nationwide personal communications service (PCS) network, a low-price version of cellular that may be able to compete with wired local calling. The consortium has started selling the service in the Washington (D.C.) area and plans a rollout in up to 25 more markets by late this year. But a broader agreement to jointly offer wired local service, long distance, and cable TV with Sprint is being renegotiated because the four partners couldn't agree on how to divide revenues.
Meanwhile, with more than 63 million homes spending nearly $25 billion a year on cable-TV services, the business has become an inviting target for phone companies. U S West Inc. has bid $10.8 billion for Continental, the industry's third-largest player. Ameritech Corp. has received approval to begin cable operations in 11 markets. Using the latest in fiber technology, Ameritech says it can offer as many as 90 channels to the region's 400,000 customers now serviced by cable. And AT&T has announced plans to compete against cable operators by offering the DirecTV direct-broadcast satellite (DBS) service to its long-distance customers. MCI Communications Corp., in partnership with News Corp., plans to launch its own DBS service in 1998.
HOORAY FOR HOLLYWOOD. The cable companies feel the pinch. Partly to fend off Ameritech, Cablevision Systems Corp. spent $300 million rebuilding its system in Cleveland last November and has begun work as well in two suburbs. In Cleveland Heights, that will enable the cable system to nearly double the 40 channels it now offers. In the Detroit suburb of Northville, Continental Cable countered Ameritech's advances by offering subscribers free HBO if they signed on for a year.
Continental's approach underscores one of the strengths of the cable players. They know how to compete on content. That's why you see so many deals between cable operators and movie studios, publishers, sports franchises, and so on. The operators--and their emerging competitors--need programming to shove through all those high-speed lines. Witness Time Warner's willingness to pay $7.5 billion to buy Turner Broadcasting System, which owns CNN. Or Comcast's recent purchase of the Philadelphia 76ers basketball and Flyers hockey teams, and Cox's one-third stake in Digital Domain, the company responsible for the visual effects in the movies Apollo 13 and True Lies.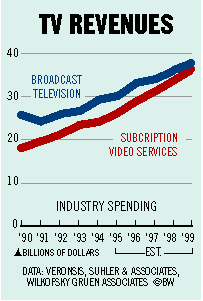 With all this frenzy for content, perhaps nobody is happier about telecom deregulation than Hollywood. At least two cable companies are expected to bid for MGM/UA, the debt-strapped studio that French bank Credit Lyonnais just put on the market. Walt Disney Co. signed on to the Americast consortium with Ameritech, SBC Communications, BellSouth, and GTE to provide an animated channel navigator and specially made programming for a new cable channel. The partners will all telecast it to their subscribers. As a bonus, the phone companies agreed to offer the Disney Channel in their basic cable package, forgoing the added charge for a premium service.
Showbiz alone, however, will not keep cable competitive in a deregulated world. Ultimately, it must deliver on the interactive vision it has long promised. "We keep hearing about those high-speed modems, but we're not seeing many of them," sneers Greg Brown, president of Ameritech's new-media unit. "Just like those digital boxes." Cable operators can only hope their customers have short memories.
Before it's here, it's on the Bloomberg Terminal.
LEARN MORE