Countdown To A Loral Launch
by
Is it too late to cash in on Loral (LOR)? That's the question for investors in light of a soon-to-be-completed $9.1 billion acquisition of the New York defense contractor by Lockheed Martin. The union will give Lockheed all of Loral's massive electronics business, while Loral stockholders will get $38 a share in cash plus shares in a new company, Loral Space & Communications. Some pros are snapping up Loral, wagering that Loral Space will take off like a Thor missile.
At the current prices, this deal doesn't look enticing. Since the buyout was announced, in early January, Loral shares streaked from 36 to 47 (chart). And any prospective buyers must act fast: The tender offer, extended by regulatory delays, is set to expire on Apr. 5. Nevertheless, hedge funds and spin-off analysts think investors would be smart to buy Loral in the short time remaining.
They feel Loral Space is way undervalued at its implicit price of 9--that is, 47 minus the $38 in cash. "This is a pure play in a fast-growing field, and we think it's worth a lot more than the market values it," says Andy Abrams of CWH Associates, a New York money manager whose flagship Worthington Growth hedge fund gained 72% last year. CWH is buying Loral as a way to get Loral Space on the cheap. Abrams thinks Loral Space, which will be publicly traded, will climb from 9 to 15 or so in the coming year.
The new entity will contain all of Loral's space and satellite businesses--and big stakes in other companies, including 31% of satellite outfit Globalstar Telecommunications. Investors are betting that Loral Space will bea power in the growing private-satellite field.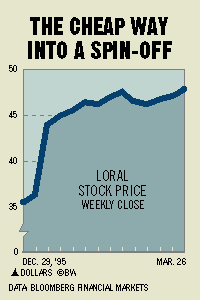 Loral Space will begin life with a squeaky-clean balance sheet--$700 million in cash and no debt. Its main asset will be Globalstar, a NASDAQ-traded company that is developing a $2 billion worldwide satellite-communication system. Another holding: 33% of Space Systems/Loral, a private satellite maker. Loral Space will also take over Loral's interest in satellite data projects and in communications franchises in Brazil, Canada, and Mexico.
One caveat, notes Murray Stahl, research director of Spin-off Report newsletter: Loral Space's business will be capital-intensive, with no guarantee of success. Still, Stahl sees it as undervalued--with excellent prospects.
Before it's here, it's on the Bloomberg Terminal.
LEARN MORE