Chuck Watson's `Energy Store' Power Play
NGC's chief now has Chevron backing his energy wholesaling plan
Gary Mcwilliams
Ask Chuck Watson, chief executive of energy wholesaler NGC Corp., how he envisions the energy business of tomorrow, and he draws quite a picture. With deregulation of electric utilities fast approaching, Watson thinks companies will one day shop for energy the same way people buy groceries. They'll stock up on oil one week, natural gas the next. And if electricity is dear and gas is cheap, they'll simply buy gas and pay a generating plant to convert it to electricity.
Lots of oil and gas executives dream of assembling a one-stop energy outlet, but few have taken the notion as far or as fast as the 46-year-old Watson. In 11 years, the silver-haired Texan has built NGC from a tiny, failing gas-trading house into a fast-growing energy empire. Now some big-time players are signing on to Watson's vision of a one-stop corporate "energy store." On Apr. 1, Chevron Corp. was set to ink an agreement to turn over its $3 billion North American natural-gas and gas-liquids business to NGC for a 25% stake in NGC and $300 million in cash. The deal, which will make NGC the largest wholesale buyer and seller of gas in the U.S., is expected to close by June 1. "This is an opportunity to throw in with a company that has shown it can grow," says Ray Galvin, president of Chevron USA Inc. Adds Watson: "This combination has no equal."
For Watson, the Chevron deal caps a long drive to transform NGC from its start as a seller of a single fuel into a broad-based marketer of energy and related services whose customers include Kraft Foods, Aluminum Company of America, and Lyondell Petrochemical. Along the way, the Houston company has earned a reputation as one of the savviest players to emerge from a decade of deregulation in the natural-gas industry. And as the far larger wholesale electricity market lumbers toward deregulation, Watson is angling to become a key buyer and seller of power. "Our customers are even more excited about electricity deregulation than gas," says Watson. "They have seen the power of competition."
Even before the Chevron merger, NGC stood out as one of a handful of companies that had prospered amid the $20 billion gas industry's fierce consolidation. It was begun as a partnership among several pipeline companies back in 1984, when deregulation allowed producers, pipelines, and anyone else with gas to sell directly to customers. NGC was supposed to serve as a broker for their excess gas. But it floundered when the pipeline partners figured they would do better on their own. Morgan Stanley, which had set up the partnership, bought them out and brought in Watson, then a rising star at Conoco Inc.
FLEXIBLE PRICES. An intense manager known for his self-deprecating humor and workaholic ways, Watson also develops planned residential communities outside Houston and owns the Houston Aeros professional hockey team. He soon transformed NGC into a critical middleman, buying energy products wholesale and reselling them to customers. Yet as gas-marketing margins plummeted from 25 cents per 1,000 cubic feet in the late 1980s to less than 3 cents last year, Watson realized the key to survival was to rapidly add customer services. He offered industrial buyers a basket of different fuels with one centralized bill and helped companies in high-priced regions buy and transport gas in from low-priced markets. NGC also began helping customers devise financial hedges, using futures and options, to ensure flexible prices. And Watson drove up sales volumes through joint ventures with NOVA Corp. of Canada and British Gas PLC.
Gas marketing is a business in which the margins are as low as the glamour--but Watson has made it pay off. While plenty of smaller marketers folded, NGC has hit a gusher. Operating cash flow--the key measure of industry profitability--soared 147% last year, to $126.6 million, on revenues of $3.7 billion, a 13% hike. Brokerage Jefferies & Co. expects the Chevron deal to more than double revenues, to $8.5 billion, by 1997. And analyst John Olson of Merrill Lynch estimates operating cash flow will hit $180 million. Such prospects have sent the stock up 30% this year, to a 52-week high of 12.
The success has won Watson a lot of admirers. "Twelve years ago, he was saying things that seemed awfully wild," says Curt N. Launer, an analyst at Donaldson, Lufkin & Jenrette Securities Corp. He credits Watson with seeing the opportunities deregulation would create long before others. "Then he made [them] happen," Launer says.
Customers, too, have flocked to embrace the company's innovations. David Stotz, manager of gas supply at Lyondell Petrochemical Co., says NGC has become known for its novel price schemes and is indispensable in securing fuel in a pinch. "The most important thing about NGC is it's always there to make a market," he says.
Now Watson is turning his attention elsewhere. He's pushing the company abroad, scouting out Latin America. And in a marketing joint venture with British Gas, NGC is driving into Europe. European energy deregulation is just starting, but it could leapfrog the U.S. "Europe is going to open up, and we'll be right in the middle," Watson says.
But the real plum promises to be the U.S. electricity market, where deregulation is in its infancy. There's already a $45 billion-a-year wholesale market for electricity traded among utilities and municipal grids. An additional $50 billion niche could develop as soon as states deregulate power sales to big companies. Chevron CEO Kenneth T. Derr says one reason for the deal with NGC is to grab a position "in the developing U.S. electric power market."
Having built trading systems and customer relationships, Watson reckons NGC can outmaneuver the slow-moving utilities if the market becomes more competitive. Gas accounted for 65% of NGC's 1995 sales, but that could change. "If we're half as successful in electricity as we are in gas, in five years we'll be making more money in our electricity division than our gas division," he says.
Still, Watson does not have the field to himself. Enron Corp. and Coastal Corp., two oil and gas marketing rivals, are also racing into electricity wholesaling. Enron has taken the lead with electricity sales of 3.1 million megawatt hours in 1995's fourth quarter, but NGC is catching up. It began marketing electricity last year and by the fourth quarter sold 1.5 million megawatt hours--about the size of a midsize power plant. It will soon provide electricity to all of Chevron's plants.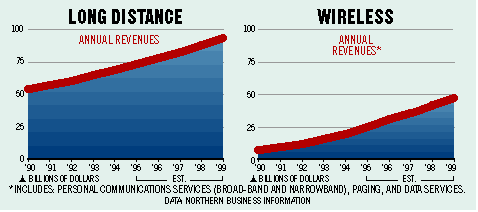 MORE SPARKS. Just as he teamed up with NOVA and Chevron for gas supplies, Watson is forging ties with power producers. NGC is investing 10% in a fund assembled by Indeck Energy Services Inc., a Buffalo Grove (Ill.) builder of power plants. Indeck's fund will finance new power-plant construction. The idea: NGC will sell gas to plants built by the venture--and get the right to market the electricity they generate.
Such unconventional thinking is pure Watson. Two years ago, he brought professional hockey to steamy Houston as owner of the Aeros. Now he's using the city's growing interest in hockey to sell leisure skating to fans. His newest vision: encircling Houston's Western suburbs with four rinks. Think of the electricity they'll require.
Before it's here, it's on the Bloomberg Terminal.
LEARN MORE