Argentina: A Rebound? Yes. Spectacular? No
By and
Following last year's severe recession, Argentina was counting on a solid turnaround by early 1996. But the recovery will be slow and unspectacular.
Real gross domestic product declined 4.4% last year, worse than the 3% drop expected by the government. Economy Minister Domingo Cavallo says GDP likely fell in the first quarter but will expand by 5% for all of 1996. Private forecasts put 1996 growth between 1.5% and 3.5%, with inflation at about 2%.
Recent developments brighten the outlook. Cavallo and President Carlos Menem resolved the latest in a long-running series of squabbles, calming market worries that Cavallo might be forced out. Cavallo opposed a new council of business and union leaders that will propose ways to combat Argentina's 16.4% unemployment. Now, the council will act in an advisory capacity, with little real power. Still, the Menem-Cavallo feud has chilled long-term investors uneasy with the idea of an Argentina without Cavallo, considered the architect of economic stability.
Growth prospects also improved on Mar. 20, when the government used special tax-cutting powers granted by Congress to halve the 21% value-added tax on consumer and mortgage interest. Menem hopes the cuts will spur industrial output, down 10% in the year ended in February (chart). The cut will also help the job-creating construction industry, which shrank by 5.9% last year.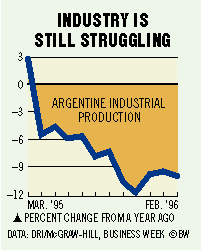 Some hurdles remain, though. The tax cuts should lift growth, but they will cost the government income. That raises doubts about Argentina's target of $2.5 billion for its 1996 fiscal deficit, from $2.6 billion in 1995. Banks have regained slightly more than the $8 billion in deposits lost after Mexico's financial crisis, but new loans remain scarce. And income has dropped as businesses cut back on overtime. As a result, Argentine consumers, who fueled the 7.5% annual GDP growth from 1991-94, are unlikely to start spending again until they see bigger paychecks or better access to loans.
Before it's here, it's on the Bloomberg Terminal.
LEARN MORE