Apple's Bumper Crop Of Bad News
Its $700 million loss for the quarter has customers rattled
By
Walter F. Manley was stunned. When told that Apple Computer Inc. had announced on Mar. 27 that it would post a $700 million loss for its second fiscal quarter, the president of computer dealer First Step Computers in Richmond, Va., went stone-cold silent. Finally, he sucked in his breath and gasped: "That's huge. I'm astonished." Like many others, he figured on a deficit of $200 million or so.
Wall Street, used to bad news from Apple, was less easily shaken. Just seven weeks into the job, CEO Gil Amelio will write off more than $350 million in inventory and take a further $175 million in restructuring charges, on top of some $175 million in operating losses for the quarter ending Mar. 31. Still, Apple shares rose 13/8 on the news, to close at 251/4, as analysts praised Amelio for taking his medicine in one big gulp.
READY TO RUN. Customers are apt to be less sanguine. With Apple's sales expected to slide to $2.3 billion, down from $2.6 billion in the corresponding quarter last year, corporate buyers and consumers are putting off Mac purchases. "There's no question Apple has a demand problem in the short run, partly due to the negative publicity they've had," says Ed Anderson, president of CompuCom Inc., a Dallas dealer. Some clients are already planning to defect. "Unless it does something major, it's going to be tough for Apple to keep its foothold here," says Stephen A. Archuleta, director of computer-information services at U S West Inc.
The news isn't likely to get better soon. Experts say Apple's woes will drag on, with a $90 million loss expected for the quarter ending in June and a further, smaller loss for the year's final three months. "It's not a foregone conclusion that this is going to get turned around," says Dean Witter Reynolds analyst Eugene Glazer, who thinks Apple will need hot new products and a big shift in consumer confidence to post profits even late in the year.
The PC industry's slowdown won't help the company. Apple has been slashing prices--some Performa models got a 12% cut in February, for example. But with Compaq Computer Corp. and other rivals slashing prices by up to 20% to hawk their own excess inventory, Apple could be forced to lower its prices even more. Hambrecht & Quist analyst Todd Bakar figures PC prices will dive 30% in the first half of the year--about twice the normal falloff. Says Bakar: "Apple can still recover, but the overall landscape is a lot tougher than it was a year ago."
What's Amelio's recovery plan? Now sifting through a comprehensive review of Apple operations, he plans to announce Apple's future strategy in early May--after conferring with managers to hone the details. Possibilities include farming out more manufacturing to lower costs and focusing on feature-heavy, pricier Macs to boost profits. "We want to simplify our product line and focus on markets where we have the technology to have best-in-class products," says new chief administrative officer George Scalise. One probable move: a more aggressive effort to license the Mac operating system to outside companies by easing licensing terms.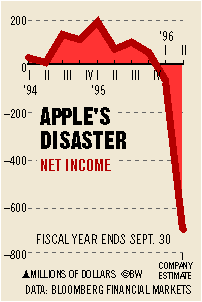 "I'M GAME." While none of these tactics is likely to stem the near-term pain, few on Wall Street are ringing serious alarm bells. Despite the losses, Apple doesn't face an imminent cash crisis. "The write-offs do raise some questions, but we're going to keep watching," says Martha Toll-Reed, an analyst at Standard & Poor's. Based on news of the loss, S&P has increased the likelihood it will downgrade Apple's credit standing. Amelio must also refinance some $400 million in debt that matures in March and April, Toll-Reed points out.
Still, if Amelio can make this the last bombshell, his clear-the-decks strategy of taking a huge initial loss could pay off. Many customers are standing pat. "I'm game to give Gil Amelio a chance," says Donald J. Montabana, director of the University of Pennsylvania's Computing Resource Center. Game for now, anyway.
Before it's here, it's on the Bloomberg Terminal.
LEARN MORE